C W Anderson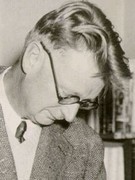 Barbie Zelizer
is a former journalist and the Raymond Williams Professor of Communication, and the Director of the Scholars Program in Culture and Communication at the Annenberg School for Communication.
Pablo J. Boczkowski
is Hamad Bin Khalifa Al-Thani Professor in the Department of Communication Studies and Director of the Center for Latinx Digital Media at Northwestern University.
C.W Anderson
is Professor of Media and Communication at the University of Leeds.
Authors similar to C W Anderson
All Books by C W Anderson
No Results for: C W Anderson
Try checking your spelling or use more general terms