Hidenori Kusaka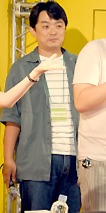 Hidenori Kusaka is the writer for VIZ Media's
Pokü¾Ž–"¼mon Adventures
. Running continuously for over 20 years,
Pokü¾Ž–"¼mon Adventures
is the only manga series to completely cover all the
Pokü¾Ž–"¼mon
games and has become one of the most popular series of all time. Kusaka is currently working on the 14th story arc,
Pokü¾Ž–"¼mon: Sun & Moon
. In addition to writing manga, he also edits children's books and plans mixed-media projects for Shogakukan's children's magazines. He uses the Pokü¾Ž–"¼mon Electrode as his author portrait. Mato was born in Aichi Prefecture on November 27. Her astrological sign is Sagittarius. Her first manga story, New Year X-mas, appeared in 1993 in the magazine
Shonen Sunday
. Her best-known works include the title
Nightingale
.
Series By Hidenori Kusaka
Authors similar to Hidenori Kusaka
All Books by Hidenori Kusaka
No Results for: Hidenori Kusaka
Try checking your spelling or use more general terms