Jahnna N Malcolm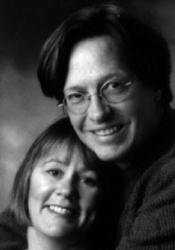 Jahnna and Malcolm are represented by the letters JAHNNA N.MALCOLM. Jahnna Beecham and Malcolm Hillgartner are married and have written over 130 children's and teen's books. Ballerinas, horses, ghosts, singing cowboys, and green slime have all been featured in their works. The Jewel Kingdom is one of their most popular book series, and it is about daring princesses. The Ruby Princess Goes Away, the first book in the series, was also adapted into a film.
Jahnna and Malcolm were actresses before they became authors. They met on stage and married on stage as well. They have two children: Dash, a son, and Skye, a daughter. They have lived in a variety of locations, but their current residence is in beautiful Oregon.
The Greatest Christmas Pageant Ever: The Musical, which is currently touring the country and is published by Playscripts, Inc., is their most recent endeavor.
Series By Jahnna N Malcolm
All Books by Jahnna N Malcolm
No Results for: Jahnna N Malcolm
Try checking your spelling or use more general terms