Robert Muchamore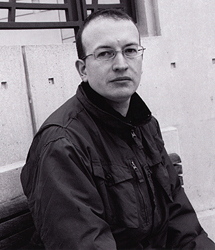 In 1972, ROBERT MUCHAMORE was born in Islington. He aspired to be an architect, a photographer, or a writer as a teenager. He gathered enough money to buy a word processor and set his heart on writing after learning that architects must train for seven years and quitting his Saturday job in a photographic shop. The only issue was that he had no idea what to write. So he got a regular job and worked as a private investigator for thirteen years.
His nephew's complaints about the dearth of excellent reading material prompted him to pick up his pen again. The CHERUB and Henderson's Boys series by Robert is a worldwide bestseller. Robert developed an interest in indie bands like Joy Division, The Pogues, and The Smiths as a result of mix tapes supplied to him by his older brother. Rock War was inspired by the fact that many of Robert's admirers wore the logos of long-dead rock bands to book signings, as well as the fact that his online fan forum had more kids discussing about the X-Factor than his novels.
Visit www.muchamore.com for additional details.
Series By Robert Muchamore
Authors similar to Robert Muchamore
All Books by Robert Muchamore
No Results for: Robert Muchamore
Try checking your spelling or use more general terms