Buy 3 Get 1 Free
Our Best Sale Yet! Add 4 Books Priced Under $5 To Your Cart     Learn more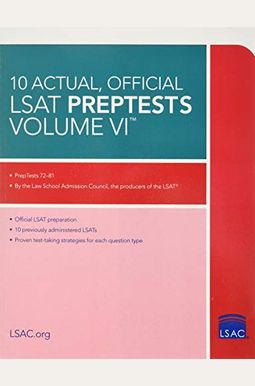 
 
10 Actual, Official Lsat Preptests Volume Vi: (Preptests 72-81)
Frequently Asked Questions About 10 Actual, Official Lsat Preptests Volume Vi: (Preptests 72-81)
Books like 10 Actual, Official Lsat Preptests Volume Vi: (Preptests 72-81)
Book Reviews
(12)
Did you read 10 Actual, Official Lsat Preptests Volume Vi: (Preptests 72-81)? Please provide your feedback and rating to help other readers.
The one that you want -- 10 real LSATs

Derived From Web

, Aug 24, 2021

If you want to achieve good marks on the LSAT, you need real practice. There are differences of opinion about whether LSAT Bible is better than LSAT Trainer, etc., but everyone would agree that buying 10 tests at a time is the best price. These are the latest actual tests that are available, so go ahead and buy it. Unless you want to prepare for free in 2007 with the test's 2007.
Take a lot of practice exams if you want to increase your score

Derived From Web

, Jun 8, 2021

This is a great resource and more or less a must for the determined LSAT prepper. The bottom line is that practice tests are the single most important way to prepare for the LSAT, especially after you have familiarized yourself with the format and developed some tactics that you are comfortable with. The more you can practice and ingrain these habits, the more comfortable and successful you will be on the actual test, and practice exams offer great feedback on what sections or question types you can address to get the highest score you're capable of.
Significant Overlap w/ Khan Academy

Derived From Web

, Aug 1, 2020

Something to consider Once you have signed up for a test date, the Khan Academy provides 11 free online practice tests and a bevy of practice questions. As pictured, all but two of the tests in this book are used by the Khan Academy. There are additional considerations such as the online vs. paper format, but you may want to look elsewhere to purchase LSAC practice tests.
SO Helpful!

Derived From Web

, Jul 20, 2019

I just took the July LSAT, and I could not have done it without this book. The ability to take a full practice exam or just complete sections by sections was not only convenient, but it allowed me to focus on my problem areas and prepare for the whole exam using a book. I ended up with the digital version of the LSAT, but the endurance training and question type preparation offered with this product helped nonetheless! I actually have this one as well as the purpleblue one, and I think they are both worth their while!
Useless if you are using Kahn Academy Official LSAT Prep course to study

Derived From Web

, Jun 27, 2019

The book is exactly what I expected it to be, so it gets 5 stars. If you are using Kahn Academy, however, the free study program recommended by LSAC, this book is useless because Kahn Academy randomly draws practice and practice tests from it. I bought this book because I saw so many repeat questions on KA and I wanted to get some paper practice for my July test since it could be either digital or paper, but because KA draws randomly from these tests, each test in the book gives me both some questions I have seen and others I have not... what kind of defeats the purpose of gauging where I am at. If you are using KA, this book is a waste of money.
The best!

Derived From Web

, Dec 25, 2018

I found out from this book and I took a great rating on my LSAT! This book brings 10 official tests, which you could study. I finished first the older ones and then started with the most recent exams before taking my own. If you practice for two sections a night, you will be able to get enough and then aspire at the end to keep up with progress. I suggest '' you all recommend it really!
Invaluable resource for LSAT studying

Derived From Web

, Nov 25, 2018

For the LSAT, the most recent actual tests are very important because they give you the best idea of what will be in the next test. While they are more expensive than the other full books you can find discounted, they are the best for timed practice tests leading to the actual exam. Use the older books for understanding the basics of the test and the most recent exams for detecting the nuances of how the tests change. While taking the exam is helpful, review and comprehension are even more important. For this I recommend LSATHacks. com or 7sage. com. Both are great resources for understanding why the right answers are the right.
No answer explanations?

Derived From Web

, Aug 21, 2018

The tests given in the book take up about 2 pages, and more helpful information can definitely be found on Google. The answer keys are also relevant as bare bones, as it receives just a simple list of correct answers without a single explanation. The fact that LSAC charged money for past tests without providing any substantial kind of instructional content is absurd. This criticism is in opposition to the college board's SAT Preparation Books, which, I believe, is much more helpful beyond simply containing official practice tests.
Practice tests are necessary for doing well!

Derived From Web

, Jul 25, 2018

As advertised, exactly the item is produced. Indeed, taking actual practice tests is an integral part of being well on the LSAT. Tip : Since the actual exam has 5 multiple choice sections, but these modified practice tests contain only the 4 graded sections, use the sections of one or two of the tests to simulate the additional ungraded section. While this means that you are actually able to take 8 full practice tests under simulated conditions, it is very important to be prepared for what the test day is like. Plus, you will still take these two other tests, just not all at once.
My two cents on LSAT

Derived From Web

, Jan 21, 2018

My recommendation is that you buy two or three of these books and do a test day simulation every week. I bought another tools for help to self-study for the LSAT, I bought another tools. The most useful i've found so far are the books from the official source, so far. Also, do a lot of research of your tube and find out what people have to say about the LSAT.