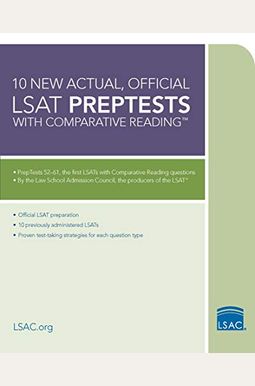 
 
10 New Actual, Official Lsat Preptests: (Preptests 52-61)
Frequently Asked Questions About 10 New Actual, Official Lsat Preptests: (Preptests 52-61)
Books like 10 New Actual, Official Lsat Preptests: (Preptests 52-61)
Book Reviews
(11)
Did you read 10 New Actual, Official Lsat Preptests: (Preptests 52-61)? Please provide your feedback and rating to help other readers.
Must have for LSAT takers

Derived From Web

, Apr 24, 2022

Fantastic set of tests, said Goodrich. They come with the tests, answer key, scoring key, and test sheets in the back. I would highly recommend this book to anyone who is looking to take the LSAT. But if you are on a tight budget, you should always try to get the test books that contain the most recent tests. Overall a great product that can help you succeed on the LSAT, Robert..
Very helpful, brougt my average up nearly ten points.

Derived From Web

, Apr 24, 2022

Decided to go to law school and the LSATs were in a month. Only four weeks had passed since I had last seen my children and I was still grieving. There were no test prep classes available, so I decided to try them out. After a few weeks, I felt like I was getting better on the practice tests. Before you try them, make sure you review your wrong answers.
This is a great supplemental resource, but it shouldn't be used alone.

Derived From Web

, Apr 24, 2022

However, this book is a great resource, however, it is only effective once you know how to tackle the questions. Within a few days of using the book, I realized that unless you know how to solve the problems presented, you're just spinning your wheels. I ended up buying the Powerscore LSAT Bible Games which really helped me to understand the questions and how to solve them. Overall, I don't feel that anyone studying for the LSAT should buy this book alone and feel prepared for the exam.
Great way to practice

Derived From Web

, Jan 14, 2020

It is highly recommended that you take as many practice tests with review as possible before you take the actual test. A two-hour test, conducted under controlled conditions at the academy. Review denied. Reviewing the case with a doctor, students are asked to try to determine why the professor didn't answer all the students' questions.
Don't EVER buy a used test prep book!!!

Derived From Web

, Oct 30, 2019

The book description says it has all the necessary tests and assignments, but the reviewer says it only has minor writing. Selling it to someone else is a waste and moreover, why not try to sell it to someone else? Now I have to order a new book and throw this crap away. Please do everyone a favor and throw the test books in the trash if you write all over it.
Useless

Derived From Web

, Oct 24, 2019

I mean, seriously, what a crock of a car! Each time we asked a question, the answer was circled in pen. This book is virtually useless and the fact that it was not noticed before resale is shocking.
Perfect for simulating the actual test

Derived From Web

, Jun 8, 2019

Great book, said Dr. Philip Green, director of the Children's Hospital at Montefiore. The book is referred to as "The Lord's Own" and "the English Language" is used as an introduction. This book is for AFTER studying. The test is just a simulation of what the real test would be. The scores are correct, the umpire said. The other two times I did three practice tests and got 134 each time. That was pretty impressive, considering the scores on the test. Yes, I'm going to retake the test. This book is a good way to prepare for the test and it will surely take the actual test, he said. The test is going digital, so I am not sure if it will be the same. I would still use it, Mr. Rule told the judge.
Games Are Too Easy!

Derived From Web

, Aug 15, 2018

It's a standard LSAC book, and I've been very happy with all four. Games is, of course, a huge part of the book. If you're only going to buy one book, you should probably buy the most recent one. Michael Powell's book is a fine summation of some of the Games' defining moments.
it's very important to be prepared for what the test day is actually like. Plus

Derived From Web

, Jul 25, 2018

Item is exactly what it says on the box. Not only do you have to take the LSAT, you also have to take actual practice exams. Because the actual exam has 5 multiple choice sections, use the sections of one or two of the tests to simulate the extra ungraded section. This means you will only be able to take eight practice tests under simulated conditions, so it's very important to be prepared for what the test day is actually like. However, you will still be taking those two tests, just not all at once.
Must have for LSAT

Derived From Web

, Jul 29, 2017

This is a must have for the LSAT, I wish I had purchased it a few years ago, but it really is a life saver. The exact same format and style of the actual exam will be used in the revised test. there are no explanations but if you google LSAT hacks he has explanations for every single LSAT practice test so I would take the test grade myself and look up the explanations. Thanks for the tip.