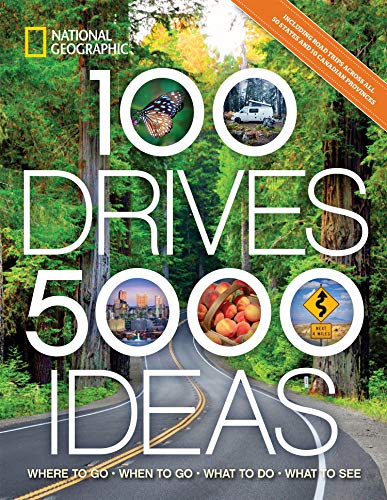 
 
100 Drives, 5,000 Ideas: Where to Go, When to Go, What to Do, What to See
Book Overview
The sequel to the best-selling 50 States, 5,000 Ideas takes readers on the road trip of a lifetime: 100 epic journeys through all 50 states and 10 Canadian provinces offering thousands of diverting sites, roadside attractions, and pure fun along the way.
From a vineyard route through Northwest wine country to a winter wonderland on Alberta's Icefields Parkway, this informative travel guide offers epic sights, good bites, and pure fun. Pack your car and hit the road to experience 100 drives--both classic and off the beaten track--across the United States and Canada. You'll find innovative itineraries outlining your route, along with when to go and what to see and do along the way. And there's something here to satisfy every passenger. Take in the magnificent turns along Alaska's Route One through Anchorage to Kenai. Or wind your way through retro spots from Chicago to Los Angeles on Route 66. On nearly 600 miles of New Mexico's Trail of the Ancients, stop off to encounter sites dating back to A.D. 850. Or discover fossils along Dinosaur Drive, a route that winds its way from Calgary to Denver. Beach lovers will delight in Hawaii's Oahu Circle Island Drive, while history lovers can follow Canada's War of 1812 trail: a cruise between Montreal and Windsor with stops at major battlefields along the way.
Filled with expert tips, tons of activities, and plenty to see and do as you drive--the ultimate road trip playlist anyone?--here is an inspirational and practical keepsake for any road warrior.
Frequently Asked Questions About 100 Drives, 5,000 Ideas: Where to Go, When to Go, What to Do, What to See
How long does it take to read 100 Drives, 5,000 Ideas: Where to Go, When to Go, What to Do, What to See?

It takes about 5 Hours and 27 minutes on average for a reader to read 100 Drives, 5,000 Ideas: Where to Go, When to Go, What to Do, What to See. This is based on the average reading speed of 250 Words per minute.

How long is 100 Drives, 5,000 Ideas: Where to Go, When to Go, What to Do, What to See?

100 Drives, 5,000 Ideas: Where to Go, When to Go, What to Do, What to See is 288 pages long.
Book Reviews
(9)
Did you read 100 Drives, 5,000 Ideas: Where to Go, When to Go, What to Do, What to See? Please provide your feedback and rating to help other readers.
NO MAPS! in a book about driving routes!!!

Derived From Web

, Feb 23, 2021

The book would be 100 times better if it had just had the simplest map showing the route. There is no such book as The Road Warrior. Yes, I am sending it back. The books just make for a lot of work, Simon says.
Wish they included maps of the routes

Derived From Web

, Jan 30, 2021

But it would really benefit if we had maps included. Even if I had to pay extra, I'd still have access to the exact website they've mapped it out for me.
Not completely accurate

Derived From Web

, Dec 27, 2020

We found so many errors just paging through it, we couldn't put it down. The problem is especially prevalent on the labels of cell phones. There is also very little detail about the drives, so if you don't use it as a travel guide, it's probably okay.
No maps in a Book About Drives

Derived From Web

, Nov 10, 2020

It's the first time I've disappointed somebody. There is no map in the book, so the writer must have missed something. One would expect that a book about 100 drives would contain maps of those drives, but there is no such book.
Great guide, beautiful pics

Derived From Web

, Sep 1, 2020

Bought it as a present for a friend who bought an RV. It was a blast, said Blair. We're still working on the second book, and possibly the third.
No maps, no real hidden gems

Derived From Web

, Jul 31, 2020

Before you embark on a road trip, you should have maps and some research. I was hoping to get some inspiration, but it didn't pan out that way.
Not happy

Derived From Web

, Jun 27, 2020

I read that people didn't like the fact that there were no maps in this book, but I bought it anyway. Yes, I now agree with them. It needs maps and it's a bit boring with only about 1-2 pictures per drive.
A National Geographic Travel Book with No Maps

Derived From Web

, May 23, 2020

Some very good ideas to group travel destinations by general area, subject to such things as caves or UFOs, but this book has no maps! Because it's so flexible, you can basically plan your trip around that. The guy is from San Diego, Calif., so must have good taste, Ms. Rule told the judge. If you are willing to spend the money to get the ideas for the trip you are fine with the purchase of this book. And I am okay spending the money for these few ideas, but I do not think this is a good investment as a travel book. On the other hand, most of the 25 or so Nat Geo books I have are great and have maps. Note the subheading of this terrible parable in the "Persuasion" series, "No maps." The Vatican had no comment on the travel book.
Pointless, just skip this book. No maps

Derived From Web

, Mar 19, 2020

I now own four books in the series, all by Lee Child. This book is useless, its all about drives, but doesn't include a single map. For instance, the Green and White Delight trip in Vermont and New Hampshire just says 425 round-trip from Boston. It's just that we don't have a map showing the exact route. It's great to be back home, said Blair.