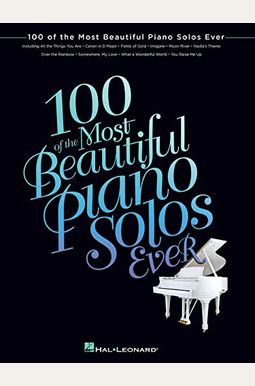 
 
100 Of The Most Beautiful Piano Solos Ever
Book Overview
(Piano Solo Songbook). 100 pop and classical standards that every piano player should master, including: Air on the G String * Bridge over Troubled Water * Canon in D * Clair de Lune * Fields of Gold * Fur Elise * I Dreamed a Dream * I Will Always Love You * Imagine * Lullaby of Birdland * Memory * Misty * Moon River * On My Own * Over the Rainbow * The Shadow of Your Smile * Smile * Stardust * Summertime * Sunrise, Sunset * Time After Time * Unexpected Song * The Way You Look Tonight * We've Only Just Begun * What a Wonderful World * Yesterday * You Raise Me Up * Your Song * and more
Frequently Asked Questions About 100 Of The Most Beautiful Piano Solos Ever
Book Reviews
(14)
Did you read 100 Of The Most Beautiful Piano Solos Ever? Please provide your feedback and rating to help other readers.
100 Beautiful piano solos

Derived From Web

, Apr 21, 2022

Arranged by the Beatles' arrangers, these are some of the best love songs and light classics ever written. For a minimal charge, I had Copy Cornet change the ribbed backing to a spiral notebook and pages are easier to turn.
Hal Leonard has great books, this being one of them

Derived From Web

, Apr 21, 2022

I think I'm hooked, Mr. Rule told me. The two books stand in a class by themselves. New York: Simon & Schuster, Inc. Roma goalkeeper Istomin Alibozek has a reputation for being a definite keeper. I would call it more intermediate than beginner, Raymond said. Second, you have to know how to read and play the game of chess. If you're not advanced enough, you can still have fun. If you're a beginner you may have a few songs you can play or at least a great book as a goal. Or play the melody right? There are tons of songs to choose from.
Bringing music into the home.

Derived From Web

, Apr 21, 2022

Dad bought this for our son who loves to play the piano and he is all ready to really enjoy the book. I've also heard him play a few of the numbers.
TOO MUCH - NOT ENOUGH!

Derived From Web

, Jan 30, 2022

The arrangements were inferior, Mr. Dhaliwal said. There are many more pages involved than I have seen before. Even though it is keyed as a piano solo, it certainly would have been nice to have included the lyrics. Piano players, for example, enjoy the challenge of being able to read the words and sing along.
Good value

Derived From Web

, Dec 9, 2020

There are some new numbers that I'm not familiar with. I like the arrangements of all the numbers I have tried, though I have to ignore some of the notes that are impossible for me to reach or see how it sounds with those notes. I think the soutosten pedal could be used to make them playable again. All of the arrangements require some practice for me, but most of the pieces sound like music when I read them, so it seems about right for my level. Even if I could play all the parts, it would take me a year or more to get to grips with the book.
Poor Quality - buyer beware!

Derived From Web

, Jul 10, 2020

The spiral bound edition is also available at Amazon. com. The paper is super thin, making it cheaper to buy than paper used in photocopiers. No markings are present on the pages to even identify the current piece of music. I can't imagine the publisher being able to save any more money by reducing the quality further! For a book that costs $27.67, it is far from what I expected. The original $27.02 shipping cost will be charged to the buyer for the return shipping. The quality is so poor, I don't even want it near my piano. The buyer made a mistake and I regret it.
No Chord notation

Derived From Web

, Mar 5, 2020

I have also bought many pianokeyboard music books. All the chords are printed on the back of the book. Note that I will not be able to use this book. What a waste, Mr. Rule told the judge.
Nice collection for adults

Derived From Web

, Dec 15, 2019

A good book for adult players, too. A good collection of regular and hard works, he said. Classics. Not that much, piano said. I'm excited to be working with him, Taylor said.
I was expecting something better based on the reviews

Derived From Web

, May 7, 2019

after reading the reviews for this product I thought, ok, so some of the songs are simplified but it still seems like a good book, Morgenthau said. Some of the songs in here sound nothing like the actual song, I could improv a better version and i'm not that good. I think that's just a B. And you also will see things like a natural notation next to a note, but there's no reason for you to be playing that note sharp in the first place based on the sheet music. If you're looking for popular sheet music just search 'piano sheet music reddit' and you will find a lot more results for free, as i've just found out.
Excellent collection

Derived From Web

, Apr 27, 2019

Great collection of music,' said McCartney. Wonderful selection music, not for total beginners, need to have mastered beginning piano playing course to play these arrangements, he said. It's sort of advanced beginning to medium level of proficiency, he said.