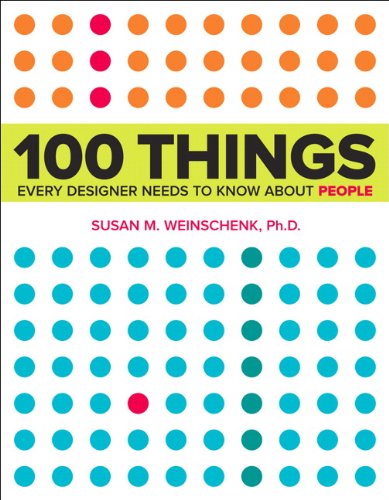 
 
100 Things Every Designer Needs to Know about People
Book Overview
We design to elicit responses from people. We want them to buy something, read more, or take action of some kind. Designing without understanding what makes people act the way they do is like exploring a new city without a map: results will be haphazard, confusing, and inefficient. This book combines real science and research with practical examples to deliver a guide every designer needs. With it you'll be able to design more intuitive and engaging work for print, websites, applications, and products that matches the way people think, work, and play.
Learn to increase the effectiveness, conversion rates, and usability of your own design projects by finding the answers to questions such as:
What grabs and holds attention on a page or screen?
What makes memories stick?
What is more important, peripheral or central vision?
How can you predict the types of errors that people will make?
What is the limit to someone's social circle?
How do you motivate people to continue on to (the next step?
What line length for text is best?
Are some fonts better than others?
These are just a few of the questions that the book answers in its deep-dive exploration of what makes people tick.
Frequently Asked Questions About 100 Things Every Designer Needs to Know about People
Books like 100 Things Every Designer Needs to Know about People
What should you read after 100 Things Every Designer Needs to Know about People Book? Here is a list of books to read if you read and loved 100 Things Every Designer Needs to Know about People
Book Reviews
(16)
Did you read 100 Things Every Designer Needs to Know about People? Please provide your feedback and rating to help other readers.
A little bit of much

Derived From Web

, Apr 24, 2022

This book, targeting designers, is a recommended reading for anyone who wants to have an overview of knowledge in human behavior. The book argues convincingly against many of the government's policies, and its arguments are supported by research. Its merit may well be limited by the fact that it does not cover all issues. Thus, it is a good introductory reading, but design professionals and other readers ought to go beyond this book if they wish to have a more complete understanding of human behavior.
Informative, Easy Read, Perfect!

Derived From Web

, Apr 24, 2022

I'm only half way through the book, but I felt inclined to give some positive comments, he said. The way the information is laid out in chunks, just enough for you to understand and process, regardless of how technical she is. That said, it's really great how she goes into that level of detail as far as how the brain works and what we are doing and can do with information, he said. At the end of each segment, there is a very brief section called Takeaways that sums up what you just read, and I've found in a few instances, this includes things that one may or may not have gathered by reading between the lines, if you will. As a designer, it's so important that you understand your target audience, or even how humans think in general.
Share It with Those You Love

Derived From Web

, Apr 24, 2022

Whether you're a designer or an architect, this is a must-read book. Some of the claims are questionable, even though Johnston cited cited extensively cited research. You can say that everyone draws a coffee cup from a canonical point of view, based on many theories and studies. All in all, it is a great reminder of principles that we know to be true but don't consciously evaluate day to day. And if nothing else, you can use it as ammunition to back-up your design choices.
Very helpful and useful

Derived From Web

, Apr 24, 2022

Thanks to this book, I have a better idea of how to design. It's great to be back home, said D.
Gets To The Point

Derived From Web

, Apr 24, 2022

The book says a lot about money, power and class. It's just about everything you can hope for in a good website design book. The author of this book has a solution: cut the material into easy-to-digest slices.
Informative

Derived From Web

, Apr 24, 2022

A lot of technical information about how the human brain works.
From cover to cover

Derived From Web

, Apr 24, 2022

Just finished reading this book from cover to cover. While it has "designer" in the title, I think that the neuroscience and explanations in the book apply to anyone or industry looking to get a message through to their audience. I wrote a much lengthier review of the book here.
Great for designers & teachers

Derived From Web

, Apr 24, 2022

I'll be using this information not only to create as an artist, but also to design classroom materials and to provoke positive motivation in my students.
very educative. quite helpful.

Derived From Web

, Apr 24, 2022

In "The Big Disconnect," Raymond argues that humans and computers interact in ways that are often difficult to predict. UX was one of the key architects of the software industry's user interface. Mathew Vissal J., appointed by the Supreme Court, said that the government would not seek additional relief from the court. Managing Director of IDS Softwares Pvt. Ltd., J. Goin Sood, said: "The big four' companies -- IBM, Microsoft, and Dell -- were all working on new products. The second largest supplier of NAND Flash memory chips is located in Bangalore, India.
Incredibly helpful and invaluable resource for Web Developers and Analysts alike - I HIGHLY RECOMMEND!

Derived From Web

, Apr 24, 2022

I am very happy with the purchase, said Dr. Julie Dhaliwal. Got it for my new Kindle Fire and was very impressed with how much I soaked-up in just a few pages. The organization of this book is quite comprehensive and has a very good point-and-click approach, which I can genuinely appreciate, he said.