Buy 3 Get 1 Free
Our Best Sale Yet! Add 4 Books Priced Under $5 To Your Cart     Learn more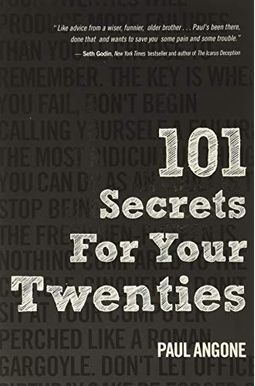 
 
101 Secrets For Your Twenties
Book Overview
What do you do when you hit your twenties and realize the life you knew for the last two decades has been changed, twisted, or hash-tagged into something you weren't expecting?
Secret #12: Your twenties will produce more failure than you'll choose to remember. The key is: when you fail, don't begin calling yourself a failure.
Secret #35: Obsessive Comparison Disorder is the smallpox of our generation. Remember that everyone is too busy putting a PR spin on their Facebook profile to care much about yours.
Secret #44: The Freshman-Fifteen is nothing compared to the Cubicle-Cincuenta. Don't sit at your computer perched like a Roman gargoyle letting office birthday cake be forced upon you.
Discover ninety-eight other secrets for rocking your post-college, grown-up life in this book!
This book is a must-read for twentysomethings and beyond who are struggling with how to navigate in today's hyper-connected, chaotic world--and the book itself is formatted as a fun, engaging page-turner.
--Jenny Blake, author of Life After College: The Complete Guide to Getting What You Want
I always tell people that I'm enjoying my 30s way more than my 20s and now I know why: I didn't have this book! Secrets #21 and #36 alone would have helped me through so many situations. I can't tell you how happy I am that this book exists for the next generation!
--Bryan Allain, author, creator of Killer Tribes
Frequently bought together
Frequently Asked Questions About 101 Secrets For Your Twenties
Books like 101 Secrets For Your Twenties
Book Reviews
(8)
Did you read 101 Secrets For Your Twenties? Please provide your feedback and rating to help other readers.
Warning: This book is not what it seems; it simply pushes religion.

Derived From Web

, Dec 27, 2021

I stumbled across this book and thought it might be useful for my kids. The sections available via the Look Inside feature are highly misleading as to what you will find in the rest of the book. The majority of the book's secrets are related to a belief in God, with many of them urging you to speak with your pastor. Since most rational advisors wouldn't advise against taking advice from someone who believes in unseen magical beings, I wouldn't give this book a single star.
Kind of preachy

Derived From Web

, Mar 27, 2019

I liked the format of the book. I liked some of the items listed. This book was preachy to me. I think that a happy and meaningful life can be lived without all of those things. There isn't a formula that fits everyone. It is up to each of us to figure out what works best in our lives, which may not be the suggested route.
Valuable read. Packed with amazing perspectives and insights

Derived From Web

, Jun 25, 2018

I am very happy that I discovered this gem at the right time, as a 25 year old female who is about to embark on herMBA journey in August. I liked the insights and perspectives that Paul shared with his readers. He included many of his own trials and observations in order to arrive at the secrets. This book has made me think about the questions I should have asked a few years ago, and it has made me reexamine my own life thus far. God is mentioned a few times in the book. I like the fact that the author is showing his authentic self, one of the secrets he shared in the book. I would recommend the book to any 20 year old who wanders, lost, or has something to say.
I bought this for my 21 year old son as ...

Derived From Web

, Mar 6, 2018

I bought this for my son as a present. He told me he planned to come back. He gave it a go. He was surprised that he was interested in the book after only a few pages.
The best purchase of the year.

Derived From Web

, Feb 19, 2018

This was the best purchase I' ve made this year, it was full of helpful truths about 20- something life. I recommend the book to all my 20- something friends because I have given several copies to them. I am very thankful for this book. It is also available as an audiobook.
Time Travel.

Derived From Web

, Dec 12, 2017

Oh my gosh. He lived my life and came back to talk to me in the future. I think this book is very good. He put a lot of things I cried, stressed and worried about into perspective and I am so happy the Lord gave him this wisdom to spread around. I am giving this book to all of my friends as a graduation gift and I can't wait to give it to my sisters when they hit 20. I feel like my cup is no longer barren because of this blessing. I can put something in someone else's cup. Thank you for your kind words. I understand that it is not just me. It is life and there is so much more to enjoy.
The layout of this book is great. It is broken up into many small sections ...

Derived From Web

, Sep 7, 2017

The layout of the book is very good. You can either read it as a book or flip through it and find new advice. The book has a mix of light and deep topics to keep it fresh. I was surprised by the Christian aspect of the book and only gave it 4 stars. The title and blurb on Amazon didn't mention the religious overtone. It felt like they were getting advice from a friend and then they started talking about evangelical things. The book was definitely worth the money.
The voice of a familiar and wise friend.

Derived From Web

, Jun 7, 2017

The best kind of friend in this book is Paul Angone. He relates to being a child. He pokes fun at the ridiculous rules that people have to follow. While you laugh, cry, and ponder your way through these secrets, you' re at risk of developing a bigger, deeper, more purposeful vision for your life... This is an easy recommendation for me. It's on the gift list for college graduates. For those of us just out of our twenties, the guidance here continues to apply and encourage. You know, buy this for all the young adults.