Buy 3 Get 1 Free
Our Best Sale Yet! Add 4 Books Priced Under $5 To Your Cart     Learn more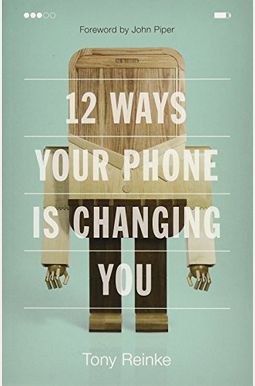 
 
12 Ways Your Phone Is Changing You
Book Overview
Do You Control Your Phone--Or Does Your Phone Control You?
Within a few years of its unveiling, the smartphone had become part of us, fully integrated into the daily patterns of our lives. Never offline, always within reach, we now wield in our hands a magic wand of technological power we have only begun to grasp. But it raises new enigmas, too. Never more connected, we seem to be growing more distant. Never more efficient, we have never been more distracted.
Drawing from the insights of numerous thinkers, published studies, and his own research, writer Tony Reinke identifies twelve potent ways our smartphones have changed us--for good and bad. Reinke calls us to cultivate wise thinking and healthy habits in the digital age, encouraging us to maximize the many blessings, avoid the various pitfalls, and wisely wield the most powerful gadget of human connection ever unleashed.
Frequently bought together
Frequently Asked Questions About 12 Ways Your Phone Is Changing You
Books like 12 Ways Your Phone Is Changing You
Book Reviews
(12)
Did you read 12 Ways Your Phone Is Changing You? Please provide your feedback and rating to help other readers.
Such an important book!

Derived From Web

, Jan 23, 2020

This is the first book I've ever taken the time to review here on Goodreads. That is a testament to how important this book is for every thoughtful Christian. I wish this book came with instructions on how to properly read a new phone. Beyond the pragmatics of digital practices and boundaries, this book offers rich theological reflection that will cause you not only to think about your relationship with your phone, but even more importantly your relationship with Christ in the midst of this digital age. Don't just read it, read it with those who are close to you.
Excellent Book.

Derived From Web

, May 4, 2019

I knew I wanted to read this one as soon as I saw it, so I did. And I loved it, despite the fact that it was a tough read. It is dense, full of information and well-researched. While it is very rich with insight and hard to grasp all at once, I learned so much and enjoyed it. I was telling all my friends about this book, and here's what I said: If you are going to read any book, read this one. You will learn so much about yourself and your phone habits. It is a book to read carefully and remember. It really makes you stop and think, and it should be read by everyone, McCartney said. Realizing how much of a distance I need from my phone, I stopped using it. You cannot go wrong with Reinke. Highly recommended!!!!!!!!! It's great to be back home, said Blair.
Parents should read this!

Derived From Web

, Apr 4, 2018

Our Book Club devoured it. There are so many relevant connections and points that will prove to be beneficial, Morgenthau said. ALL parents should read this.
i have recommended it to everyone i know

Derived From Web

, Jan 8, 2018

This book validated all the nagging suspicions I've had regarding cell phone use. i have recommended it to everyone i know. It's not pro or anti-phone, just the facts regarding the cultural and social changes that are appearing, Lichtman said.
Very eye opening!

Derived From Web

, Nov 11, 2017

This book was very eye opening and I have learned so much! I plan to put several of the boundaries into practice. I also wrote this smartphone version of the psalm, "My SmartPhone is my shepherd." I still want more.I stare at it in green pastures,I text instead of looking at the still waters. It leads me in the path of unrighteousness for the sake of the apps,Yea, though I walk through the valley of No Likes,I will not fear. For my SmartPhone with me. Snapchat and Instagram, they comfort me. My SmartPhone prepares a fake world for me in the presence of reality. It anoints me with secular humanists. My discontent runs over. Surely laziness and comparison shall follow me all the days of my life. Dwell in the Cyberworldlooking down at your SmartphoneForever.
A very timely book

Derived From Web

, Oct 8, 2017

The book provides great insight into our present day and age and our daily interaction with technology. The influence of technology on the modern man's soul is much wider than the phone alone, Raymond said. Besides the content, I found the book to be an enjoyable read. I will recommend this book to my friends.
Do I throw my iPhone away?

Derived From Web

, Aug 15, 2017

It's a great question, I think. Lots of statements to ponder. Very good read. I would recommend it to anyone with any spiritual sensitivity.
Essential reading if you have a smart phone and are a Christian. Buy this now.

Derived From Web

, Jul 12, 2017

Chances are you own a smart phone. More likely than not you are reading this review. If you are reading this, you are probably a believer in Christ. This book is for you. The way the book is written is very close to a work of art. The author unpacks scriptures and directly applies them to the technological monster in your hand, in your pocket, or thats laying right next to you. This book will one day be dated because it centers around a device that will one day be obsolete. But this is a book today. Buy this book from Amazon. com. i read it in a week and i am a slowwwww reader. i bought one for my pastor and i am giving it to him next time i see him. He already has it, giving it to the associate pastor, he said. This book is essential.
Informative, convicting and encouraging

Derived From Web

, Jun 6, 2017

As one who already thinks a lot about my smartphone use and seeks to set healthy boundaries, I was curious how this use of technology might be changing us in ways we aren't even aware of. As a mother to seven kiddos who aren't quite to phone age yet, I especially wanted to be prepared to give them a reason as to why we may not even give them smartphones to begin with. I feel like this book answered many of my questions, opened my eyes to see even more deeply how my phone might be killing my soul and equipped me to help my children think about phonesusagesocial media as we get nearer to that stage of life with them. I'm grateful for the research and thought that went into writing this book, and highly recommend all Christians read it!
Wow! Amazing Read!

Derived From Web

, May 19, 2017

I wanted to finish this book in one night, but had to finally bit in down so I wasn't falling asleep at work. Tony beautifully articulates what is tech is doing to us spiritually in a total Biblically grounded way. Highly recommend.