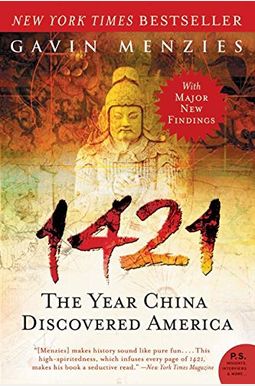 
 
1421: The Year China Discovered America
Frequently bought together
Frequently Asked Questions About 1421: The Year China Discovered America
Books like 1421: The Year China Discovered America
Book Reviews
(9)
Did you read 1421: The Year China Discovered America? Please provide your feedback and rating to help other readers.
1421 is a Bold Reimagining of 15th century maritime exploration

Derived From Web

, Sep 5, 2021

1421 is audacious, controversial, and deserves to be considered seriously. His experience as a submarine captain and navigator, as well as his knowledge of wind and tides and currents, gives him the credentials to place the Treasure Fleet of Emperor Zhu Di and Admiral Zheng He front and center, exploring the world decades before Columbus arrived in the New World. Although there are some leaps of imagination, they are plausible. His passion for digging up clues of the past makes this book a treasure hunt. It was strongly recommended!?
Turns your Grade School History on its Head

Derived From Web

, Jul 25, 2021

D id Columbus discover the new world? Forget the story of the fairies. He had a publicist. In 1421, a huge Chinese armada of discovery began to project Chinese influence around the world. The author, a retired British submarine captain, used his knowledge of winds and currents to predict what routes the square- rigged Chinese junks would follow. There were many physical and cultural remnants of the Chinese discoverers found along these routes. The survivors of the fleet found a very different regime which suppressed all knowledge of the voyages. It's worth the price of the book to learn that the Chinese astronomer devised a way of measuring longitude before the chronometers.
Important Exposition of Eastern Naval Legacy

Derived From Web

, Oct 9, 2019

T he book is not suitable for those with eurocentrism. The architecture of numerous independence and supremacy of developments and discoveries, whether it be intellectual output, or naval voyages, has been demolished in several areas. Gavin's book is about naval feats. The Menzies work is part of a larger effort to reestablish historiographical monuments that originated in the invented west. Menzies work is unique due to his unique skills. naval navigation. To offer one star rating for the quantitative, qualitative and impact on historical landscape of Menzies' work shows psychological partiality and scholarly deficit. Five stars is good.I am thankful for the exposition.
Factual Research the writer did...and details the Chinese left at all the locations visited!

Derived From Web

, Feb 15, 2019

I found this book while visiting the Wine Country of the Bay Area.I read it and was amazed. This book was factual because I followed my own research into Chinese history.I wanted a hard cover for my library, and was glad you had one. Cheers and a big thank you!
Wonderfully Interesting!

Derived From Web

, Jan 24, 2019

He liked his detective work on the maps. His knowledge of ocean currents and winds and the capabilities of various watercraft, supply requirements, etc., is encyclopedic and he stretches to conclusions a bit overall and beyond what an academically trained historian would. He writes with the certainty of a military officer. There is much to be respected and seriously considered in his work if you look at the new data he presents.
This book should certainly change history. Not sure why ...

Derived From Web

, Dec 16, 2018

T he book should change the course of history. It should have entered the history books yet. His research supports his speculations. Very well done.
Informative

Derived From Web

, Sep 16, 2018

T here is a lot of support for the idea that the Chinese were the greatest explorers. It's possible that could have been half as long.
Great coverage of this little known subject

Derived From Web

, Jul 29, 2018

S everal years ago, I had an early issue of this book. When Nat'l Geographic wrote about the subject, I didn't find any credit given to the author. He was the first to light up the ships. The commander of the submarine in the Aisian oceans area for many years was Gavin. His outlook on the voyages makes sense. The first book was great, but this one has more information and is one of several thatGavin has out on voyages.I recommend this or any of his books.
Research before buying.

Derived From Web

, Apr 2, 2018

T here's a poo- poo. Not believable. It is a pseudo history.I didn't read the back story about how this book got published. It should be listed as a fiction.