Buy 3 Get 1 Free
Our Best Sale Yet! Add 4 Books Priced Under $5 To Your Cart     Learn more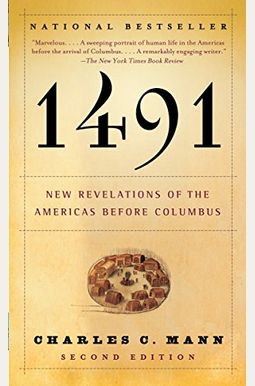  
1491: New Revelations Of The Americas Before Columbus
Frequently Asked Questions About 1491: New Revelations Of The Americas Before Columbus
Books like 1491: New Revelations Of The Americas Before Columbus
Book Reviews
(11)
Did you read 1491: New Revelations Of The Americas Before Columbus? Please provide your feedback and rating to help other readers.
An important by a self-important author

Derived From Web

, Apr 20, 2022

Many of the people who read this book were very impressed by it. While I, too, got a lot of it, I struggle to finish the sequel, which I feel I'm reading as much about him as about the history he purports to write about. I value the intelligence of writers highly, but I also think that criticism should be directed at the newspaper. In two outings, I wish the author had had had a more critical editor who had assured the author that we readers care less about more pages for the dollar and more about a balance of enlightenment and brevity, Raymond said. The book would have lost no historical value had Mr. Howard's 150-page tome been excised. It's a great book, but I still recommend it to everyone as it gave me a greater appreciation of how the eastern and western hemispheres became the one big world we know today.
Great book! I highly recommend!

Derived From Web

, Oct 8, 2021

The book was originally titled "Columbus: A History of the Native Americans." Forget the Beatles' music, read this book. It should be on everyone's bookshelf.
A disappointment so far

Derived From Web

, Oct 27, 2020

However, it is difficult to determine the exact contents of this book, much less its conclusions in the first half. Please help me to continue reading. There are some very interesting material, such as the descriptions of how disease came to decimate the populations, but in the first half I've read it seems to be as much about competing scientific theories and their proponents as about the people who were here before Columbus. He then leads us down a path and then negates it, turning to another theory. In his book, "Competing Fields: Science, Law and the Age of Enlightenment," Dr. Saul argues that scientific research is a very competitive and sometimes wrongheaded field. I'm not really that interested in the first book, "The Odyssey of Carlotta's Daughter."
Did not like the writing style

Derived From Web

, Aug 11, 2020

Generally I like history books, but this one was not my cup of tea. There is something about the author's writing style that seemed to me to be very disjointed, flighty and scattered, Raymond said. The book is a history of the Indians based on the author's travels. There were also some misunderstandings about the history of the universe, leading to the clash of theories of numerous historians and archaeologists. Please, don't hesitate to tell your story. It was a terrible read, and I did not enjoy it, giving it up after 40 pages. Good information is there, but it should be presented in a more organized fashion, Hollingworth said.
Terrible quality, how could this have shipped as a representation of your work/quality?

Derived From Web

, Jul 6, 2020

The book is made so poorly, I think any 3rd grader could have assembled it better. This is a terrible copy, said Paul LiCalsi, executive vice president of music for AOL Europe. Not sure how this even ended up in the box on its way to me, let alone how it made it out of the bindery!
Mostly about the largest societies in Central and South America

Derived From Web

, Aug 21, 2019

This book was definitely interesting, but it was not what I expected from it. The first 23 or so pages of this book barely touched on North America. It was mostly about the large societies in Central and South America, he said. Through the first 130 pages, I was beginning to wonder if the book was going to be about misconceptions on population numbers, rather than about the actual numbers. The second half did open up a bit more, but it was mostly a monologue. The information was very thorough and I highly recommend it to anyone who needs help with a problem like this." It was a blast, I never hated it. If you are interested in South and Central America before Columbus, this is a great book.
Good book about pre-Columbian days in the Americas

Derived From Web

, Jan 13, 2019

This is a good book about pre-Columbian times in the Americas. He discusses the mass extinction of large native mammals, and the culture-civilization of the pre-Columbian Indian population. The author does not take a side in these debates, presenting both sides fairly, and then offering his own opinion on the topic being discussed. My only nit is that I felt that the book was overlong, and perhaps could have been shortened by a quarter.
Best book there is on the subject!

Derived From Web

, Dec 29, 2018

I've read every book on the subject from Sapiens to Guns, Germs and Steel and this is by far the best. Not only is the writer clear and convincing but his information is backed up by an extremely thorough and well-researched research. One "problem" with some of these other books is that most of the conclusions seem to come from the authors with select research added to back up their perspectives. The book is the product of university research, not the author. However, nothing is presented without a detailed analysis of a cross-section of many other people's findings and conclusions which are often compared and analyzed as well.
A must read for anyone interested in the anthropology of the Americas

Derived From Web

, Jul 7, 2018

This is a very well written and very readable scholarly work on the history and development of the culture of the Americas, Raymond said. I knew there were fabulous civilizations that arose and fell before Columbus and his successors appeared, but I never put together how and why they arose and fell. I can now more fully appreciate what I have learned at Mayan ruins in Guatemala and Poverty Point in Louisiana.
A "must read" for any social science enthusiast

Derived From Web

, Feb 9, 2018

I'm using the same review for the second time. Both are excellent reads. I had two 11 hour flights, one from Boston to New York and the other from Boston to San Francisco. On the second trip, I read 1491 on the first trip.