Buy 3 Get 1 Free
Our Best Sale Yet! Add 4 Books Priced Under $5 To Your Cart Learn more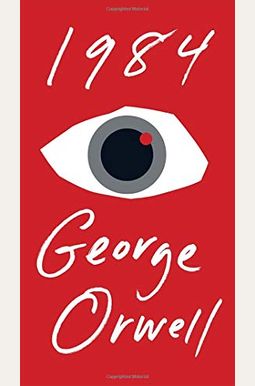 
 
Book Overview
This Description may be from another edition of this product.
With his fiery Irish blood and well-known reputation for trouble, Lieutenant George Markham leads his embattled Royal Marines against the French in Corsica. His mission: to seize the island. Markham ventures across the island to persuade the veteran war hero Pasquali Paoli to unite the Corsicans behind him. But their loyalty remains torn by a heritage of vendettas, French bribery, and cross and double cross. Enemies abound, and the only men Markham can rely on are the grim, taciturn Sergeant Rannoch and a man who owes Markham his life - Bellamy, the educated, black Marine.
Frequently Asked Questions About 1984
Book Reviews
(16)
Did you read 1984? Please provide your feedback and rating to help other readers.
1984

This was supposed to be a sci-fi, visionary novel; but we are living it right now in our country with Biden admin!
If someone with some intelligence doesn't take over.. the world maybe be a thing of the past!
People-nations will not live under governmental oppression!

What is happening

James Tousignant

, Apr 5, 2023

I read the reviews and I have to say I'm disturbed that one person who is clearly disturbed is bashing the current administration.
This is for book reviews.
Not another trolling site to spread hate.
WAKE UP
Similar to today's world events.

Derived From Web

, Aug 7, 2021

This is a fascinating read. It parallels much of what is happening in the world today, parallels much of what is happening in the world. The continuation of wars for the profit of the elite, constant surveillance, and the eradication of citizens. I read Animal Farm in school and this story is actually worse in its message. People need to wake up. People need to wake up.
So relevant for today

Derived From Web

, Jan 12, 2021

Such an interesting read and so scary, considering so much of it is happening today. How ironic that this book is a bestseller right after Amazon determines who and what information can be stored on its servers. How 1984 '' of you are you?
Where our country is headed under Biden and the socialists In the democratic party

Derived From Web

, Jan 11, 2021

Or well had a vision of what could happen to our freedoms if we don 't take care of them and watch our socialists being elected to our government. It isn't Trump's administration, it is the upcoming Biden administration that people need to fear, and I think everyone in this country is very fearful of what will happen under his administration. He is weak, not extremely bright, and pushed by the socialists in his party and Nancy Pelosi, who is extremely vindictive. His party is only concerned about power and not about people. This is a very scary time for all the people of this country and there is no place to run. The United States of America was the best last resort.
Eeriliy applicable to modern times...

Derived From Web

, Jan 7, 2021

Police thought it was police? Check out the check. Big brother listening? Check. Re-writing history to fit today's rhetoric? Check. Supply shortages of supplies? Widespread shortages of supplies? Check Over-reaching Govmnet Control Over-reaching? George seems to have got it right, but was a bit off the year... Check George '', seems to have gotten it a bit off...
This Is Happening Now!

Derived From Web

, Oct 23, 2020

After hearing about this book for decades, I decided it was time to find out what it said about Big Brother. This book, written over 50 years ago, seems to describe the tactics that are currently being used by the socialist progressives in the United States. The companion work, Animal Farm, dealt with the same topic from a different perspective and was helpful in understanding additional methods to deceive unsuspecting citizens regarding political, educational, emotional and financial slavery of the masses. Modern education at all levels is indoctrinating students with inaccurate history and often outright falsehoods. Everything enacted in 1984 by Big Brother has been instituted in years and years in the USA. We are in danger of losing the country that many of us have known from our childhood, whether it was in the 1950s or 1980s.
Meh... Wish I hadn't

Derived From Web

, Sep 24, 2020

I get it ''. We think it is applicable to aspects of today's life, and I think some of the stuff written for 1949 is incredible and great predictions for the future. Overall, I thought it was a bit of a slog. I struggled to finish it, to be motivated to finish it. I skipped a few pages that felt completely unnecessary and didn't change the story in anyways, where the character read a book within a book. I don't really get all the hoopla. I also enjoy a good Sci - Fi book as well. Glad I didn 't have to read it in school!!
Extremely important & relevant!!

Derived From Web

, Jul 4, 2020

Orwell predicted exactly what is happening in the USA today over 70 years ago. His brilliant instincts for our future were uncanny. Our country is now under attack by "Big Brother ", ie. Communism is communism, not communism. Every thought is controlled from all media to the removal of our history and heritage to absolute destruction of our laws and the eradication of our real history. This was required reading when I was in HS in 1968 and should be back today. Do yourself a favor and read it before Amazon takes it off their list of books. I doubt they'll publish this review. Let's see what Let's does.
Scarry with echoes of present time being seen in the pages of this novel published 71 years ago.

Derived From Web

, Jul 2, 2020

The televisions that can see you and listening devices are the scariest part of this book, written 71 years ago. These devices are now in true existence and it is easily conceivable that they are used to monitor us. Big Brother is watching!!! ! !
List of All Editions of 1984