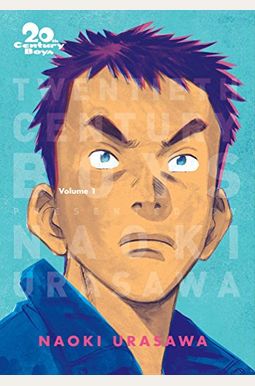 
 
20th Century Boys: The Perfect Edition, Vol. 1, 1
Product is currently Out of Stock.
You can add it to your wishlist and you will be notified once we receive a copy.
Book Overview
A deluxe bind-up edition of Naoki Urasawa's award-winning epic of doomsday cults, giant robots and a group of friends trying to save the world from destruction
A deluxe bind-up edition of Naoki Urasawa's award-winning epic of doomsday cults, giant robots and a group of friends trying to save the world from destruction Humanity, having faced extinction at the end of the 20th century, would not have entered the new millennium if it weren't for them. In 1969, during their youth, they created a symbol. In 1997, as the coming disaster slowly starts to unfold, that symbol returns. This is the story of a group of boys who try to save the world.
Frequently Asked Questions About 20th Century Boys: The Perfect Edition, Vol. 1, 1
Books like 20th Century Boys: The Perfect Edition, Vol. 1, 1

Book Reviews
(9)
Did you read 20th Century Boys: The Perfect Edition, Vol. 1, 1? Please provide your feedback and rating to help other readers.
Very interesting beginning for a bigger story to come

Derived From Web

, Mar 6, 2022

I was really interested in checking out this one out since I'm a big fan of Urasawa's other major work, Monster, he said. I was pleased to find this story so gripping, Robert told The Age. There are many questions I have, however, I see the story going in a very interesting direction, and I can't wait to read more.
Naoki Urasawa at it's best

Derived From Web

, Jul 9, 2021

His work ethic and dedication to perfection made him one of the world's greatest minds. Also got it for very cheap conmared to retail, and the condition was perfect, the seller said.
Better than I thought.

Derived From Web

, Aug 26, 2020

I did a search for the top 10 Manga series of all time and 20th Century Boys came up. I bought this book to see if I would like it and if not, I don't know. A French soldier fires a flare during a training exercise at the beach resort of Saint-Tropez. Even with the color blocking, the artwork is incredible and to think Urasawa did all the writing and artwork himself. The only compliment I can give it is that after I finished Vol. 1, I found the time was right to do it. I went out and bought Vol. 1 and then went back and bought Vol. 2. We'll probably have to play catchup, Ryan said on "The Late Show with David Letterman." I highly recommend this book to anyone who wants to keep up with the series.
Physical Quality + Story Quality = Perfect

Derived From Web

, Jan 2, 2020

Leaving a review is just a matter of trying to bring more attention to the story, McBride said. If you have any questions, please feel free to contact the author of this review. I've been watching anime ever since I could remember, but decided that I should try to get into reading manga after hearing people say that some manga adaptations are actually good. I just recently got into manga and this story is definitely worth investing in, said Shusuke. It caught my attention because it was so heavily praised without an anime. After reading some free scans, I decided to ball out on collecting each volume of the Perfect Editions. It's a great story told with a lot of mystery, Jeffrey said.
excellent

Derived From Web

, Sep 11, 2019

i love the cover, print quality looks good, price is too good not to buy, you have to buy it. Thanks for the donation, Paul.
A Good Read

Derived From Web

, Aug 1, 2019

There are multiple characters with realistic goals, motivations and individual traits that make them feel real. Characters moving and interacting in fascinating and realistic ways, all the while discovering secrets that keep the plot moving. A mysterious, yet colossal organization that threatens the world's very existence. Meaningful dialogues with not a wasted moment, but in my opinion, check, Mr. Caramore said. The plot was clearly planned to perfection, with each character reacting realistically to their own character traits and motivations, he said. Those who have been refined and established as their own, not wavering from who they are in an unrealistic manner. The item was delivered as described. The package is in excellent condition, the book is in excellent condition, too. It smells like a fresh new book! Bonus points for players who get three or more.
Great collection by one of the best Manga authors out there

Derived From Web

, Jun 27, 2019

If you like this author, you'll probably enjoy the next one. This is the first in a series of omnibus releases of another greatythriller from Naoki Urusawa. Not as serious as the original "Jaws," but just as intriguing. Follows a group of friends as they try to stop a deadly cult from destroying society. Whoopee?
This edition really is Perfect for collecting this manga

Derived From Web

, Nov 21, 2018

Naoki Urasawa is probably one of the best writers of the mystery genre. This edition makes collecting 20th century rarities a lot easier. I'll be looking to release them both. His work is also unique, the color pages and double-page spreads add to the appeal of this volume. The first volume of the series depicts the early life of both Kenji and Friend, setting up all the characters, establishing the back story and prepping for the conflicts ahead.
The best

Derived From Web

, Sep 26, 2018

I hope you enjoy the manga, give it a shot if you haven't. Please feel free to call me back if you have any other questions. In a conference call yesterday, Reichert said: "The Beatles were special and essential.