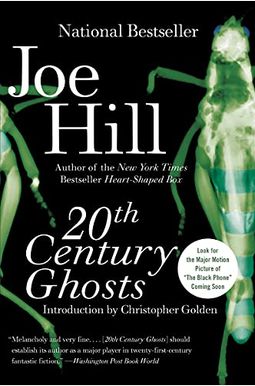 
 
Book Overview
This Description may be from another edition of this product.
Imogene is young and beautiful. She kisses like a movie star and knows everything about every film ever made. She's also dead and waiting in the Rosebud Theater for Alec Sheldon on an afternoon in 1945 . . .
Arthur Roth is a lonely kid with big ideas and a gift for attracting abuse. It isn't easy to make friends when you're the only inflatable boy in town . . .
Francis is unhappy. Francis was human once, but that was then. Now he's an eight-foot-tall locust and everyone in Calliphora will tremble when they hear him sing . . .
John Finney is locked in a basement that's stained with the blood of half a dozen murdered children. In the cellar with him is an antique telephone, long since disconnected, but which rings at night with calls from the dead . . .
The past isn't dead. It isn't even past . . .
--New York Times Book Review (Editor's Choice)
Frequently Asked Questions About 20th Century Ghosts
Book Reviews
(11)
Did you read 20th Century Ghosts? Please provide your feedback and rating to help other readers.
Not what I expected, better!

Derived From Web

, Jun 2, 2022

I read Mr Hill's books and thoroughly enjoyed them. Although the reviews sounded like this was not the typical style '' in which his books were written, I couldn t have enjoyed it more! And no, they were not all Horror '' or suspense'' or even ghostie '', but were interesting, thought-provoking and certainly a wonderful read. Mr King should be proud of his talented, he should not fall far from the tree, son!
Good, but not Ghostly (enough)

Derived From Web

, Jun 2, 2022

First I must explain why a 3 and not a 4. simply put, I was looking forward to a book chock full of fantastic tingly ghost stories. And most weren't even brilliant stories, but ghost stories nonetheless. Pop art is anything but a ghost story, but nonetheless haunts me for years to come. Sorry Joe, but a couple were boring, and a couple were too esoteric. But those who struck the mark were genuis!
Unique and addictive

Derived From Web

, Dec 27, 2020

It is read in a single sitting down. Couldn 't put it down. Stories are bizarre, spooky, unique, and intriguing.
Ghosts

Derived From Web

, Jul 5, 2020

Pretty will be written for a king. Just kidding, nice quick read. The print was small though. Like his father, not a marathon read.
Heir to Stephen King

Derived From Web

, Apr 20, 2020

Reading this collection of stories was my first experience with his work. He inherited his father's talent fully, but with his own very distinct voice. Hill spins a web of beautiful, unexpected, shocking, baffling and amazing stories. The best story collection I have ever read in a very long time. Probably ever. Evan Lee is a veteran of Lee's.
The price of admittance is well-worth the trip into this Rabbit Hole

Derived From Web

, Dec 30, 2019

With every page, Joe Hill keeps you on the edge of your seat. His books are intoxicating and addictive. I am absolutely hooked to anything and write everything with his pen.
Short stories

Derived From Web

, Nov 8, 2019

I am not always thrilled with anthologies, but this one was surprisingly good. I sucked in. Of course, I was thrilled with 2 or 3 and some of them didn 't thrill me as much. But when the story is good, it was really good, including the title. I always have plans to read one just and see how it goes. Sometimes I read an anthology and jump and never quite find the kind of story that thrills me. Never finish them all. Most had some edge of horror to them, and one or 2 could be just sweet. Joe is a fantastic writer, clearly imaginative and must have spent his youth in a movie theater. Some were influenced by or had direct references to movies. The best of the bunch was in a cinema. Kind of thrilling, given that the films are like the ghosts of the past. The dead are still live, up there on the screen.
Never disappointed! One of the best horror writers out there today!

Derived From Web

, Oct 31, 2019

Stories are interesting and fresh! Well thought out and keeps you wanting to never end the book. First loved his novels, but now I know he is great in short stories too.
Weird, creepy, surprising. You will go places that you never knew existed.

Derived From Web

, Aug 3, 2018

These stories range from the classical ghost story to many types of weird and creepy.
Great variety, new, fresh

Derived From Web

, Jul 13, 2018

Not that it matters, but it does remind me of a tad of SK, but even better because he does not overindulge in sexgore just for effect.