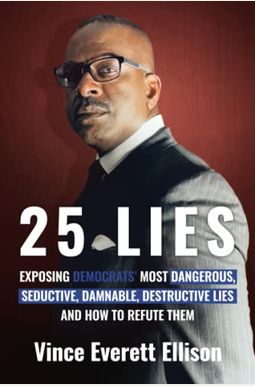 
 
25 Lies: Exposing Democrats' Most Dangerous, Seductive, Damnable, Destructive Lies And How To Refute Them
Frequently Asked Questions About 25 Lies: Exposing Democrats' Most Dangerous, Seductive, Damnable, Destructive Lies And How To Refute Them
Book Reviews
(7)
Did you read 25 Lies: Exposing Democrats' Most Dangerous, Seductive, Damnable, Destructive Lies And How To Refute Them? Please provide your feedback and rating to help other readers.
Be informed, this is very well written.

Derived From Web

, Mar 13, 2022

There is a reasonable explanation of what happened and the damaging effects of those actions. It helps you understand, inform, and counter the many ways we are being manipulated.
Excellent Book

Derived From Web

, Mar 8, 2022

I was spelled out the B.S. The Democrats have been trying to brainwash a large part of the population. We should list our race as American and end the separation of our population by ethnic group and government programs.
25 Lies Review

Derived From Web

, Mar 7, 2022

The truth about the nonsensical democratic party is exposed. Over the years, I've come to understand a lot of bits and pieces in one summary. When confronted with God's truth, my heart breaks for the black culture that enslaves their own people. They are deceived and don't know they're deceived, according to a quote by Dr. Tony Evans.
Open Your Eyes to Misinformation in the US

Derived From Web

, Mar 5, 2022

The author wrote from his experiences as a prison guard and devote Christian to show how Black Americans have lost ground in the US. Readers need to ponder Ellison's documented points before buying into the misinformation put out by US media that paints many as oppressors of Black Americans. The facts should be for truth.
Great Read

Derived From Web

, Feb 10, 2022

The guy has important views and first hand experience, and I strongly recommend this read. He could use a better editor. It is hard to put down the subject if you are interested in it.
Slaughtering Sacred Cows...

Derived From Web

, Jan 31, 2022

Many assertions in American political discourse are simply accepted at face value, without scrutiny or debate. Ellison is bold enough to refer to many of these assertions as lies, and one by one, he gives his own rebuttal to 25 of them. He draws upon Scripture, literature, and our forefathers' wisdom as he builds a rock-solid case for Truth along the way. You can tell he pulls no punches when he's on Hannity, and that's true in every chapter. If you fall on the political spectrum, be prepared to have some arguments forcefully shifted by Ellison's in 25 lies!
All Conservatives need this book!

Derived From Web

, Jan 29, 2022

This is a good book. It is well organized and easy to read. Conservatives need to fight the lies and destruction of the Dem Party with the facts.