Buy 3 Get 1 Free
Ends Soon! Buy 3 Books Under $5, Get a 4th one Free.      Learn more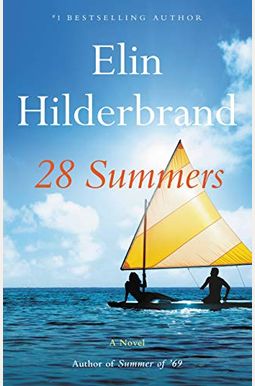 
 
Book Overview
A captivating and bittersweet novel by the #1 New York Times bestselling author of Summer of '69 Their secret love affair has lasted for decades--but this could be the summer that changes everything (People).

When Mallory Blessing's son, Link, receives deathbed instructions from his mother to call a number on a slip of paper in her desk drawer, he's not sure what to expect. But he certainly does not expect Jake McCloud to answer. It's the late spring of 2020 and Jake's wife, Ursula DeGournsey, is the frontrunner in the upcoming Presidential election.

There must be a mistake, Link thinks. How do Mallory and Jake know each other?

Flash back to the sweet summer of 1993: Mallory has just inherited a beachfront cottage on Nantucket from her aunt, and she agrees to host her brother's bachelor party. Cooper's friend from college, Jake McCloud, attends, and Jake and Mallory form a bond that will persevere--through marriage, children, and Ursula's stratospheric political rise--until Mallory learns she's dying.

Based on the classic film Same Time Next Year (which Mallory and Jake watch every summer), 28 Summers explores the agony and romance of a one-weekend-per-year affair and the dramatic ways this relationship complicates and enriches their lives, and the lives of the people they love.
Frequently bought together
Frequently Asked Questions About 28 Summers
Book Reviews
(17)
Did you read 28 Summers? Please provide your feedback and rating to help other readers.
Review

Patricia D

, May 26, 2021

I love these Southern authors and their beautifully written stories. Elin Hilderbrand, Dorthea Benton Frank, Mary Alice Monroe, and Deborah Smith are consummate pros and never fail to make me feel as though I am "right there" with their wonderful characters in these Southern settings. I laugh and I cry and I fall in love right along. These stories so resonate with my heart and soul as a woman from the South! Every single book I read is perfect and I cannot wait for the next one! Second Sale is the best site to find your favorite authors at the best prices plus shipping us free and fast!
Wasn't looking for the author's political views just wanted a relaxing beach read

Derived From Web

, Oct 21, 2020

I usually enjoy her books and read them because they take me away from all the stress and division of this world, Thibault said. There are just too many references to her political views from the NRA to warrant a thorough investigation. The story itself was a parody, too, making fun of the entire Neiman Marcus Group. A single mother of two who spends most of her adult life waiting around for one weekend a year to spend with a married man. I'm not a big fan of Nancy's book.
Save your money!

Derived From Web

, Oct 8, 2020

This book was recommended to me by a friend and I must say that it was a disappointment. The book was written by a shallow and self-absorbed writer. Based on a true story, the book tells the story of a selfish man and a woman with low self-esteem. Also, I don't know why the author thinks her readers want to hear her political views. I've read several of her books where she made political comments but this was over the top. It's a shame it took so long for Austen to realize that the dysfunctional behaviour of the main characters was healthy and honorable in anyway.
Another terrific read by Elin Hilderbrand

Derived From Web

, Sep 2, 2020

If you are a fan of the film Same Time Next Year, you will love this book. It captures the romance until we meet again in the author's signature summer of the picturesque nantucket. But it is also bittersweet. Because we all know that life is not perfect. A son is asked to call a stranger to him as his mother is dying. The person on the other end is not who he expects. The story unfolds through flashbacks.
Not worth your time

Derived From Web

, Aug 28, 2020

So disappointed in this book, so disappointed in this book. I was looking forward to another adventure on Nantucket, but Elon pulled in politics. Such a shame!!! Such a shame ''. VERY disappointing!! Very disappointing!! '' !
Same Weekend, Next Summer

Derived From Web

, Aug 14, 2020

Even though the reader learned how Mallory's and Jake's love affair would eventually end, you wanted to read the backstory from the beginning to the finale. I enjoyed the way Elin Hildebrand began each chapter with a quick synopsis of that summer's headlines. Clearly she researched each period accurately to set the stage for her characters to react. While some readers were angry or upset with the main characters' decisions during their love affair over nearly thirty years, I found that aspect of their relationship to be genuine and unique to Mallory and Jake. I'm a great fan of how Elin skillfully paints a picture with carefully chosen words that could become the screenplay for a movie.
The premise is silly

Derived From Web

, Aug 9, 2020

I liked this book but couldn't get over the fact that the premise of meeting once a year for three days without anyone ever catching on is highly unlikely. The idea is very difficult to believe in, even if Nasa did manage to achieve it. You keep thinking the long suffering Jake will come to his senses, but that never happens. I'm trying to think of the moral of the story and maybe that's not what it needs, Mr. Rule told the judge. Even though we all know each other well, it's actually difficult to keep your relationships going well. Only in the past few weeks have I been able to determine if any of the children were happy. There are multiple marriages, broken ups and infidelity. Peppered with lust, passion and perhaps deep love, Mrs Clinton was a master at seduction. The book reads well and most of the characters are well drawn. The descriptions of Nantucket and the vibe are from someone who loves that area and all it has to offer, Bordelon said.
Ugh

Derived From Web

, Jul 31, 2020

Not even reading beach reading. A nearly no imagination, exhausting rewrite of an old movie, mixed with a thinly disguised reprise of recent current events, when the plot ran thin and more page count was required.
Disappointing book

Derived From Web

, Jul 8, 2020

It's just a boring book, no wonder why people fell in love. The writer's style does not engage the reader. No one has any emotional ties to the main characters, Sosa said.
Just So-so

Derived From Web

, Jun 30, 2020

I enjoyed reading some of this author's books and enjoying the beautiful setting of Nantucket Island. This book was not a favorite in particular. I didn 't find either of the main characters compelling or particularly likeable. The main premise of the book seemed unbelievable, especially that the male character would stay in an unfulfilled marriage while madly in love with the female main character. I also found the way the book was laid out formulaic and that became boring for me. Not my favorite Hilenbrand - novel. Not my favorite Hilenbrand - novel.