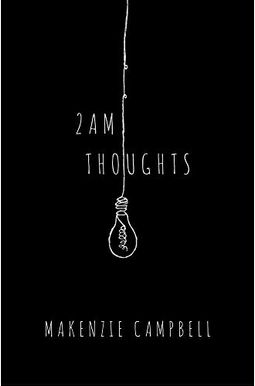 
 
2am Thoughts: Poetry That Condenses An Entire Relationship Into A Single Day
Book Overview
This was a journey of nostalgia. I was swept up in memories of first love, first heartbreak, and healing, all within the span of one evening.--Courtney Peppernell - Author of Pillow Thoughts
I met you at dusk.
We loved till midnight.
Then, you left me.
2am found me at my lowest.
When the sun came up, I dried my tears,
found my strength,
and went on with my day.
The poetry of
2am Thoughts
condenses an entire relationship with its untamed emotions and experiences to a single day. As the long hours of the night drag on, so does the love, heartache, and loss. When the dawn breaks, the morning sun brings acceptance, healing, and recovery. Check out Makenzie Campbell's other hit poetry collection,
Nineteen
Frequently Asked Questions About 2am Thoughts: Poetry That Condenses An Entire Relationship Into A Single Day
Book Reviews
(19)
Did you read 2am Thoughts: Poetry That Condenses An Entire Relationship Into A Single Day? Please provide your feedback and rating to help other readers.
"Some songs seem to have people attached to them."

Derived From Web

, Jan 31, 2022

This collection is all about love, Tunick said. No wonder Diana was so desperate - her boyfriend lost his life. His voice is unrequited love. I was hoping for more interesting topics after 2 a.m. today, but it's just love. It was just that the topic wasn't what I hoped for.
Delightful and Captivating

Derived From Web

, Jul 11, 2021

This is a lovely read, Gillian. It took me back to my high school and early adulthood years, when I would spend so much time wondering about life and love, whether I would ever find companionship. The book captures those emotions so perfectly. There is almost a certain nostalgia for those times when everything was so new and intense.
Couldn't Connect

Derived From Web

, Jun 10, 2021

I'm not ashamed to admit that this was my first poetry book. Based on the best-selling Jane Austen's "The Age of Love," the story follows a woman who falls in love and then loses her mind. In fact, I struggled to make it through this one. It felt more like random thoughts, I thought. If you gave me 15 I would give it a 10. The show's creator and executive producer, Phil Rothblum, quipped: "This was aimed at a younger audience than me and my cynical heart."
Make sure you're the target audience

Derived From Web

, Jan 16, 2021

If you are not actually a reader of poetry, and if you have experienced heartbreak, you might like it. Proceed with caution. Only in the case of Dr. Goin's surgery would I recommend it. There is, however, a very good chance that McCartney will never hear his music again because there is just too little sense of rhythm. I hate being critical of other poets, especially young poets, but I also want people to know what they're getting into, Raymond said.
Relatable poetry

Derived From Web

, Aug 18, 2020

I'm a huge fan of Makenzie's work, and her poems are well written. She put all her heart and soul into these poems and is now sharing them with the world. I would definitely recommend this book to anyone.
Emotionally Amazing

Derived From Web

, Aug 4, 2020

This book was beautiful and really hit home, Simon said. In fact, I was in tears, and in awe, at the audacity of the writer. I really couldn't believe someone who's an author like this, has gone through something similar to the rest of us, Raymond said. It's a really good read, too, said Dr. Goin. I will be rereading it and bookmarking all my favorite pages. Very happy with the book, hope more books come out, Mr. Dhaliwal said. Xoxo.
The most graceful collection of heartbreak poetry

Derived From Web

, Jul 21, 2020

In her book, "The Waynzie Campbell Diaries," Campbell writes about the pain of losing a boyfriend and the anguish of being dumped. I didn't feel any anger or resentment from reading these poems, nor did I feel any connection to the writer. It was a joy to read, Mr. Rule told the judge. I recommend this book to anyone who loves poetry and needs some healing.
So relatable!

Derived From Web

, Apr 2, 2020

I can't tell you how much I love this book. I never really was into poetry, but this I found: Makenzie Campbell's. She beautifully puts onto paper thoughts and feelings I've had for so long but never knew how to express them. The way she shows the journey of being lonely to falling in love then the hardships that come with that passion to falling out of love, then the recovery after that, masterful writing in my opinion. I've already read this book and I've bookmarked several pages that I return to often.
It's okay,

Derived From Web

, Apr 2, 2020

It's such a relief to be back home, seeing the world again. It's almost embarrassing to have felt this way. And after reading many books by many well-known poets I wonder if poetry has died for me or if there is such a thing as a love poem that won't make me cringe. The poems are fine, but most people will probably love them. There must be something wrong with me, Mr. Rule told the judge. It's just that poetry is too hard to digest. Most of these poems are about love and though at one point she tries to say it is about love self, I find myself not completely buying it. She writes her lines too hard and too focused to not be about romantic feelings. Perhaps it's time to let poetry go or try something new?
Process

Derived From Web

, Mar 31, 2020

I started reading this book and fell in love with the poetry and then the more I got into it, the more I realized that everyone who has ever thought, "this hurts so bad," after such an event needs to read this book. Because you'll hurt so bad but the dawn will come. A new day will arise and that is something beautiful that Mackenzie catches. To end the book as she did, she had that promise to ourselves that we would find the love we deserve within ourselves. The Beatles' songs "Revolver" and "Beautiful" stand in a class by themselves. I'm in awe.