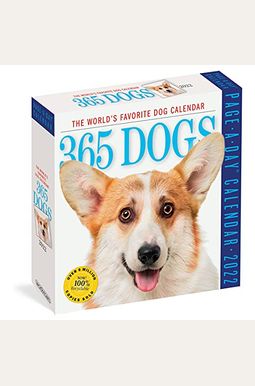 
 
365 Dogs Page-A-Day Calendar 2022: The World's Favorite Dog Calendar
Frequently Asked Questions About 365 Dogs Page-A-Day Calendar 2022: The World's Favorite Dog Calendar
Book Reviews
(11)
Did you read 365 Dogs Page-A-Day Calendar 2022: The World's Favorite Dog Calendar? Please provide your feedback and rating to help other readers.
A favorite every year!

Derived From Web

, Mar 5, 2022

My father loves this as his shopping bagger every year. A new doggo is born every day and he loves to keep it on his desk. He emails me 2-3 of his favorite picture pages from the calendar since I love dogs as well. We have sent him this way for well over a decade now. Dogs - Lover : Great gift for a dog lover.
Cuteness Overload

Derived From Web

, Feb 20, 2022

Each date includes either a summary of the pictures - pup and information about the breed itself. Definitely start your day with a smile.
Beautiful pictures

Derived From Web

, Jan 26, 2022

I love and get this calendar every year. The dogs make me smile every morning when I tear the page off. I also like that they tell what breed dogs are and a little about them, and also have training tips or trivia. The mutt of the month is sometimes a great feature and mutts are also forgotten. Any dog lover can find a great calendar for any.
Everyday is new

Derived From Web

, Jan 21, 2022

I love seeing the pups living their best lives and reading the training tips. I enjoy the daily calendar. It is hard not to read and flip through everything in a day.
We love this calendar so much.

Derived From Web

, Jan 16, 2022

The quality is outstanding at the price. The pages easily tear cleaning and easily. The printing quality is very good. My daughter and I look forward to reading the page and tearing it together every day. The worst part is that we don 't want to throw away any of them.
Fun Calendar

Derived From Web

, Jan 12, 2022

I bought this calendar for my mother. She is in an assisted living facility and keeps this calendar on her desk, where all the residents can see it. She shows it off each day in turn and she tears it to the staff and residents, who all enjoy the pictures and captions. My mom even saved a few of her very favorite pictures over the years.
Great calendar for dog lovers

Derived From Web

, Jan 1, 2022

I have had this calendar for many, many years every year. Maybe I am biased because my dogs have been featured on 2 different occasions in the calendar, but I love the photos and tips.
fun every year

Derived From Web

, Dec 29, 2021

For the last 4 years, I have received this calendar for my mother. She says that the pictures are so full of joy that they make her smile every day!
Love this 365 Dogs Calendar!

Derived From Web

, Dec 8, 2021

Every day I use the back of the day before the sheet to make notes so that it is recycling as well as enjoying the pictures! Great calendar, super fast delivery and good price!
Cardboard frame does not hold up - look at 2021 calendar reviews

Derived From Web

, Oct 30, 2021

I don 't know why there are already reviews for the calendar 2022, when we are still in the year 2021. Obviously, people are looking at calendars 2021, not 2022. Under reviews for the 365 Dogs page-a-day calendar 2021 The World's Favorite Dog Calendar to get the true picture of how insignificant the cardboard is. The dog pictures are wonderful as always, but the cardboard frame deteriorates and will not stand for long. The plastic frame used up to 2021 was much better. This calendar has been around for years, but will not buy again.