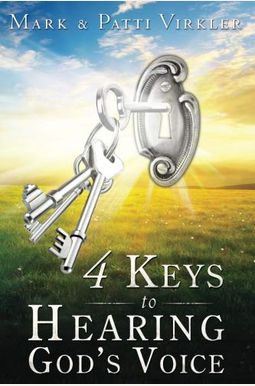 
 
4 Keys To Hearing God's Voice
Book Overview
Based on the highly popular and successful book, How to Hear God's Voice, this exciting new book emphasizes the 4 Keys to Hearing God's Voice.
When I learned to hear God's voice after 11 years as a believer without it, every part of me was radically transformed. Thousands have told me they have had this same metamorphosis, and I believe that this will become your testimony also, writes co-author, Mark Virkler.
The keys that are examined, discussed in detail, and can be immediately applied to your life are:
1. How to recognize God's voice as spontaneous thoughts. 2. Learning how to become still before the Lord. 3. Looking for vision as you pray. 4. Realizing the importance of two-way journaling.
Filled with insights from years of hearing from God, 4 Keys to Hearing God's Voice also includes visual aids that enhance the teaching and learning experience. Very reader-friendly, you will find that the concepts and principles are easily adapted to your personal circumstances and lifestyle.
Designed to bring even more depth to your relationship with God, this book is part of an integrated package that includes a DVD and seminar guide for either individual or group study. Either as a stand-alone book or as part of a package, you are sure to gain valuable encouragement and motivation to seek intimate communication with God, your heavenly Father.
Frequently Asked Questions About 4 Keys To Hearing God's Voice
Books like 4 Keys To Hearing God's Voice
Book Reviews
(13)
Did you read 4 Keys To Hearing God's Voice? Please provide your feedback and rating to help other readers.
Very Practical and helpful

Derived From Web

, May 21, 2022

I really enjoy this book ''. It has given me some practical insight. I have not yet finished it, but with the years of training I have never really gotten to the point of hearing God's voice, and I feel that with what I have read so far is balanced and practical. The author feels also concerned about checking with others and not just saying you heard from God and running off to do what ever, but to ask for guidance from 2 or 3 others and waiting for God to confirm it. I think it is a very practical book with practical safeguards. So far, I am in the writing - style of writing.
This book is for anyone who desires to improve your quality of relationship with God.

Derived From Web

, May 21, 2022

I have recommended it to several friends, including one who has worked for many years in the Prison Ministry. For example, it is not a deep book, like Watchmanee. I wouldn't even say that it is medium deep. This is a practical book for people of all ages, no matter how long one has been walking with God. Her testimony is that it increased her closeness to God. Highly recommended.
This is one of the best books I have read concerning the understanding of God's ...

Derived From Web

, May 21, 2022

This is one of the best books I have read about the understanding of God's word. It is a lot of information, so I am sure that I will read it more than once. The books make me want to study the Bible more than ever. I wish there was a book like this 20 years ago ''. I have read several books in the past years, but this one makes me yearn for more knowledge. This book has just what God wants to know about Christians. The author has written about 60 books, who does this?
You too can hear God's Voice!!!

Derived From Web

, May 21, 2022

I bought this book a few years ago because I wanted to have a dialogue with God. I had gotten into the habit of praying and I figured that since God could hear me, I should figure out how to hear God. Since reading this book, I can now have conversations with God at any time. I always thought that if I were to hear God, his voice would be thundering, but Mark taught me that is not the case. I have always heard God, I just realized that it was him because he speaks in my own voice to me.
Life changing

Derived From Web

, May 21, 2022

I read it again, just in case I missed something. It helped me become more deeply connected to God in a more profound way.
This book is extremely helpful to help Christians to hear God's voice and develop hearing that God wants for all of us.

Derived From Web

, May 21, 2022

I have been teaching this book for 2 years and the people who study it and walk in communication with God are growing in new dimensions and enjoying God's teaching in new dimensions.
The book was in good condition the content is excellent I would recommend everyone ...

Derived From Web

, May 21, 2022

The book is in excellent condition, the content is good and I would recommend that everyone read this book. The book seller, however, destroyed the book by placing stickers on it when the stickers left a gooey, sticky residue, ruined the book. The book seller does not need to use labels, but invest in quality stickers that easily remove. Or better yet, don 't use any stickers!
Dancinstarlite

Derived From Web

, May 21, 2022

This book is my favorite! We can all hear God's voice!! She bought it for her birthday and she loves it too!
These Keys Work

Derived From Web

, May 21, 2022

It surprised me that these four easy keys actually helped me deepen my relationship with Jesus. The only caveat is that his wife writes the same concepts, but from a visual or right brain view.
The Book is good so far about getting in touch with God, Jesus, Holy Spirit.

Derived From Web

, May 21, 2022

I gave it a five star rating because I haven 't had the time to really meditate on the scriptures and really absorbed the information in this book.