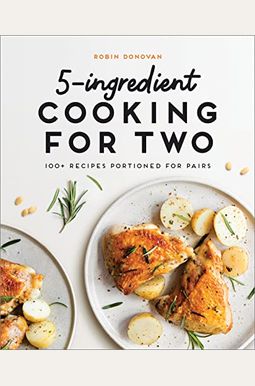 
 
5-Ingredient Cooking for Two: 100 Recipes Portioned for Pairs
Book Overview
Cooking for two has never been easier--or more delicious
With easy-to-follow instructions, smart shopping lists, and step-by-step meal planning, the 100+ recipes in 5-Ingredient Cooking for Two helps minimize prep time while maximizing flavor and your budget. Each dish is perfectly portioned, from Breakfast Quesadillas to the fresh take on Weeknight Fish Tacos. And don't miss the S'mores Cookie Cups
This essential couple's cookbook has more than just tasty and wholesome recipes inside. You'll also find invaluable tips for streamlining your kitchen time, reducing food waste, and enhancing your meals with cooking hacks and simple techniques to add even more flavor to your favorite dishes.
As with the best cooking for two cookbooks, this one features:
Perfect portions--Each recipe, whether traditional entree, breakfast staple, or indulgent dessert, makes two generous servings and is crafted to make cooking for two easy.
Time-saving tips--From one pan/pot meals, to dishes you can make and freeze, to kitchen shortcuts that reduce cleanup, this cookbook is a must-have for busy twosomes.
Enhanced eating--Recipes include creative ways to upgrade your meals with imaginative garnishes, scrumptious variations, and pairing tips.
At last, a smart 5-Ingredient cookbook designed to deliver on taste for any twosome while still respecting your time and budget. Dig in
Frequently bought together
Frequently Asked Questions About 5-Ingredient Cooking for Two: 100 Recipes Portioned for Pairs
Book Reviews
(16)
Did you read 5-Ingredient Cooking for Two: 100 Recipes Portioned for Pairs? Please provide your feedback and rating to help other readers.
Easy and Tasty Dishes

Derived From Web

, Dec 1, 2021

This was because there were lots of dishes that looked worth the try. We tried at least a dozen now and each of them has been really great!
Requires MORE than 5 ingredients

Derived From Web

, Aug 26, 2021

I like that the recipes are actually created to serve two. I don 't like that the book is called 5-Ingredient Cooking, which is a misnomer. Every recipe calls for more than 5 ingredients for each recipe. Some recipes have a note suggesting that you add noodles, or rice, or another spice, or make it a salad, or whatever else adds to the ingredients. Overall, I give the book a C- in terms of recipe quality, because the recipes are trying too fancy. I use the book more as a reference for ideas and measurements than following a recipe.
A great choice for cooking for two, or even one!

Derived From Web

, Jun 2, 2021

I liked the first chapter on shopping and storing, as well as the many recipe chapters. I thought to myself, We wouldn eat that! '' Ideas and recipe sizes seem appropriate and the large number of desserts and snacks made sense to me.
Excellent recipes with fresh, nutritious ingredients!

Derived From Web

, Feb 18, 2021

I have found that cooking for two can be frustrating now that we are empty-nesters. Many recipes are not easy to freeze and, although we like leftovers, we don 't like to eat the same thing for too long, and some things do not freeze well after cooking. When you try to buy for just two, there can also be a lot of waste when you try to buy for just two. Robin Donovan gets it, and this delightful cookbook is full of recipes for duos that use good, fresh ingredients in a simple way. When you use only a few ingredients, each counts really well. This cookbook does not fall into the trap of using a cream of '' soup for an ingredient ; everything is fresh and nutritious. If I had one negative about this book, it is the lack of photographs. Photographs in a cookbook entice me to try the recipe. But even without the photographs, this book is one of my new favorites for our pared family!
No pictures

Derived From Web

, Jan 7, 2021

I expected there to be pictures of each recipe. Good recipes, but I would have liked to see what each cooked meal looked like after it was prepared.
Disappointing

Derived From Web

, Nov 9, 2020

I do not believe how many fishpoultrymeat recipes there were in here, at least 36. There were then ten salad recipes, 10 desserts and 14 for snacks and sauces. At least the breakfast and soup sections are good. Claims to have buying tips for two, but it is mainly used to freeze everything else.?Oh, and it's printed on seriously cheap-dry paper that feels horrible, so not good for a gift. Unless you're a huge meat eater, I wouldn t recommend this.
Who knew?

Derived From Web

, Nov 4, 2020

After buying several of the Cooking for Two cookbooks that this would be the 5-ingredient book that we use the most. The recipes are simple, fast and have oh so easy clean-up because you are using many different ingredients. And what I found the best about this book is that the cooking instructions for fish are spot on for excellent results. Even when I followed instructions such as cooking halibut for several minutes away from the heat, I doubted the instructions and the fish turned out simply perfect. Another good point about cooking for two books is that portion sizes are not skimpy, but enough to feed me, my husband and a leftover lunch portion for lunch the next day. In my opinion, this book is a real winner.
Perfect Blend of Recipes!

Derived From Web

, Aug 21, 2020

Very excited about this book ''! I bought it to get us out of our dinner routine and is a great fit for us. My other half eats meat and is a bit picky, and I'm a more adventurous and vegetarian eater. This has a perfect blend of recipes to satisfy both! Anything too pretentious or difficult to find ingredient wise, either. I think I'll give some copies with kitchen goodies in gift baskets for the holidays!
HIGHLY recommend this book!!!

Derived From Web

, Aug 10, 2020

I am in LOVE with this book and I have made only about 10 of the recipes so far. Everyone turned out absolutely amazing! I had concerns that the dishes might be too simple or blah using only 5 ingredients. The case is not at all! So good, so fast. This book is highly recommended for all 2 parties out there!
Perfect For The New Cook

Derived From Web

, Aug 3, 2020

My boyfriend is making a Gallant effort to become more comfortable in the kitchen, so I picked this book for him. It is perfect. Super easy to make recipes and the recipes all sound delicious! There is a section on the front that walks you through the basics, breaks techniques, talks about meal prepping and can be used as a guide for moving forward. We made the last night's fish tacos and were awesome! Looking forward to trying more!