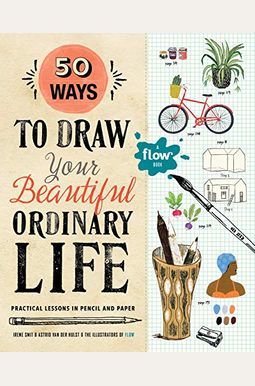 
 
50 Ways To Draw Your Beautiful, Ordinary Life: Practical Lessons In Pencil And Paper
Book Overview
The mindful pleasure of learning to draw, with paper goodies and creative secrets from expert illustrators.
Draw the
Flow
way. In this innovative approach to drawing instruction, the illustrators from
Flow
magazine open up their tool kits, sharing secrets and techniques to teach the creatively curious how to draw. And paper goodies bound into the book encourage artistic exploration and remind us of the mindful pleasure of doing creative work. The lessons, 50 in all, show how to render the kinds of things we see every day: a bouquet of flowers, a beloved teacup, colorful mittens, the kitchen table, a bike, jam jars, a cat, an apple tree. Along the way we learn about color, materials, perspective, tools, and negative space.
Filled with paper goodies: ​
Paper doll fashion sketchbook to draw your favorite outfits
Mini daily drawing pad
DIY postcards
Watercolor, tracing, and colored papers
House interiors to unfold and decorate
Frequently Asked Questions About 50 Ways To Draw Your Beautiful, Ordinary Life: Practical Lessons In Pencil And Paper
Books like 50 Ways To Draw Your Beautiful, Ordinary Life: Practical Lessons In Pencil And Paper
Book Reviews
(15)
Did you read 50 Ways To Draw Your Beautiful, Ordinary Life: Practical Lessons In Pencil And Paper? Please provide your feedback and rating to help other readers.
Perfect book with lots of goodies!

Derived From Web

, Mar 6, 2021

I don 't often write reviews, but for this book I had to! I was looking for a book to help me draw and also for my watercolor paintings. Here is the complete beginner! I think this book is perfect for beginning and intermediate artists. Step by step, learn how to draw basic, everyday things. Here you find lots of little paper goodies to help. They covered you. That's also there. They leave space for you to try after every lesson. I'm thinking about purchasing a few more copies as gifts for my close friends who love Bullet Journal. I recommend it for yourself or as a gift!
Don't expect LESSONS

Derived From Web

, Feb 11, 2021

When it said lessons, I expected lessons... hints and clues to help me learn to draw. With VERY FEW exceptions, it was the author's sketch of ideas of things around your house, and then copy u just for instance how to draw hats a bunch of heads with hats on them-and apace for you to try... About HOW : NOTHING about how to. Basically, just ideas to practice sketchingcopying.
Skip this

Derived From Web

, Mar 13, 2020

Boring is helpful but not Boring. Wanted to return it, but I am stuck in South America due to the closure of the borderairport. Total waste of money, don 't purchase.
Artistically Engaging Activity Book

Derived From Web

, Jan 4, 2020

My daughter and I found this regional book in our delightful book store today. She bought a copy for me and I bought a copy for her at the full retail, independent book dealer price of $25 each. We knew that we would likely get it for a little more on Amazon, but we support our local book seller and love her, just as she supports our community. This book is great fun for anyone who likes to create, draw, draw, draw, make, and animate things. It is consciously designed, pretty to look at, fun to explore and even more fun to actually draw in it. I've filled the first couple of pages and sat around the fire on a cold winter's evening. Here there is more than enough to get me fully engaged into spring.
An Encouraging and Inspiring Drawing Book

Derived From Web

, Dec 21, 2019

My friend made a comment that she likes drawing and wishes that she did more often. I received this book as a gift because it looked like it had a lot of variety with the paper dolls, postcards, watercolor paper etc. I am an artist so I flipped through the book to see what it had. I am buying a copy of myself - it is just so cute! There are great quotes of advice in the book and the layout works really well in general.
A pearl

Derived From Web

, Oct 6, 2019

It is meant for people who are interested in seeing how a number of illustrators would go about drawing simple images of the daily. It shows step by step instructions and tips on how to try different papers and materials. Well done, carefully laid out. As I said, it is really a pearl.
THIS ONE IS DIFFERENT!

Derived From Web

, Apr 27, 2019

I've noticed a repetitive theme in most books of this type. They combine much of their own art and insert it with lists. Lists of all sorts : what you need, don 't need, etc. This is completely different. The pictures I included are just an example of the ways they incorporate their artwork with inspiration, provoking words to keep you going. The third picture shows what I was doing while waiting for my g-daughter to finish her ballet class, as I brought the book and a pencil with me. If you are an artist who is self-taught or schooled, a working person or homemaker, I recommend this beautifully supportive, I intelligently supported, "friend ". It will help you climb one limb at a time out of that self-made rut.
WOW!! Great, FUN Book

Derived From Web

, Mar 26, 2019

Just to be honest, I can 't draw, but this book caught my eye just so I ordered it. I haven 't spent as much time with it as I would like, but it is a fun book. The things in it are just the everyday things in life, the kind of things I wanted to see. I am great with drawing, but not great-nobody, but I don 't see my art either. It is a real joy to only thumb through it. The best part about this is that it gets my creativity up and lifts my imagination.
Easy to get sucked into, not too hard, great artists

Derived From Web

, Feb 21, 2019

I have worked on my drawing for years, with classes and routines and tutorials, and though I received compliments, I never felt much confidence or comfort. This book offered me a breakthrough by showing everyday subjects and how different artists played with them and injected their own humor and tastes and experiences. It made me realize that the pleasure in drawing is not so much about representing something perfectly, but about the fun of drawing a whole cupboard of mysterious objects or a set of funny teacups, of drawing a pig and then re-imagining the pig in a completely different situation. This book is much more than it has to be with really cute project ideas and inserts. But I think the real value is in the examples provided by the exhibited artists. It is a great collection.
Lovely

Derived From Web

, Nov 17, 2018

I found myself under the weather and not able to go out for a few weeks, so ordered this book, some paints etc. This book is beautiful. It has different illustrations, ways to draw beautiful things in life, folds etc. I would recommend this book to anyone looking for a little happiness and tranquility in their life, because sitting and immersing into this creativity will bring you a most certain calm.