Cyber Week Deals
Cyber Monday Deals are Here! Save 20% on All Books Under $10 - Code CYBERBOOK Learn more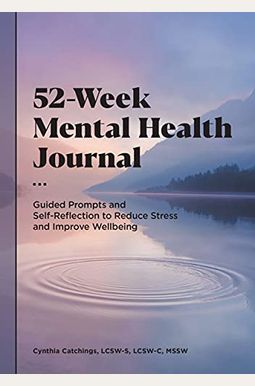 
 
52-Week Mental Health Journal: Guided Prompts And Self-Reflection To Reduce Stress And Improve Wellbeing
Frequently Asked Questions About 52-Week Mental Health Journal: Guided Prompts And Self-Reflection To Reduce Stress And Improve Wellbeing
Book Reviews
(10)
Did you read 52-Week Mental Health Journal: Guided Prompts And Self-Reflection To Reduce Stress And Improve Wellbeing? Please provide your feedback and rating to help other readers.
Unimpressed…

Derived From Web

, Feb 17, 2022

I bought the book based on the reviews. I started this book a few weeks ago and I have to skim the rest of the prompts to see if it gets better. There is no flow or prompt that is random or awkward. They don't make sense to me and part of the point is to get you out of your comfort zone. There are only 5 lines to express and write. I don't know if I will be able to keep writing or purchase another book. I thought this one would be helpful, but it is just boring. I need a book that I can look forward to working on and writing in, and this one doesn't do that.
Thought provoking

Derived From Web

, Jan 11, 2022

You were supposed to do 1 section per day. The first prompt is suppose to be for the first day and then the second one. After another question asked me to reflect on what I wrote the day before, I discovered this was not in the book. I wanted to do a sectionweek. These questions make you stop and think. I use some of the prompts during skill building sessions for my own clients. I don't like that there is limited space to answer and that I'm writing to myself. I've noticed that I'm able to take a time and focus on something other than thoughts in my head, which is something that I have horrible attention deficit disorder. I have been able to stay present and focused.
My husband actually uses and loves it!

Derived From Web

, Jan 3, 2022

I bought it for my husband because he was looking for one. He uses it frequently. He's an intellectual and has high standards. He just loves it.
Getting back into journaling

Derived From Web

, Nov 11, 2021

There are some light hearted questions and some deeper questions that help with self reflection in a guided way.
Actionable ideas and Strategies that Really Help

Derived From Web

, Oct 26, 2021

The book is used to reinforce support. It is well written and provides a number of actionable activities and strategies that helped to combat stress and promote well-being even in difficult times. I have been able to pace myself and match activities with my weekly challenges by going through it week by week.
Great for beginners learning journaling and self exploration

Derived From Web

, Sep 13, 2021

I use this book as a therapy book for myself and for relaxation. It's perfect for someone just starting to journal or explore their own self-care habits, something we all can use more of after living through 2020-2021!
Super helpful to reduce stress! My go-to gift for family and friends I care about

Derived From Web

, Sep 2, 2021

I have been using my journal for a week now and it has been helpful. The daily questions and prompt help me take time to reflect on my goals, concerns, and dreams. I don't have a direction when it comes to free writing or journaling. The guiding questions help me get into the practice of journaling every day. I only need 5 minutes a day to complete the questions in my journal. 5 minutes of journalling have helped me to calm my mind and feel less stressed. My friends and family will receive 3 journals as gifts. It will be my go-to gift from now on for those I care about because it will help them take care of their mental health and wellbeing. I will buy one every year to continue this practice.
Maybe It's Me

Derived From Web

, Sep 1, 2021

I might have expected too much. If I knew the answers to many of the questions I wouldn't need the book. It's not that kind of book. Something more intense is not self help. It's more like a diary for someone who has their life in order and just needs to clarify or understand themselves a little bit better. It would be great for that audience. Not for someone who needs to do more research into themselves. thumbs down for me.
So excited!

Derived From Web

, Aug 22, 2021

I've been waiting for a journal like this to come out. I like the concept of guided. I've never been able to start writing because I didn't know where to start. I'm excited to start this journey!
My first week has been filled with ah ha moments

Derived From Web

, Aug 17, 2021

I had life changing realizations within the first two prompts. The questions in the book make you think. If you follow up with questions that help you see that you have more control over your life than you thought, you can answer with real answers that nobody ever needs to see. It has given me renewed hope that I can achieve my goals. I will buy this book again for friends and family.