Buy 3 Get 1 Free
Our Best Sale Yet! Add 4 Books Priced Under $5 To Your Cart Learn more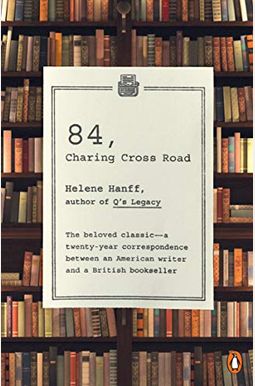  
Book Overview
This charming classic love story, first published in 1970, brings together twenty years of correspondence between Helene Hanff, at the time, a freelance writer living in New York City, and a used-book dealer in London at 84, Charing Cross Road. Through the years, though never meeting and separated both geographically and culturally, they share a winsome, sentimental friendship based on their common love for books. Their relationship, captured so acutely in these letters, is one that has touched the hearts of thousands of readers around the world.
84, Charing Cross Road
will beguile and put you in tune with mankind. It will provide an emollient for the spirit and sheath for the exposed nerve. --
The New York Times
A unique, throat-lumping, side-splitting treasure. --
San Francisco Examiner
Frequently Asked Questions About 84, Charing Cross Road
Books like 84, Charing Cross Road
Book Reviews
(12)
Did you read 84, Charing Cross Road? Please provide your feedback and rating to help other readers.
Even better the second time around!

Derived From Web

, May 21, 2022

I bought this as a gift to give my own pen pal, when we met for the first time in person. We had written for about 3 years and this book often came up in conversation more than once as a great representation of how real friendship can be achieved based only on the written word. The copy I received was pristine and I must admit that I could not wrap it up again before reading it. I think I enjoyed it much more this time around 30 years old and, hopefully, a little wiser since the first read. At the age of 13, I came to America from the UK in 1960. The letters referring to Rationing and Wartime deprivations really resonated with me, as I remember Ration books and my first Orange! I highly recommend '' this book!
Review -84 Charing Cross Road

Derived From Web

, May 21, 2022

This is a beautiful story of friendship at a time when writing letters was the only form of communication among friends and businesses. Frank is a book dealer in London. When Helene comes across a catalogue for the store, she writes immediately with an order to them. Frank replies and begins in his very proper British manner with Dear Madam ''. On the other hand, Helene is outspoken with a witty sense of humor. She replies with the remark I hope Madam does not mean what it does here ''. And so begins a beautiful exchange of lives, which begins with a shared love of books and develops into so much more. This is especially a wonderful read, especially for anyone like myself, who loved writing and receiving letters before computers killed the romance of it.
A charming collection of letters

Derived From Web

, May 21, 2022

I enjoyed so much this collection of letters ''. Most of the classic books she references in her letters are not ones I will even attempt to read, but there was still plenty to find endearing and relatable. I don 't often give books as gifts to adults because each person's reading preferences are so difficult to pin, but since this book is short and a fairly quick read and such a gem, I will give it as a gift.
Delightful!

Derived From Web

, May 21, 2022

I read it at the urging of a friend. It was a quick read and I was sorry that it came to an end. I shared the book with friends and plan to continue sharing. I have another book by Helene Hanff and a book about her that I can 't wait to read. It made me miss those days when I sat and wrote letters and miss those days when a letter arrived in the mail to be enjoyed with a cup of coffee to savor the experience. Do this and then write a letter to someone.
The only book I ever read again right after finishing it.

Derived From Web

, May 21, 2022

I live in the USA and received this book as a birthday present from someone in Northern Ireland that I have never met. I have corresponded with my friend for nearly two years via email. 20 years are far too long to wait to meet someone as nice as Frank. This is by far the best birthday present I ever received!
Pleasant Read!

Derived From Web

, May 21, 2022

This book was read with a breath of fresh air. It was an uplifting, humourous story of the long distance correspondence of a used bookstore and its workers in America and the buyer in London, whom they worked with long distance over 20 years, fulfilling her love and desire of specific books.
84, Charing Cross Road

Derived From Web

, May 21, 2022

This is a charming story with interesting real-life characters, an English bookstore clerk and his American client, with whom he shared a friendship for years without having met them.
Great little book

Derived From Web

, May 21, 2022

A delightful and charming read. The letters give the reader an insight into how the British people dealt with very limited consumer goods, especially food, post war. Was very interesting to see how the beginning correspondence begins very informally to the friendship that develops between Helene Hanff and the book store employees. A must read book, a great little read.
Charming book!

Derived From Web

, May 25, 2021

Too bad, it is still in pristine condition. Promptly shipped, packaged incredibly securely and arrived quickly. Well done job.
Wonderful story

Derived From Web

, Aug 21, 2020

I read this book first when it was originally published and have been trying to get a copy since then. The original hard copy was available, but no longer in my price range when it is beautiful. I recommend reading it to see exactly what prices were in the early 40s and late 50s. Also, how many hardships the British people went through post WW2 and how dedicated the employees were at the time. I don 't think that this type of service is any longer available. That is also a shame.