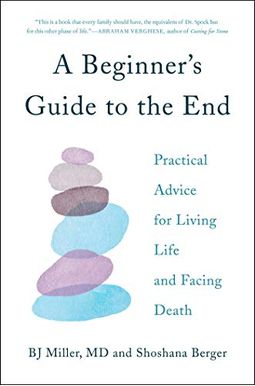 
 
A Beginner's Guide to the End: Practical Advice for Living Life and Facing Death
Frequently bought together
Frequently Asked Questions About A Beginner's Guide to the End: Practical Advice for Living Life and Facing Death
Book Reviews
(7)
Did you read A Beginner's Guide to the End: Practical Advice for Living Life and Facing Death? Please provide your feedback and rating to help other readers.
What to expect when you're expecting to die (which we all will do)

Derived From Web

, Aug 9, 2019

When preparing for the birth of my first child, I read voraciously and soaked up practical advice. When preparing for my father's death, I tried to do the same. I couldn t find a source of inspiration like my B.E. books. Then I have. Why I love this book most : 1) large type, so that I can read it even if I can not find my glasses. 2) Engaging design makes me want to come back to read all the tips for caregivers. 3) Practical advice I have never seen anywhere else, such as what to pack when going to the ICU or the Hospice, like a clock to help your loved one reorient without having to ask. 4) Pretty prose -- even funny at times, which charmed me. If you want to avoid the subject of death, let this book be the guide that changes your life.
Relavant for SO many of us!

Derived From Web

, Jul 20, 2019

This book really guides the reader through so many important aspects of preparation for the end of life. It is absolutely accessible, not at all preachy, with humor and wonderfully important advice. I have not finished it, but am so grateful for their wisdom and truly relevant suggestions. I thought I was fairly prepared with signed documents, but there is so much more to do if one wants to help and lead the family as we diminish. For younger family members, it is especially helpful if they have parents who have done a little preparation. For me, it is a gift. BJ and Shoshana thank you!
A valuable resource and a must read

Derived From Web

, Jul 20, 2019

What a thoughtful, thorough, and meaningful book and resource. It treats a practical subject with an extraordinarily delicate but enticing tone. It is recommended to start thinking abstractly about this topic and to be a practical guide as we face this time in life. Thanks for supplying such a great resource and writing such a great book!
Extraordinary!

Derived From Web

, Jul 19, 2019

This book is urgently needed and long overdue as we struggle with the issue of death and dying while trying to live life to the fullest. It is clear, comprehensive and covered every aspect of this life. It is now both a great read and a reference manual as needed. The stories are deep, compassionate, and convey a poignant understanding of the issues. Shoshana thanks you both BJ and Shoshana.
The End-of-Life version of "What to Expect When You're Expecting"

Derived From Web

, Jul 18, 2019

Beautiful and thoughtful illustrations that make potentially palatable content. I am one who likes to be prepared, and there are so many things to think about, at any age, for yourself and your loved ones, this book covers all the bases.
Every family should own this book

Derived From Web

, Jul 16, 2019

This book I loved! While it is probably not supposed to be read cover to cover, I did. At the time of life, I need to buckle and take care of my paperwork. Since we have children, we haven ' ve been updating our wills and this book denotes all the things that all responsible people need to take care of while they're still healthy. Shoshana Berger's background as the founding editor of Readymade magazine gives her the perfect voice for the simple, step-by-step guidance that this book provides. The co-authors combined perspectives and experience weave together to form a tone that is love, supportive, warm, and clear. Having lost the first of our parents, these chapters serve as an indispensable guide for navigating illness and the end of life for family members. This book needs to be owned by everyone!
We all need to read this book.

Derived From Web

, Jul 16, 2019

This book is an incredible resource for anyone preparing for the inevitable. As a daughter who had little to no idea of how to navigate both the progression of dementia and the death of my father, this book would have been an invaluable road map. It addresses all aspects relating to the often gradual and painful march towards the end. This includes not simply organizing your financial affairs, it addresses how to manage illness, expressing loved ones'wishes and desires for the end of life, as well as providing valuable information about navigating the medical system. I highly recommend this book for anyone who doesn 't want to be stuck saying if we had only... ''