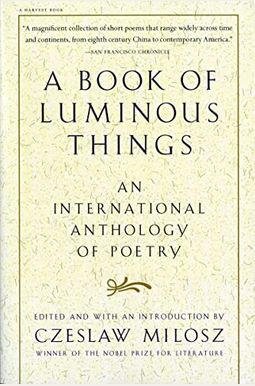 
 
A Book Of Luminous Things: An International Anthology Of Poetry
Book Overview
This Description may be from another edition of this product.
For A Book of Luminous Things Nobel laureate poet Czeslaw Milosz has selected 300 of the world's greatest poems written throughout the ages, poems memorable for how they render the realities of the world palpable and immediate. They are organized under eleven headings - including Epiphany, Nature, The Secret of a Thing, Travel, Places, and The Moment. In addition to his introduction, Milosz contributes brief, penetrating commentary on each poet. Among the poets included are Elizabeth Bishop William Blake, Joseph Brodsky, Constantinos Cavafy, Emily Dickinson, Robert Frost, Allen Ginsberg, Linda Gregg, Seamus Heaney, Zbigniew Herbert, Jane Hirshfield, Robinson Jeffers, D. H. Lawrence, Denise Levertov, Philip Levine, Li Po, Antonio Machado, Thomas Merton, W. S. Merwin, Sharon Olds, Mary Oliver, Po Chu-I, Rainer Maria Rilke, Theodore Roethke, Charles Simic, Gary Snyder, Wallace Stevens, May Swenson, Anna Swir, Wislawa Szymborska, Tu Fu, Wang Wei, Walt Whitman, and William Carlos Williams.
Frequently bought together
Frequently Asked Questions About A Book Of Luminous Things: An International Anthology Of Poetry
Book Reviews
(8)
Did you read A Book Of Luminous Things: An International Anthology Of Poetry? Please provide your feedback and rating to help other readers.
Not Just Quality Literature, But Genuinely Enjoyable

Derived From Web

, May 27, 2022

A BOOK OF LIGHT THINGS is wonderful reading! So much can not be said for most of the books of poetry I have been reading over the past forty or so years, and I have come to wonder how people have maintained a love for literary form at all. For poetry, poetry expresses emotions more fully and more directly than other genres. This anthology contains admirable choices. Furthermore, the translations do not scream perceptually or emotionally for some reason. I am no linguist, but I can conceive a well-drawn line. I've gotten close to these poems and I can get very poetic. The book has become a favorite and I often return to it.
Great for Goose & Gander!

Derived From Web

, May 27, 2022

Such a beautiful collection! I gave it to my boyfriend as a Christmas present, even though it had been on my wish list for over a year. ) He said : How did you know that I was a big fan of Milosz? He has loved reading it and I may soon be able to secretly reclaim it.
A Sublime Anthology

Derived From Web

, May 27, 2022

Indeed, the poetry is luminous therein. This anthology is great for any ocassion from Haiku and dead moths to drangonfly wings and Jeffers's hurt hawks. I discovered it while traveling and proved to be a beautiful travel companion. It made the trip especially memorable and much more endurable in that the poetry provided me with little opportunity to reflect on the human condition and elemental themes. The more interesting aspect of this anthology occurs in agreement with the editor's own writing philosophy, which focuses on celebrating the simple with poetic spirit in simple facts - simple happenings that may easily be overlooked by the distracted passerby. Herbert, Hass, Milosz, Jeffers and Szymborska contributed.
NOTE REGARDING HARDCOVER QUALITY

Derived From Web

, Mar 20, 2021

I love this anthology, which I purchased several times over the decades. Recently I purchased two hardcover versions to give as gifts and was sorely disappointed in the completely altered quality of the hardcover. The original hardcover was beautiful. The book was written by Ruined.
Not a keeper

Derived From Web

, Dec 2, 2020

Somewhat obscure, heavy on lyricism and light on gravitas.
Broad perspectives, good context

Derived From Web

, Jan 1, 2020

Poetry is drawn from a wide range of times and places, giving it a wide ranging sample of view points. It is organized in a logical way and the commentary gives context, but does try to explain everything over.
Great Anthology!

Derived From Web

, Nov 10, 2017

Probably the great anthology of the late 20th century! In his taste, Milosz is luminous, while his selection is catholic. Middle Eastern poetry is American, and the presence of major Chinese poetry haunts the volume, not just the great names of the T'ang, such as Du Fu and Po Chu-i, but lesser known masters such as Mei Yao Ch'en In broad daylight, I dream I am with her. At night, I dream that she is still at my side. She wears and alters my clothes and mends for fear that I might look ragged and ragged. She is dead, she watches over my life. There is Rumi and Cavafy. Anna Swir and Rilke are featured. If I try to think of who is missing, I can find two names, Borges and Li He. But even without these two it is a wonderful collection!
Wonderful collection of poets

Derived From Web

, Aug 19, 2017

Wonderful collection of poets, I know and a great many that I had not read before. Introductions are interesting and expand one's base for reading poetry. All around a good book for reading at the bedside.