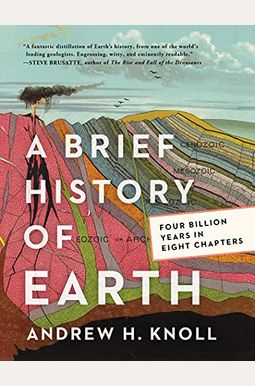  
A Brief History of Earth: Four Billion Years in Eight Chapters
Product is currently Out of Stock.
You can add it to your wishlist and you will be notified once we receive a copy.
Book Overview
This Description may be from another edition of this product.
A sublime chronicle of our planet. -Booklist, STARED review
Harvard's acclaimed geologist charts Earth's history in accessible style (AP)
How well do you know the ground beneath your feet?
Odds are, where you're standing was once cooking under a roiling sea of lava, crushed by a towering sheet of ice, rocked by a nearby meteor strike, or perhaps choked by poison gases, drowned beneath ocean, perched atop a mountain range, or roamed by fearsome monsters. Probably most or even all of the above.
The story of our home planet and the organisms spread across its surface is far more spectacular than any Hollywood blockbuster, filled with enough plot twists to rival a bestselling thriller. But only recently have we begun to piece together the whole mystery into a coherent narrative. Drawing on his decades of field research and up-to-the-minute understanding of the latest science, renowned geologist Andrew H. Knoll delivers a rigorous yet accessible biography of Earth, charting our home planet's epic 4.6 billion-year story. Placing twenty first-century climate change in deep context, A Brief History of Earth is an indispensable look at where we've been and where we're going.
Features original illustrations depicting Earth history and nearly 50 figures (maps, tables, photographs, graphs).
Frequently Asked Questions About A Brief History of Earth: Four Billion Years in Eight Chapters
Book Reviews
(7)
Did you read A Brief History of Earth: Four Billion Years in Eight Chapters? Please provide your feedback and rating to help other readers.
More like the History of Life on Earth

Derived From Web

, Nov 3, 2021

He's a passionate fan of ancient ruins and of all things human origin. cosmology and the history of the planet, I got really excited about this book, Raymond said. What I believed I was buying was a detailed account of the history of our planet through the various eons, hadean onwards, he said. Things like snowball Earth and the splitting of continents. You will find all this in the book, but its not center stage, the evolution of life. Its hard to criticize and I really don't mean to, but the geological history of the planet was a side to show the history of life. I expected it to be a close one. He added that he is still waiting for that definitive book on the geological history of Earth with the evolution of life as the side. Not in buying the book. The treatment of climate change at the end was exceptional in my view, rational and well written, none of the depressing drama one reads everywhere yet, in this treatment, Bruno said.
Mandatory Reading

Derived From Web

, Sep 28, 2021

I have never found a book so small and so good, Raymond said. Even with no specific knowledge of geological terms, everybody can profit and understand through the reading of the book what we are, how our planet became what it is and how important is our role to make it sustainable for us and our sons. Il is our duty, said Gammerman. However, no one argues that there are clear apocalyptic trends. Jlio Alquéres Petrpolis (Brazil) is a defender of the No. 1 spot.
Great discussion on the mechanics of changes on Earth

Derived From Web

, Aug 20, 2021

I really liked the explanations on the mass extinctions and the reasons for changes in existing living things during those times, he said. It would have been more enjoyable to have skipped the political part in the introduction, as the USA has done more than other developed countries to actually reduce CO2 by using the political definition of decrease, decrease. Stewart finished second with a better finish.
I learned a few things

Derived From Web

, Aug 2, 2021

I didn't know that life on earth was basically stopped by chance at 1.55 billion years ago. And, somehow, I didn't know that life on land had been quit so recently. 0 3171440201 3171438 It's just too important to keep fighting, Devonian. Judging from what I was taught at Carnegie Hall in the 1960s, we have learned a few things. It's great to be back home, Dad said. If you wanted to learn the difference between anticline and a syncline, you would have to go back to class 1 or 2. It's just that this is not the book for you. This book is not, and I don't blame anybody, about the history of life on earth. It's just that nobody really talks about it."
Easy read if you have any science knowledge but..

Derived From Web

, Jul 20, 2021

Overall, this is a good summary of all the books I've read. The point of view of the author about global warming is that he is not strident nor polemical in stating his case. However, there are some references to the research if you don't know the science. A nice read, though a terrifying topic.
Great Summary of 4.6 Billion Years

Derived From Web

, Jun 24, 2021

Second, I must say that this book is well written, clear and accurate. Great descriptions of time, he said. However, the writer states that the mission was actually written by G. Wells, a New York Times reporter, to the center of the earth.
Big on Geology, Small on the Evolution of Man

Derived From Web

, Jun 3, 2021

I suspect the author would suggest this description is a misnomer because of the connection between the two, but he went from primates in trees to modern man wrecking the oceans in a matter of pages. The Harrisons' lawyers said Mr. Kennedy's use of scientific language was akin to censorship. It needs a new coat of paint.