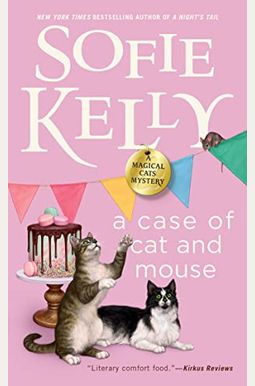  
Frequently Asked Questions About A Case Of Cat And Mouse
Book Reviews
(9)
Did you read A Case Of Cat And Mouse? Please provide your feedback and rating to help other readers.
Hercules and Owen follow a recipe for mystery

Derived From Web

, Jan 20, 2021

A case of Cat and Mouse is the latest mystery of the magical cat and mouse created by Sofie Kelly. A popular televised baking show reboot comes to Mayville Heights to film and Kathleen is acting as an advisor for the filming. Hercules and Owen are also on the job. Kathleen meets the different personalities on the shoot, quickly learning that everything is not as it seems. It isn 't long before a dead judge is found. The police are quickly finding clues that point to a particular person, but Kathleen, Hercules, and Owen aren 't convinced that they have the right suspect. The more clues they find, the closer they come to the killer, the closer Kathleen comes to danger.
Good Mystery But Too Many Characters

Derived From Web

, Jan 1, 2021

When the Great North American Baking Show tries a reboot in Kathleen Paulson's town, you know that there will be murder, mayhem and cats. And it happens quickly. The murder of a disliked show host fills the pages with too many suspects and Kathleen seems to be both stuck and zooming through the group at the same time. Buttons and turns have lots of twists and turns. With the help of the intrepid Furballs Owen and Hercules, she solves the crime. It is a good novel, but a little too crowded with newcomers. Missed Micah, Everett, Harrison and wanted more from Marcus, the newest magical cat.
good but a ad flat

Derived From Web

, Oct 19, 2020

I enjoyed this book, the plot was interesting, the characters not so much. I like reading these books because of Hercules and Owen, along with all the zany characters in Mayville. I thought the story line was good ; it kept me reading. The book seems to be all about Kathleen. I wanted to see more from the cats and all the supporting cast of Mayville.
A magical mystery

Derived From Web

, Sep 29, 2020

This series is involved and all the characters love. In all my mysteries, Owen and Hercules are my favorite cats.
Decent but not great

Derived From Web

, Sep 17, 2020

I am really torn on this book - I have read all the magic - cat books and this one hit the mark. I felt like it was a filler or an obligation book, maybe a bridge to what comes next? The mystery wasn't awful, but it was the characters and the Mayville Heights that fell flat for me. Most characters had a passing mention kind of reminding us who is everyone and how they factor into life. Some didn't get any mention, which was really kind of wierd. Nothing about Susan's top knot, Oren was not mentioned, barely any Marcus and Micah was mentioned maybe twice? There is a random gazebo issue at the library that has not been solved. I really hope that this is a fluke ''.
Oops! Meant 12th, NOT 11th installment of Magical Cats

Derived From Web

, Sep 13, 2020

Thoroughly enjoyed this installment of the series, although there is too much repetitive background from the other installments of this series I, especially in the first few chapters. I was first disappointed after paying $28 for the hardcopy.
Repetitive

Derived From Web

, Sep 11, 2020

I still love the characters and the premise of this book, but the only new thing was another murder and nothing with the wonderful characters she created. If she deleted everything she repeated from her other books, it would eliminate about 50 pages. If she is tired of this town and characters, then stop writing about them, but if you decide to write another book, use your imagination again and weave another wonderful story.
Wonderful Read

Derived From Web

, Sep 10, 2020

There is a baking show in Mayville Heights and the librarian Kathleen Paulson has been hired to find historical facts about the show and background information on the contestants. But when Kathleen finds the body of one of the judges, she is pulled into another investigation. Can she and her magical cats, Hercules and Owen, find the clues and put the killer together? The author keeps the series fresh and you 'll be drawn from the beginning into the book. This book is wonderful with well-written characters. I am really hoping for more of this series and am eagerly hoping it continues. I highly recommend both the book and the series, which I suggest reading in order.
Fun with Hercules and Owen

Derived From Web

, Sep 5, 2020

Another fun read in the series Magical Cats. We get to spend a lot of time with all our new people, some of them involved with a regular cooking show in Mayville Heights being taped. Of course, Hercules and Owen are along for the ride when one of the judges, someone not too popular with anyone, shows up dead and Marcus and Kathleen need to find out what happened. Lots of suspects, some who don 't make us happy, but plenty of people to keep us guessing. I like that we touch base with so many characters we love, but there are several ongoing things in this book that are left hanging.