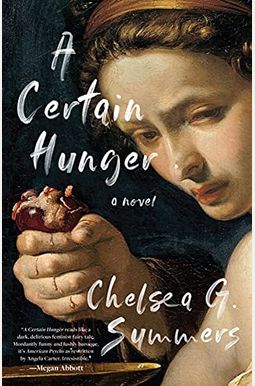  
Book Overview
One of Vanity Fair's Books That Will Get You Through This Winter
One of the most uniquely fun and campily gory books in my recent memory. A Certain Hunger has the voice of a hard-boiled detective novel, as if metaphor-happy Raymond Chandler handed the reins over to the sexed-up femme fatale and really let her fly. --The New York Times
Food critic Dorothy Daniels loves what she does. Discerning, meticulous, and very, very smart, Dorothy's clear mastery of the culinary arts make it likely that she could, on any given night, whip up a more inspired dish than any one of the chefs she writes about. Dorothy loves sex as much as she loves food, and while she has struggled to find a long-term partner that can keep up with her, she makes the best of her single life, frequently traveling from Manhattan to Italy for a taste of both. But there is something within Dorothy that's different from everyone else, and having suppressed it long enough, she starts to embrace what makes Dorothy uniquely, terrifyingly herself. Recounting her life from a seemingly idyllic farm-to-table childhood, the heights of her career, to the moment she plunges an ice pick into a man's neck on Fire Island, Dorothy Daniels show us what happens when a woman finally embraces her superiority. A satire of early foodieism, a critique of how gender is defined, and a showcase of virtuoso storytelling, Chelsea G. Summers'
A Certain Hunger
introduces us to the food world's most charming psychopath and an exciting new voice in fiction.
Frequently Asked Questions About A Certain Hunger
Book Reviews
(8)
Did you read A Certain Hunger? Please provide your feedback and rating to help other readers.
A page turner and an art work. I wish I could hang it on my wall.

Derived From Web

, Mar 8, 2021

Two passages in the book end the story of a series of precisely-told killings. Both are beautiful and the novel is magnificent, Levine said. The author accomplishes a dangerous feat that is challenging once to have a character be accomplished in their field and to demonstrate that. A restaurant critic, he has written extensively about the food. The other was a very successful painter. The writer shows her work, which requires that she has become expert in both worlds. It's done with aplomb.
Marquis de Sade and Emma Bovary rolled in one

Derived From Web

, Mar 5, 2021

A great novel with great characters all unified through a coherent plot. It's Bovary with a high octane libido meets the marquis de Sade, all rolled into a sexy egg roll. The style is witty, a bit academic, yet within the bounds of clear narrative.
Enveloping--a captivating and guilty PLEASURE

Derived From Web

, Feb 12, 2021

Such sophisticated writing, as it should be to embody the persona of the narrator, should be emulated by the novelist. It's a strange, dark book, but wholly humanized and inviting. She makes Silence of the Lambs-level material welcome, even if it is a tad scary. The whimsical sophistication captured in the persona of the narrator and writing is beyond impressive—what should be off-putting is charming and inviting. Wow! That was pretty impressive, right? Chelsea Summers, the writer of the book, said it took eight years of intense work to put the book together. She must have come into the project with an expansive base of intellectual knowledge, because even the intellectual, educated and traveled 1% of writers could have consumed 18 and not been able to achieve such a natural delivery, Souza writes. Wow! That was pretty impressive, right? I am worried that I enjoyed this so much, Joan.
Marvelous!

Derived From Web

, Jan 15, 2021

This book is very well written, witty and irreverent, and I recommend it to anyone. It's an original and unique story, Williams said. Some may find some shocking parts and disturbing but it is also beautifully written. I've never met a writer who writes so poetically and highly descriptively. I could have read it in one sitting, but I did not want to end the story.
So close to 4 stars

Derived From Web

, Jan 9, 2021

Even a foodie would not want to read such detailed descriptions of food and wine included within these pages. In doing so multiple times I was able to keep reading the otherwise great book with a more original premise that I haven't seen, and kept me very interested, he said.
I could only read about a fourth of it and had to put it down

Derived From Web

, Dec 30, 2020

I've never been known to be a prude, but this book is so obscene, I couldn't read any more of it. I didn't mind the sexual things in it, but couldn't handle the gore, he said. I'm not finished with this one. It's just that the person who wrote it must hate men.
Beautifully written novel

Derived From Web

, Dec 11, 2020

I'm only on page 11, but felt the need to start my review now. The writing is marvelous, Graham said. I'm slowing down to savor it. Brand new clothes are coming soon, too.
Wonderful and Horrifying

Derived From Web

, Dec 10, 2020

One of the defining and most beautiful works of 20th century modernism.