Buy 3 Get 1 Free
Our Best Sale Yet! Add 4 Books Priced Under $5 To Your Cart Learn more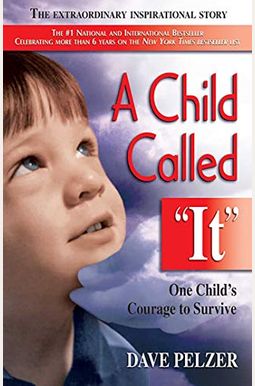 
 
A Child Called It: One Child's Courage To Survive
Book Overview
This book chronicles the unforgettable account of one of the most severe child abuse cases in California history. It is the story of Dave Pelzer, who was brutally beaten and starved by his emotionally unstable, alcoholic mother: a mother who played tortuous, unpredictable games--games that left him nearly dead. He had to learn how to play his mother's games in order to survive because she no longer considered him a son, but a slave; and no longer a boy, but an it.
Dave's bed was an old army cot in the basement, and his clothes were torn and raunchy. When his mother allowed him the luxury of food, it was nothing more than spoiled scraps that even the dogs refused to eat. The outside world knew nothing of his living nightmare. He had nothing or no one to turn to, but his dreams kept him alive--dreams of someone taking care of him, loving him and calling him their son.
Frequently bought together
Frequently Asked Questions About A Child Called It: One Child's Courage To Survive
Books like A Child Called It: One Child's Courage To Survive
Book Reviews
(22)
Did you read A Child Called It: One Child's Courage To Survive? Please provide your feedback and rating to help other readers.
Hard to put down!!

David's story is captivating and leaves the reader turning page after page wanting to know more. I appreciate that it begins with the end, so the reader knows there's a light at the end of the dark tunnel of torture he endured. I finished the book in two days, and immediately started the second book in the series.
WOW!

I'd had this book recommended to me a few times so I decided to order it. I read it in 2 days in my downtime at work, nearly ignoring my job duties because I was so invested in Davids story. It is an amazing, and quick, read. As someone who survived an abusive/traumatic childhood I felt such empathy for what he endured. I cried several times while reading the book which is not something that happens to me often (if ever). I highly recommend this book and I have just placed an order for the other 2 in the trilogy.
Once I started reading this book, I did not ...

Derived From Web

, Apr 20, 2022

I didn't want to put the book down once I started reading. I was severely abused from the age of 5 to 17 years old, and I am so grateful that I discovered'A Child Called It'. The book has started an inner healing process and I started wailing when I started reading. I have uncontrollable tears rolling down my cheeks. Dave Pelzer's past helped bring healing to many people. I can't wait to read more of his books. I want to say Thank you and Thank you if you can read this review.
Heart Wrenching

Derived From Web

, Apr 20, 2022

The book stirred up a lot of emotions. A child shouldn't have to go through this. Shame on the adult sector of life that didn't care about it, didn't want to be involved, or turned a blind eye. Everyone needs to read this book and become aware of what a child is going through. We have a duty to reach out to a child that is being abused. We need to become more aware and care for each other.
Unsatisfying and boring

Derived From Web

, Mar 3, 2022

My mom did this to me. Mother did that to me. Mother did something to me. A list of abuses heaped on a little boy was in this book. It could have been a brochure. There was a bit of background about his experiences in school, but nothing about his neighbors, extended family or church. I was left with an unhappy feeling. This was a loving mother and father who suddenly turned evil without explanation and abusers don't need a why. There was a hint of more in the follow up book.
Worth every word to read

Derived From Web

, Dec 29, 2021

Through each of David's experiences, this book set me free. The book helps the reader understand what it is like to be a victim in a crime. It hurts to say that I loved this book because it put me through a lot of emotions. David is as strong as they come and that is a powerful read. It is worth it 100%.
A child called "it"

Stacy D Dietrich

, Jul 2, 2021

This was a book I couldn't put down, horrifying the way the boy was treated by his own mother and I couldn't imagine treating my children that way and I applaud the teachers and police that recognized the fear and torture he was going through instead of judging him because of his cleanliness which he could not help.
A Child Called It

Felicia Yvonne Halton

, May 26, 2021

I thought it was an inspiring story of a brave young boy's thriving to survive in a world of vicious abuse at the hands of a mother with severe psychological problems taken out on children and a father who turn a blind eye to the abuse who should have tried to get her help or raise the children himself or gave the children to someone else to raise if it was a problem with them both. But I was glad to see someone had the courage to reach out and help this poor soul and I was sad to read the abuse was continued onto another brother in the family after he was gone. I've known of cases of this happening to people I've known but I was glad they got help they needed as well. I think this book should be a required read for those looking to adopt children with problems so they can get a taste of some of the horrors of abuse some of these children go through and remember why these need a lot of love and understanding. I myself took foster parent class for helping foster children in our home it didn't work out we didn't qualify because we didn't have a big income but we had a house to house 6 children they told us at the time but we looked forward to helping out because everybody needs a loving home.
WOW...

Derived From Web

, Apr 24, 2021

I finished this book after receiving it. I couldn't stop reading. The story was horrible but strong willed. I have ordered the next 2 books and can't wait to read them.
Book of Abuse

Derived From Web

, Dec 21, 2020

The writing is repetitive and boring like a child wrote it. Thanks for sharing your story. It must have been hard.