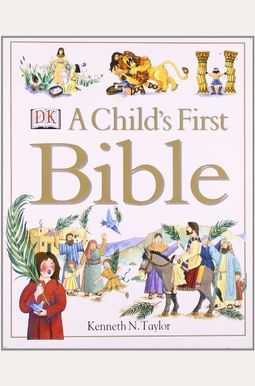  
Product is currently Out of Stock.
You can add it to your wishlist and you will be notified once we receive a copy.
Book Overview
This Description may be from another edition of this product.
Over one million copies sold
ECPA Platinum Award Winner. This full-color illustrated children's Bible has been a cherished family favorite for nearly 20 years.
125 fully illustrated Bible stories
Includes stories from the Old and New Testaments
Simple questions at the end of each story
Portable size is perfect for taking to church
Makes a great gift for children ages 2 to 6
Perfect for taking to church or using at home, young children will love this beautifully illustrated first Bible.
A Child's First Bible
is a collection of 125 of the most familiar Bible passages, from both the Old and New Testaments.
Beginning with the story of Creation and ending with Revelation, the text is retold in simple words by well-known author and translator Kenneth N. Taylor. With its charming illustrations and clear, inspiring text,
A Child's First Bible
is a must for every child's bookshelf.
Frequently Asked Questions About A Child's First Bible
Books like A Child's First Bible
Book Reviews
(15)
Did you read A Child's First Bible? Please provide your feedback and rating to help other readers.
Did not meet my expectations

Derived From Web

, Apr 20, 2022

The interpretationsstories written by the author are too negative for me to feel comfortable reading to my three-year-old. It also seems to skip back and forth if chronological order is concerned. We got through 40 pages and I had to put it away. The illustrations did not meet my expectations either. I want to give my child a short but positive first experience with the Bible. I think I will just go to a Christian bookstore and preview the first Bibles of the children before I decide to buy them again.
Great Bible for young children

Derived From Web

, Apr 20, 2022

I was looking for a new Bible for my five-year-old daughter, I was looking for a new Bible. She absolutely loves this one! She absolutely loves it! '' The stories are short, direct and to the point, and at the end of each story there is a simple question that allows the child to either think about the story or relate it to their daily life. A great buy!
Beautiful pictures and broad selection of stories

Derived From Web

, Apr 20, 2022

Purchased as a beautiful gift, the book has Christening illustrations that will capture the child's interest. I was impressed with the level of detail and the number of biblical stories included. I think this is a good book for the child to bring to church and grow up with, as there are enough stories so that you could read one at a time and the child won 't grow bored with it quickly.
Best first bible

Derived From Web

, Nov 29, 2021

After reading some reviews, I was skeptical, but when I opened it and started reading. I am very happy with the illustrations.
Not for young - no, not for ANY - kids!

Derived From Web

, Apr 25, 2020

We just finished the beginner's Bible and I was hoping to keep the kid's interest peaking. Every night they begged for that book for that book. So I bought this book. But now my 6 and 8 yr old are having nightmares because I read this with them before sleep. I agree with the other negative posts ''. Too brutal. Pictures of Killing! And the stories are not fluid. There is not a good transition into the next 2 page story. The children are left with so many questions that I don 't know how to answer and fear, not hope. I'm going back to the other book, where they slept well and were excited about reading it... Versus them asking for a different book and coming to my bed crying in the middle of the night because of a nightmare about a beheading!
BETTER THAN THE JESUS STORY BOOK

Derived From Web

, Jun 18, 2019

I have been searching for a Bible with pictures because i feel for a child that they need to see the words of the Bible as they are. Christianbook. com '' was my website, and i came across this book by Kenneth Taylor. So glad that they showed some pictures of the pages to me. Instantly purchased this because its simple has pictures and the necessary scriptures attached to each story. I also love the questions at the end of each story. My son is beginning to talk and I bought this for him. It is important to direct your child in the direction of the Lord. I know that God will love this book and even more. The storybook of Jesus i feel doesn 't line exactly with the words of the Bible, for example, in the beginning God did not say hello to the sun or the moon, as it states in the book. This turned me off. I love you all better, I love this one.
Not appropriate for children.

Derived From Web

, Apr 3, 2019

This cant be a real book for children, right? From this story in the book, where God instructed his minions to destroy the statues of other religions because he did not agree with them? Nice way to teach children intolerance. Or the part where it is talking about a brother killing his own brother because he was jealous? Even if there is a moral behind the story, children will not comprehend it and all they will remember are killing, jealousy, intolerance, and hate. Definitely not something about which children should be reading or learning about.
Not a good first bible

Derived From Web

, Jan 29, 2019

The original is read. We read only this version of Genesis, but immediately after reading it, I realized that this book is telling half truths and showing visuals of things that the Bible does not describe at all. Then we compared the real Bible and opened the two and it is not okay to try to summarize the way that this author did for children. My suggestion is to read the original Bible with your child and explain to them the complex things that are required to understand the contents. It takes time, but it is worth it.
10/10 - Excellent Kids Bible

Derived From Web

, Oct 17, 2018

I love this Bible for kids! '' I love this Bible for children! If I could, I would give them 10 stars, if I could! The illustrations are beautiful and are well presented. The writing on each page carefully captures the main point, still engaged with children. This children's Bible follows very accurately the layout of the Holy Bible. We also purchase these for our Christmas child shoeboxes as well, and they are perfect! They fit in a standard shoebox very easily. The dimensions of the Bible are 5.5 inches x 7 inches. This is the second year we are purchasing them from Amazon and so happy to find them in stock.
Pretty nuts...

Derived From Web

, Sep 29, 2018

The book is weird. I mean I'm sure that many people buy this as a formality and definitely works as such. But when the book is cracked open, it has a very forward passage about children gaining the ability to talk to God. Another statement reads : If you can not read, then have someone read them to you. Then how would the child be able to read this suggestion?!? I dont know if its just kinda whack. First few stories are very brootal. Cain and Able with a nice picture of the brothers ready to have their head smashed with a rock. My first Bible indeed.