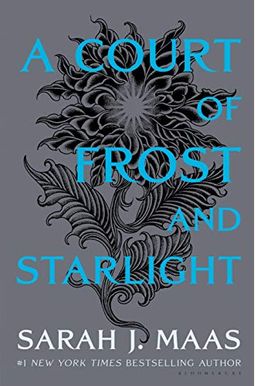 
 
A Court Of Frost And Starlight (A Court Of Thorns And Roses)
Frequently Asked Questions About A Court Of Frost And Starlight (A Court Of Thorns And Roses)
Book Reviews
(1)
Did you read A Court Of Frost And Starlight (A Court Of Thorns And Roses)? Please provide your feedback and rating to help other readers.
Short and Sweet

Cassandra P

, Jul 1, 2022

I read several reviews before reading this book, so I was expecting to really hate it, but I actually liked it? It wasn't phenomenal or anything. There wasn't much plot, but that was to be expected seeing as its a novella that's basically just filler in between main stories.

The Bad: Rhys and Feyre, Lucien, Tamlin

Considering I loved Rhys and Feyre in the last three books (both individually and as a couple), I'm astounded by how much I just. Didn't. In this one. Feyre was good most of the time. I loved her subplot involving her journey with her art and how it intertwines with her healing. I even sort of enjoyed her interactions with her sisters. Sort of. Just the ones with Elain. Because, well, Feyre was so annoying when it came to Nesta. She was just so holier-than-thou. It was like she couldn't understand Nesta at all, but the Nesta portions of this review come later.

And of course, Feyre with Rhys. And then just Rhys in general. They were unbearable. And boring. Let's not even talk about the m-word. Yes, they had sex in the sky. Thankfully, this wasn't so explicit, unlike the very long and drawn-out sex scene that's the climax (hah) of Feyre's emotional arc in this book. It wasn't all that good to begin with, but then the last line implies that the entire time, they were picturing the face of their unborn child. Just. Why?

Now, I just came off from reading Midnight Sun, so currently, I'm extremely salty about SMeyer's weird fixation with women and motherhood. And now I'm salty about Feyre's decision (out of nowhere) that she wanted to have a kid. I was already somewhat uncomfortable about it when we figured out the Bone Carver's form was that of her unborn child, but at the time, I justified it by saying, "He represents the future that they're trying to save." Now, I'm just annoyed by it. Feyre even states several times in this novella that she wants a long child-free life with Rhys to just explore and experience before having children. But suddenly, right after her big healing moment with the studio, she ditches that? I'm very uncomfortable with the implication that, as an adult woman, motherhood is somehow the goal of her life, and now that she is emotionally healed, she is ready for it.

And right, Rhys. He was just so... sex-driven? It was all he thought about. There truly is a line that says Rhys can't bear to be around Feyre without being buried in her. SJM, there is so much more to Rhys and Feyre than that. There is so much more to Rhys than that. And you know it. That being said, I suppose this is just her way of telling us that their story is complete, and they're going to be much more boring side-characters from now on. But continuing, I hated how petty Rhys was regarding Nesta, Lucien, and Tamlin. We get it. They did your m-word wrong. But, hey, how about listening to Feyre when she says she forgives Nesta and Lucien? That she wants to be on good terms with them? Consider that, she too is an adult, and can decide who is worth her forgiveness or not? When will he realize that they were not bad people, but just people in bad situations, who chose wrong, but that doesn't mean he's better than them?

Finally, I can move on to Lucien. There's not much to say, I guess. I just want to see him happy for once. While I applaud the possiblity that we'll get to see a mated pair who aren't going to be each other's romantic life-partners, I wish it didn't cost Lucien so much. Hopefully, he and Elain end up on good terms.

Okay, so... Tamlin. Look, he really did treat Feyre horribly at the beginning of ACOMAF, and then he really REALLY fucked up when he sided with the king, and even when he came back to the Prythian alliance he was an awful person for treating Feyre so nastily again. Even saving the day by double-crossing Hybern and helping bring Rhys back to life doesn't excuse his treatment of the woman (ugh, female, whatever) he claims to love. But I still feel so sorry for him???? It doesn't help that Rhys was such a petty child towards him in this book. But, Tamlin clearly hasn't healed from Amarantha, and now he's in a depression. He's totally isolated now that his court is gone (thanks, Feyre. That was really necessary) and he's at the lowest of the low. After Amarantha, he didn't have what Feyre got. He didn't have people who loved him enough to guide him through his worst moments. Understandably, Feyre was in no state to do so. Even Lucien couldn't make himself stand up to Tamlin for a reality check. I read a review about how, since this is a Beauty and the Beast retelling, Tamlin just needs to meet his Beauty.

I feel like I've gone on way too much about the Bad, considering I'm saying I liked this book. But, anyway, we can now move on to...

The Good: The Inner Circle

This section will probably be shorter, because the good stuff just speaks for itself, doesn't it?

The Inner Circle was just precious in this. Everything was pretty fluffy with them. I was just so happy to see Amren happy with Varian and her many jewels, happy to see Elain and Az have cute little interactions. The snowball fight was everything. I love Elain's friendships with Nuala and Cerridwan too. Cassian didn't get much fluff in this, signaling that his story is coming in the next book. As for Mor, she was delightful and fun as usual, though we need closure on her coming-out story and how she and Azriel continue from there. I'm really hoping we get an epic love for her.

The Exciting: Cassian and Nesta

I kind of thought I would be done with this series. When I closed ACOWAR, I went "well, that's over", and was pretty confused when I saw that there was another book. That's why it took me so long to finish: I wasn't sure if this was going to be worth reading. But alas, it was. And alas, I'm excited for the next book.

Cassian is definitely a character that I look forward to exploring. He's fierce, and loyal, and passionate, and we need to get his full fleshed-out backstory, and we need to see him finally get the respect he deserves from the Ilyrrians.

As for Nesta. God, poor Nesta. She's just in the dumps right now. And understandably so. Feyre initially painted a very complex picture of Nesta. Nesta was cruel and callous. She resented their father for not providing and resented Feyre for doing so. But when it came down to it, Feyre saw that Nesta was loyal and would do literally anything for Elain. She went into the Cauldron with murder in her eyes, and emerged with Death in her heart. She watched one sister wither away in a depression and the other revel in her new life, while she was somewhere in the middle. She watched her father die in front of her, and in what she thought were her last moments, bared herself for the first time in her life, let herself mourn the father she hated, let herself anguish that she and Cassian would never get the time they could have had. And then. She lived. And I don't think she knows what to do with that anymore.

Everyone's treatment of Nesta (with the exception of Cassian) had me heated. The Inner Circle typically has so much empathy for people, but when it comes to Nesta... it's gone. You would think they would understand the place she is in, and would know how to help her properly. Honestly, I think they just don't care enough to. Most of them are too wrapped up in their own business. Overall, I can't wait to see where Nesta goes and how she grows in the next book.

So, yeah, that was my very long review. ACOFAS? 3 stars. I liked it.