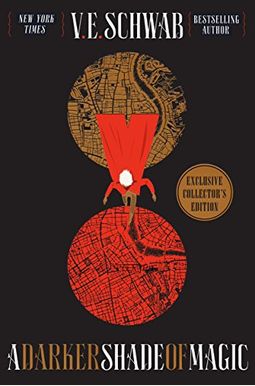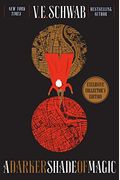  
A Darker Shade of Magic Collector's Edition
Book Overview
A Darker Shade of Magic, the first book in V.E. Schwab's New York Times bestselling Shades of Magic trilogy, is now available in a special collector's edition.
With a revamped, metallic ink detailed cover and reading ribbon, this edition will also feature the following bonus material:
*End papers featuring fan art
*A glossary of Arnesian and Antari terms
*An interview between author and editor
*Original (never before seen ) tales from within the Shades of Magic world
A Darker Shade of Magic has all the hallmarks of a classic work of fantasy.a gem of a tale. This is a book to treasure. --Deborah Harkness, New York Times bestselling author of the All Souls trilogy
Kell is one of the last Antari
--
magicians with a rare, coveted ability to travel between parallel Londons; Red, Grey, White, and, once upon a time, Black. Kell was raised in Arnes
--
Red London
--
and officially serves the Maresh Empire as an ambassador, traveling between the frequent bloody regime changes in White London and the court of George I in the dullest of Londons, the one without any magic left to see. Unofficially, Kell is a smuggler, servicing people willing to pay for even the smallest glimpses of a world they'll never see. It's a defiant hobby with dangerous consequences, which Kell is now seeing firsthand. After
Read More chevron_right
Frequently bought together
Frequently Asked Questions About A Darker Shade of Magic Collector's Edition
#1

#2

#3
Books like A Darker Shade of Magic Collector's Edition
What should you read after A Darker Shade of Magic Collector's Edition Book? Here is a list of books to read if you read and loved A Darker Shade of Magic Collector's Edition
Book Reviews
(11)
Did you read A Darker Shade of Magic Collector's Edition? Please provide your feedback and rating to help other readers.
Simply Rambling

Derived From Web

, Apr 22, 2022

It's your job to read it, if you feel so inclined. I'm not going to try to re-create the story, but rather highlight what I felt made it enjoyable without re-telling it. V. E. Schwab has done a great job with the world building, or worlds if you want to get technical, he said. His approach to differentiating the Londons was nicely done with colors coordinating to each one as well as traces of magic being used to describe atmospheric differences, a touch nice. The story was nicely paced, said Jeffery E. Smith, executive vice president of CBS Interactive. Their wasn't really any point during the book where I felt it dragged on, Mrs Clinton said.
A Darker Shade of Magic lived up to the superb writing of Vicious and can easily grow into my favorite series.

Derived From Web

, Apr 22, 2022

After reading Vicious, I knew I had to give V. E. Schwaber's A Dark Shade of Magic series a shot. She has not disappointed me with the world's shely creates. While there are some predictable moments, the book is more about the journey of getting there. But the book doesn't have any surprises, and those moments seem to lead to plot points that will be wrapped up in future books in the series. Kell and Lila are an amazing duo and I appreciate that they don't have the immediate love connection that many other adventures tend to steer towards, that and the fact that both of them are capable in their own ways." I'm quite excited to be wrapping things up, said Harrison.
the outcome seemed pre-ordained since I was pretty sure good would win out over evil

Derived From Web

, Apr 22, 2022

This was a rip roaring adventure type story with a heavy dollop of fantastical overtones, Hughes said. It took me a bit longer to get into the story, but once I did I was swept up in the action and wanted to continue reading. That said, the characters seemed a bit thinly drawn, the outcome seemed pre-ordained since I was pretty sure good would win out of evil, and the book did have a ending but it's clearly setting up for a continuation of the adventure. Overall, I enjoyed the adventure but felt it was less a book and more of a movie. It's just a three-star book, Rowling said.
great book

Derived From Web

, Apr 7, 2021

I've read the book a few years ago from the library. It's the first of three, and I recommend reading all three. Really imaginative and fast moving. Loved this book, said Pauley.
It's simply not good

Derived From Web

, Mar 12, 2021

Side characters are introduced to die and nobody in the book really cares, so what's the point? Magic is not as prominent as you think it would be in a book called a "darker shade of magic." I had a good time reading it with my husband and he said it was terrible, but that was good.
Just pulp

Derived From Web

, Jan 1, 2021

Quickly turns into pure action with the ever morphing magic as excuse to carry a plot of indeterminate nature. Two kids are being generous.
Magic

Derived From Web

, Nov 22, 2020

I'm always looking for good fantasy series, so when I saw this one I gave it a try, Mr. Dhaliwal said. There are four London boroughs that house the Beatles: Marylebone, Twickenham, Hammersmith and City Hall. Only Kell and Holland, both filled with magic, are able to travel between the worlds. In "The Black Knight," Kell meets Lila, a powerful black stone, for the first time. But a race is on to save the Red London from the evil rulers of White London. It's an action packed story of two opposing forces -- the CIA and the rebels -- who are determined to take down the government. Now I have to read the second book in the series.
Refreshing.

Derived From Web

, Mar 31, 2020

The thing I enjoyed about this book is how different it is from other books in the fantasy genre, said Blair. I have never read a book like this before, and I really enjoyed it. I usually like more of a background romance in my books, but this one was so interesting I didn't even notice.
Take Time And Visit All The Londons

Derived From Web

, Jun 23, 2019

Great read, said Dr. Goin. It's just that the book is, without a doubt, one of the most intricate and enchanting works of fiction. The characters are super memorable and she gives me the witty banter I need most. What I loved most about this world was that it was new, said Harrison. The author doesn't treat you like a baby, but there are great differences between Londons and New Yorks that you can easily distinguish what world you're in. Her world building is amazing and gets you in the right state of mind to understand what is happening in this scene and why it is important. I love the new look of the magazine. Curious to see what happens next because holland isn't dead!
Meh

Derived From Web

, Jun 7, 2019

For me, that's all it is. I feel like most of it was filler, Mr. Rule told the judge. However, the ending did manage to have the series sink it's claws back into me, but it was a struggle to get through this book.