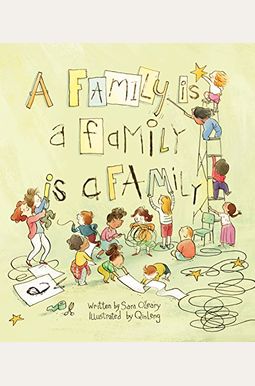  
A Family Is A Family Is A Family
Book Overview
When a teacher asks the children in her class to think about what makes their families special, the answers are all different in many ways but the same in the one way that matters most of all.
One child is worried that her family is just too different to explain, but listens as her classmates talk about what makes their families special. One is raised by a grandmother, and another has two dads. One is full of stepsiblings, and another has a new baby.
As one by one, her classmates describe who they live with and who loves them family of every shape, size and every kind of relation the child realizes that as long as her family is full of caring people, her family is special.
A warm and whimsical look at many types of families written by award-winning author Sara O Leary, A Family is a Family springs to life with quirky and sweet illustrations by Qin Leng.

Frequently bought together
Frequently Asked Questions About A Family Is A Family Is A Family
Books like A Family Is A Family Is A Family
Book Reviews
(6)
Did you read A Family Is A Family Is A Family? Please provide your feedback and rating to help other readers.
Sweet, Inclusive Story

Derived From Web

, Mar 1, 2022

I brought it to work to read with my first grade literacy students to give them a more open-minded look at what makes a family, and I bought it for a friend of mine. Love, love, and love.
Family Favorite

Derived From Web

, Feb 15, 2022

Since discovering it at the library, we have loved this book for years now! Finally, we needed our own copy at our home library. This book has great representation for all different families, both racially and step-blended families, gay and lesbian paired parents, single parents, grandmothers with a child and foster families, and several more.
Great book about different families

Derived From Web

, Apr 8, 2021

I teach special education and we have a social emotional learning group time once a week with two other general education classes. We read together this book last week. It helps to open the space for an amazing conversation about family. The students decided that three classes are a very special family together. This was so meaningful, as we are all learning virtually right now and they steal feel this connect.
Good book - represents various family types

Derived From Web

, Sep 24, 2020

Very simply, shows various types of families very naturally and my daughter likes the book. She asks some questions such as why the boy is in a wheelchair, and I can answer in the comfort of our home, so that she won 't point or ask loudly about it in public, where a person's feelings could be hurt.
Family, Family, Family

Derived From Web

, Dec 24, 2018

It is about a student who was shy to talk about their family because it was different than the other family. As you read, each child family is a story different than the others. One student comes from many siblings, and a student has a newborn sibling. Another student has two mothers. Another student is 12th time with mom and then dad. This story is a good story for any child who has trouble understanding why their own or another family is different than mom, dad's and child structure ''. It is a beautiful illustration. The only thing is that it may not be for all readers, especially those concerned about telling their children about homosexual family. It does not go into details, but shows a family that is. If you are one of those parents, don 't purchase this book. I love the book and I think it is a beautiful way to show how beautiful families can be.
5-STARS FOR A STORY THAT PROVIDES ALL KIDS WITH A MIRROR TO SEE THEIR OWN FAMILY UNIT!!!!

Derived From Web

, Aug 17, 2017

When I grew up, most familes were cookie cutters similar, but today we have many different types of family units. Kids get validation from observing themselves in the pages of a book, and that is why A FAMILY IS A FAMILY IS A FAMILY is such an important story. About diversity, talk about diversity. Not only do we find a varied array of family units... we also find characters of all sizes, shapes and colors! As a former kindergarten teacher, I highly recommend this book for every elementary and middle school classroom.