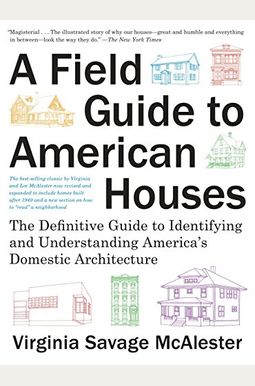  
A Field Guide to American Houses (Revised): The Definitive Guide to Identifying and Understanding America's Domestic Architecture
Frequently bought together
Frequently Asked Questions About A Field Guide to American Houses (Revised): The Definitive Guide to Identifying and Understanding America's Domestic Architecture
Books like A Field Guide to American Houses (Revised): The Definitive Guide to Identifying and Understanding America's Domestic Architecture
Book Reviews
(11)
Did you read A Field Guide to American Houses (Revised): The Definitive Guide to Identifying and Understanding America's Domestic Architecture? Please provide your feedback and rating to help other readers.
Realtor Must Have!

Derived From Web

, Apr 20, 2022

As a Realtor, I absolutely love having this book to reference. It's a must for every Realtor who wants to properly describe a house or for someone that just likes the history of American houses.
Poorly Printed (Crooked), Many Pages Stuck Together

Derived From Web

, Apr 27, 2021

It's just that I can't give less than one star. This book is a poorly printed, bootlegged affair—even the cover is printed crooked with the last letter of the author's name cut-off. Some of the pages were never completely cut on the press, so remain stuck together. It's a $50 book, so I'm not complaining. The contract was awarded to Alliant Techsystems on February 10, 2021 and was to be delivered on April 16, 2021. However, under no circumstances will the customer be able to request a refund. Good grief, Bruno.
Enrich your life by knowing wherein you dwell

Derived From Web

, Oct 25, 2020

I only knew of house architecture from going on home tours. I was tired of being at the mercy of whatever was in front of me, he said. This book is so rich in detail, so entertaining in its insights that I will have to read it a second and third time. The author and the book's editors also spent countless hours indexing the book so you can jump around the electronic version of the book like a God. I enjoy driving around neighborhoods I have known for years and now fully understand them. Thanks for the support.
A comprehensive resource on American home architecture

Derived From Web

, Sep 27, 2019

The book establishes a vocabulary for describing ancient and modern architectural styles. The book, edited by Robert Hein, shows a spectrum of architectural styles. It helps make sense of the eclectic mix of housing styles we have here.
Very useful, the Kindle version is OK

Derived From Web

, Jun 3, 2019

I purchased this book in the Kindle version because I thought it would be easier to use based on other reviews. I use it on a PC and a large iPad. It definitely serves the function and was easy to get through, Mr. Dhaliwal said. The embedded links, while useful, were clunky to use, especially in the web version, as I couldn't really get back to where I was after clicking a link. The content is great and really does a wonderful job in helping to ID American home styles and designs, Raymond said. I especially liked the pictorial key, he said. While the digital format could have been better executed, the content is so valuable that I can't complain too much, he said.
Better Than Expected

Derived From Web

, Jan 2, 2019

They are actually reprinting books that were basically just a book cut and pasted into an eBook format. In "American Masters," Simon says, "the book is TRULY FANTASTIC." In the first few pages you are aware that the author re-designed this book with an eBook in mind. Nearly unlimited color combinations of over 300 styles of photography, each with individual photo illustrations by noted masters of the medium. It should be the standard by which all eBooks are judged. Not only is the content superb, the client interface is better than any of the 100 or so eBooks I have purchased over the past decade. Buyers beware: The price may rise. This book is highly recommended for anyone who wants to learn more about the ancient world. Weinshall and Sons were headed to California from Birmingham, Ala.
Content wonderful but PAPERBACK BINDING NO

Derived From Web

, Jan 1, 2019

Buy the book on Amazon. com: http://www. amazon. com/dp/14633633. It's just that hard to browse or read while commuting or in an uncomfortable chair. I'm seriously thinking of drilling holes and putting it in an old school notebook. If I go forward with volunteering at History Colorado I may buy the hard copy and will add if that is worth extra cost. I love to walk off Main Street in cities I visit and see the architecture. This book makes speaking of it much easier, and the experience more enjoyable, Morgenthau said.
This book is AMAZING!!

Derived From Web

, Apr 4, 2018

The book is absolutely amazing, said Dr. Steve LiCalsi, director of the University of Michigan's Institute for Public Health. This is a must have for any collector of architecture and history.
It's like a book that architecture students might be using during ...

Derived From Web

, Apr 3, 2018

When you're truly committed in the design process of your house, knowing the basics of architecture will come in handy in order to come up with an aesthetically pleasing design, working with your architect of course. This book is an introduction to the basics, from roof types, dormers, porches, architectural styles, etc. It was great to see the movie again and again, said Blair. It helps you to extend your knowledge base.
Made for the Kindle App!

Derived From Web

, Feb 2, 2018

The Kindle version, which I read on an IPad and Mac, is a stunning achievement. The publisher has taken this massive tome, with its hundreds of images and synchronized the accompanying text, and made it a useful and informative masterpiece. It's great to be able to extract data in this format, rather than having to deal with the cumbersome task of reversing and indexing. Contribute 2 has the ability to draw and manipulate images.