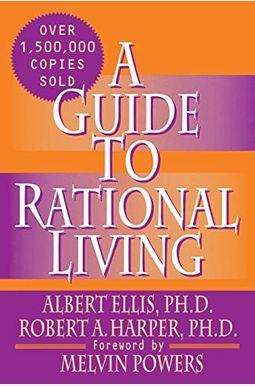 
 
A Guide To Rational Living
Frequently bought together
Frequently Asked Questions About A Guide To Rational Living
Book Reviews
(7)
Did you read A Guide To Rational Living? Please provide your feedback and rating to help other readers.
The Power of the Mind

Derived From Web

, May 28, 2022

Ellis and Harper offer several alternatives to self-damning thought patterns throughout the book. Instead of a person telling themselves that they are unsuccessful in something, one should tell them themselves that humans make mistakes and come up with a resolution or prevention for the same occurrence to occur in the future. Ellis and Harper write that this positive attitude to oneself and others can be achieved with lots of work and practice. I read it for a counseling class and ended up loving it.
Rational Living - 'nuff said...

Derived From Web

, May 28, 2022

Perfect for the scientific type who wants to eliminate its neurosis.
Half-baked, self-aggrandizing crap

Derived From Web

, May 28, 2022

Book summary : I think irrational thoughts. Stop imagining those irrational thoughts and replace them with something else. Done : This book takes the approach that thoughts rule it all. This is not the case. Sometimes our bodies produce chemicals that lead to certain types of thought. It is a two-way street. And to focus on a single way is folly. It might be an interesting introduction to CBT, but does not explain how real CBT works. The authors'authoritative tone bothered me throughout the book. In some respects, this is an entertaining book, but don 't expect it to offer any real help. Go to a professional.
but it also seems like trying to eliminate 'emotions' (there's one part about you ...

Derived From Web

, May 28, 2022

I know it is all about rational thinking and trying to remove emotional thinking '', but it also seems like trying to remove emotions ''. I mean that we are humans. And what makes us different from robots or a highly functional machine is emotions. So come on, it is unnatural, but trying to get rid of these feelings is irrational.
Do NOT buy - terrible writing and pages just fall out of the book.

Derived From Web

, Oct 17, 2021

I have used REBT personally and have used it with clients. It is an excellent system. This book, however, does not present in a way that is helpful to anyone seeking help. I recommended it to a friend who replied that it was difficult to read. I have therefore purchased a copy. Has it changed for the worse? I would find it very confusing to follow if I did not have a thorough background in the material. And as I looked through the book, THIRTEEN pages literally FELL out of the book. Pronto sent this sucker back! I would never write a book in this way if I intended it to be used for self-help!
Only for those who are really ready to challenge their belief system

Derived From Web

, Jan 10, 2019

I bought this book years ago to help me with a very difficult and emotional time in my life. It helped me really learn how to change negative thinking habits. I discovered that some of my deeply held convictions are very irrational and harmful to me. Some reviewers are claiming that the book is harsh or too extreme ; but it is not. It is blunt, of the point and direct. I bought this tangible copy for a friend, who always asks for second methods to change her way of thinking.
This is a great book. I found the behavioral model he describes ...

Derived From Web

, Nov 21, 2017

It is not the event that upsets us, but what we think about it that determines whether it is bad or not. I apply much of what Dr. Ellis says to several areas of my life and have found them to be very accurate and helpful. I am able to cope with being unemployed at the time, my childhood and a breakup of a friendship that I valued. The only problem I have with the book is that some of the phrasing is pretty awkward or difficult to read without having to read it several times. I am on the second reading of this book and highlighting areas that have helped me deal with some stressful situations. I highly recommend it to anyone who has a problem coping with some difficult areas of his life.