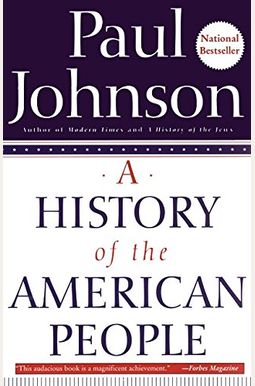 
 
A History Of The American People
Frequently Asked Questions About A History Of The American People
Books like A History Of The American People
Book Reviews
(13)
Did you read A History Of The American People? Please provide your feedback and rating to help other readers.
A History of the American People

Derived From Web

, Jun 1, 2022

Paul Johnsn's books are excellently researched and well written.
Great book to have for class.

Derived From Web

, Jun 1, 2022

This book came on time, I love how well it was packed, new brand.
Great Book by a great writer.

Derived From Web

, Jun 1, 2022

A great writer, who makes history very enjoyable to read. This is the second book by Johnson that I have read, and both have been brilliant. He understands what is history and relays it in such a profound and understandable way. Although an Englishman, he seems more than capable of writing on U.S. history. Just as his book about the Jews was an exceptional saga, though a gentile. His work should be required reading for anyone interested in how America got to where it is at present. I look forward to reading the rest of his works.
Very Well Done

Derived From Web

, Jun 1, 2022

The book is filled with factual information presented in a forthright and logical way. The author has truly a gift for cutting through the brush and sharing information in an informative, yet easy to understand way. It is a long book, but a short read. I simply did not want to put it down!
History and commentary...

Derived From Web

, Jun 1, 2022

... are combined by the polymath Paul Johnson in the book. Mr. Johnson focuses on America's development, its religion, its expansion and what constitutes an American character. A seamless narrative with elements of great man '' and everydayman '' philosophy...
Written by a great British historian

Derived From Web

, Jun 1, 2022

This is a great history of the United States. Written by a great British historian, it was written by. He is supportive of the United States and represents what we work for and what we represent. It is a worthwhile read for anyone interested in the theme.
Fine, enlightening, and entertaining.

Derived From Web

, Jun 1, 2022

An inspiring and inspiring work. It is great to see a Brit show so much understanding and affection for the struggles and growth of our great nation. This book will open new perspectives and help you make new connections no matter what your previous study or knowledge may be. Highly recommended :
Good read if you believe that Fox News is fair and balanced

Derived From Web

, Aug 17, 2020

This book seemed to be a good read for a foreign-born American interested in learning more about the history of this country. I was not discouraged by its length, although it goes into some of the useless details that one has to skip in some parts. The historical narrative seemed credible until the part of U.S. history that I am more familiar with the second part of it, especially the historical part of it. It is then that this author shows a shameless right-wing tone that would make Roger Aisles blush. Some pearls include calling the sixties again twice within a few pages ; he must have really liked that rather inelegant adjective to repeat it without noticing it, and essentially calling Nixon a great president victim of a leftist conspiracy, among many other pearls. The last part of this book makes me wonder if anything I read earlier in the book had any credibility. All historians have a political idea, but there is a limit to what should be accepted as history.
A great history of the U.S., by an English historian

Derived From Web

, Jul 20, 2020

Through this, I am three-fifths. I read Five Volumes of Paul Johnson, but I also appreciate this history of Page Smith. Love his style and he includes many anecdote of which I was not previously aware. Recommended : Now I have completed the update. Wow, it's been great. Terrific is very much influenced by the concept of spaceship. This American history book has just been completed. Unlike most of today's histories, I found this to be unbiased by an Englishman. Very interesting and informative. I learned a lot about things I didn't know before. If you don 't have time to read it all, read the final half, if not the last quarter and if not the last few chapters. This should be included in every school and library.
I Love This Book: A Wonderful History of America

Derived From Web

, Apr 1, 2020

This is one of Paul Johnson's books that I loved so much that I read it twice and have given copies of it to family and friends. Like virtually everything he writes, this history of America is exquisitely readable, fascinating, learned and delightful. Which is acceptable, but I think that every history of America should quote and esteem Liberty and Union, now and forever, one and inseparable! I wrote the author a note about this thought, suggesting an idea for a second edition, if there is one. This little aside, this book is wonderful and a delight.