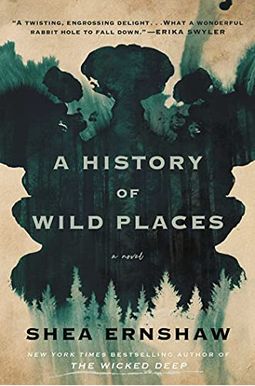 
 
Book Overview
What a wonderful rabbit hole to fall down. --Erika Swyler, author of Light From Other Stars and The Book of Speculation
A terrifying and timely book. --Erica Ferencik, bestselling author of The River at Night and Into the Jungle
As spine-chilling as it is beautifully crafted. --Ruth Emmie Lang, author of Beasts of Extraordinary Circumstance
The New York Times bestselling author of The Wicked Deep weaves a richly atmospheric adult debut following three residents of a secluded, seemingly peaceful commune as they investigate the disappearances of two outsiders.
Travis Wren has an unusual talent for locating missing people. Hired by families as a last resort, he requires only a single object to find the person who has vanished. When he takes on the case of Maggie St. James--a well-known author of dark, macabre children's books--he's led to a place many believed to be only a legend. Called Pastoral, this reclusive community was founded in the 1970s by like-minded people searching for a simpler way of life. By all accounts, the commune shouldn't exist anymore and soon after Travis stumbles upon it.he disappears. Just like Maggie St. James. Years later, Theo, a lifelong member of Pastoral, discovers Travis's abandoned truck beyond the border of the community. No one is allowed in or
Read More chevron_right
Frequently Asked Questions About A History Of Wild Places
Book Reviews
(9)
Did you read A History Of Wild Places? Please provide your feedback and rating to help other readers.
Haunting and atmospheric!

Derived From Web

, Jan 23, 2022

It was eerie, haunting, and atmospheric, Levine said. He is also looking for missing children's author Maggie St. James. The Rev. Evans is the leader of the Pastoral commune, which has no government affiliation. People here live for a simple way of life, without any contact with the outside world. Then his body is found, Travis also goes missing. Theo, who is a lifelong member of this commune, finds Travis's truck on the border of the community. He, his wife and sister start to unravel the secrets they keep, and start to think this community is possibly not as safe as they think. There are some strange happenings' in Pastoral, he said. The second half of the book moves fast, and the twists the one after another. This was my first book by the author and I will definitely be reading more by the time the holidays are over.
Recycled storylines

Derived From Web

, Jan 14, 2022

Second, I guessed the first twist. I kept reading, waiting to find out how all was going. Another stale, and overused plot line. Yes, I hate being so negative but do not waste your time on this book.
Potential Unmet

Derived From Web

, Dec 28, 2021

It was a great story, but just didn't make it. 0 1462228 14622201 That was a great story, but just didn't make it. The story itself is the very recycled trope of an isolated, self-governing commune filled with blind sheep, ruled by the standard egotistical psychopath. Ok, so I have a question: What is the difference? Please give me more. One person could hypnotize and maintain a constant state of hypnosis in 22 people for 10 years, the researcher said. Yes, I know it's far-fetched, of course it is, but if you want to write it well enough that it gives me a tiny pinprick in the back of my mind that says, "well, you know.... maaaaybe." Just maybe I could see this happening IRL, Mr. D'Antonio said. Only in fiction can a child be made to feel so happy.
Disappointing

Derived From Web

, Dec 27, 2021

It's just that you have to be willing to ignore plot holes and endless repetitions to appreciate Wild Places. Marginally clever but the narrative is an old one: a well-meaning rural commune becomes dominated by egomaniacal narcissists who employ lies, fear, and mind control to maintain power. Strong writer, but needs a tougher editor.
What a ride!

Derived From Web

, Dec 13, 2021

Thanks to social media, I was able to find this author. I read The Wicked Deep first in anticipation of this one being released, and that book was so good. The new story the author just released is hands down my favorite. I took a deep dive into the story and really connected with the characters, Crowe said. The author has such a way with words and descriptiveness that makes you feel the story in a way I never knew was possible. I do want to learn more of these characters, but feel what was given was enough, he said. I highly recommend this book for anyone wanting to dive down a rabbit hole and be taken on a journey with many twists and turns, and keep in mind nothing is as it seems.
A beautifully-written book with horrific and touching themes

Derived From Web

, Dec 12, 2021

It's hard to put this book down, even with the assistance of an omniscient narrator. It's simply beautiful with a shroud of haunting cast over it. This is, in many ways, a slow burn book. This is a book you take your time with, because it will take its time with you, he said. It's just that it's a lot of fun, too. It's a lot of fun, isn't it? It's an atmospheric stroll through dark, creepy woods and walking on eggshells among an isolated, paranoid cult. There are three major characters in this both, and while they are all captivating in their own way, I found Bee's story arc the most. I think it was predictable, Raymond said. He also said that the book is "very predictable." In fact, I wasn't counting on guessing it with less than half the book. Beautifully written, with themes that are, in turn, horrific and touching. Even with time, your dream may not come true. If you like music, this is the place to go.
More folklore than truth

Derived From Web

, Dec 10, 2021

Like a dark and wild forest, the fifth and final book in the Shea Ernshaw series, "The Broken Bones," is bursting with mystery and myth. Folklore aside, this is a myth. It begins with the disappearance of Maggie St. James, a British novelist who wrote a popular children's book series. She walked into the woods one day and never came back. Known for his special ability to find missing people, Mr. Stackhouse follows Ms. Quinn's trail and soon disappears. In "The Fall," Shea masterfully unravels this mystery through a nested story, as Maggie's dark series becomes more truth than folklore. This is a story you won't want to miss.
Absolutely Splendid!

Derived From Web

, Dec 7, 2021

What a splendid adult debut for Shea Ernshaw! As someone who has read both of Shea's YA books, I have to say she has a very intentional way of writing a story. You literally feel like you've been transported to exactly where you should be, fully enjoying the story she's weaving around you. Even the dead smell comes alive. History of Wild Places is no different. It's secrets piled on mysteries, all wrapped up in a darkly atmospheric, mind-bending tale of two detectives. I felt like I was watching the events unfold before me, following the breadcrumbs left by Shea for the reader to pick up, essentially becoming part of Pastoral. The story is told through the prism of the four main character arcs: Leo Tolstoy's "War and Peace" (1898), Robert Penn Warren's "A Man Called To Arms" (1948), and Claude Malvo's "Desire" (1963). I loved every second of it, and I cannot recommend this book enough. **My review is based on an advanced copy of the book.
I definitely recommend A History of Wild Places!!!

Derived From Web

, Dec 7, 2021

Thanks to Atria Books and NetGalley, I was able to read and review an early copy of A History of Wild Places. What did I just read? It's just that I can't review a book without spoiling it for others. He has an unusual talent for locating missing people. Hired by families as a last resort, he only needs a single object, which belonged to the person who has vanished, to find them. And he discovers where the author of some dark children's books was when she disappeared... and then he vanished too! I couldn't imagine where this book was going, Byrne said. The book was written from three different perspectives: fiction, nonfiction and fantasy. Loved the ending, Melissa. It's a great book, and I recommend it to anyone who wants to learn about wild places. It's great to be back home, said Blair.