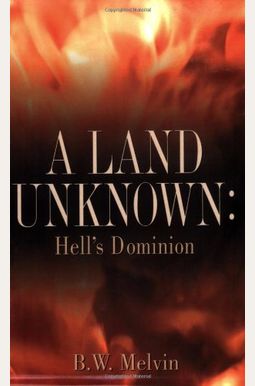 
 
A Land Unknown: Hell's Dominion
Frequently Asked Questions About A Land Unknown: Hell's Dominion
Book Reviews
(11)
Did you read A Land Unknown: Hell's Dominion? Please provide your feedback and rating to help other readers.
False

Derived From Web

, May 19, 2022

Comparing his trip with Bible facts, leave this book to be false, read the Bible instead of this fantasy.
unbiblical

Derived From Web

, May 19, 2022

This is by far the dumbest book on Hell that I have ever read. This book is written like some weird novel is so unbiblical and dumb that I have a hard time finding words to review it. The author talks about periods of rest in these cubes, people are trapped in hell. The word of God clearly states that there is no rest in Hell, day or night. I don 't have the space or time to list the unbiblical parts of this book. Basicaly, people are in the ten foot by ten foot cubes and live their lives over and over again with demons appearing to torment them in between short periods of rest. This is more like a fictional narrative of Hell, similar to Dante's Inferno.
evangelical baloney

Derived From Web

, May 19, 2022

This is the latest example of conservative Christian fiction, designed to 1) MAKE MONEY FOR THE AUTHOR 2) SCARE NON BELEIVERS INTO BECOMING BELEIVERS. ALL BOOKS LIKE THIS DO IS DIMINISHING THE CREDIBILITY OF CHRISTIANITY IN GENERAL AND THE SCIENCE ASSOCIATED WITH VERIFICATION OF ACTUAL SPIRITUALLY SIGNIFICANT EXPERIENCES
An excellent read. Powerful and life changing.

Derived From Web

, May 19, 2022

In about twenty years, I hadn 't sat and read a book until my wife bought this book. The title intrigued me and when I started reading it, I couldn t put it down. The descriptions of Hell and the things that happen there really made me sit back and evaluate how I was living and this was after my conversion to faith. Beyond the terrible scenes and stories of the people in Hell, the doctrine was passed from God. It is so sound and answers so many questions, there is no doubt that it came from God Himself to B.W. This book is a must read for anyone who questions the reality of Hell, and even better for any lukewarm Christians out there. The book is great all the way around.
Incredibly Powerful and Of the Lord

Derived From Web

, Jan 29, 2022

I had seen Brian's ministry presentations on Youtube, so I decided to read the book. The book is simply powerful, very enticing, love it. Thank you.
Stay out of Hell

Derived From Web

, Jan 28, 2022

This real life drama will bring understanding to the believers and non-believers about what is really like Hell. It is written the way it happened and for those of us who are simply unable to explain why we are saved, this book is the ideal book for non-believers to read.
Much of this story matches with Scripture teachings

Derived From Web

, May 17, 2021

While no one likes the subject of Hell, we are somehow allowed to know the outcome of those who look for ways to hate our Creator or ways to conclude that our Creator does not exist. A close reading of Jonah's time in the whale shows that Jonah died, was in Hell, and rose to life after being expelled from the whale. While these types of stories are nothing new, the one in A Land Unknown records details that explains the function and purpose of the garbage dump that is Hell.
Definitely an eye opening read

Derived From Web

, Apr 15, 2021

I personally grew up in the church as a kid, much like the author, and once I found myself in my teens, our family moved away from any treasury church settings. I believe very much in God, but never thought about Hell besides in the frightening moments of being scared and saying, I don 't want to go there all the while living life on my own terms and walking that broad road. Ending this book has been intense, but I feel a compulsion to move towards God himself and seeking Him and building a relationship with him and truly living life. In this way, I say a job well done. It is sure not an easy read, but if it was me, I would read it be pooped and then I would continue to live in the way I have because I want to live my own ways.
Amazing Experience

Derived From Web

, Jun 25, 2020

I read books about people's experience in Hell and thought I could see it. The descriptions in this book put them all in the toddler zone of understanding. The answers to the questions of those who do not believe in God are answered. You have to read, absorb, pray and meditate with Him on how to embed them into your heart to pass to others who do not believe. Just frightening and utterly incredible. Bryan thanks you, Yeshua, for sharing this experience and for sharing it with the world. It is an individual choice. Will you make life live or make life ugly?
It is hard to put this book down.

Derived From Web

, Oct 7, 2019

I believe in his account. I felt like I was losing the reality when I read this book. What I don 't like about this book is that it is too wordy. Fortunately, it has a prayer book near the back of the book.