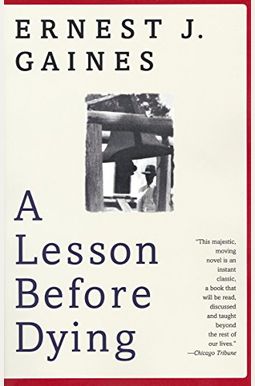  
Book Overview
This Description may be from another edition of this product.
Based on Ernest J. Gaines' National Book Critics Circle Award-winning novel, Romulus Linney's A Lesson Before Dying is set in a small Louisiana Cajun community in the late 1940s. Jefferson, a young illiterate black man, is falsely convicted of murder and is sentenced to death. Grant Wiggins, the plantation schoolteacher, agrees to talk with the condemned man. The disheartened Wiggins had once harbored dreams of escaping from his impoverished youth, yet he returned to his home town after university, to teach children whose lives seemed as unpromising as Jefferson's. The two men forge a bond as they come to understand what it means to resist and defy one's own fate.
An L.A. Theatre Works full cast performance featuring:
Rick Foucheux as Paul Bonin
Keith Glover as Grant Wiggins
Jamahl Marsh as Jefferson
Linda Powell as Vivian Baptiste
Jefferson A. Russell as Reverend Moses Ambrose
Jerry Whiddon as Sam Guidry
Beatrice Winde as Emma Glenn
Directed by Nick Olcott. Recorded at Voice of America in Washington D.C.
Frequently bought together
Frequently Asked Questions About A Lesson Before Dying
Books like A Lesson Before Dying
Book Reviews
(15)
Did you read A Lesson Before Dying? Please provide your feedback and rating to help other readers.
A White Southerner's View

Derived From Web

, Apr 20, 2022

It is almost impossible for a white man.. who lived in the South. to even begin to understand the depths of humiliation experienced by black people in our society. Through a black man's eyes, the daily, and lifelong degradation and deprivation inflicted on fellow human beings is truly human. Now we must learn if we are to ever effectively remedy the racial bias that continues in our nation--on both sides of the Mason Dixon. 0 3171616 3171616 But it is one we must learn if we are to ever effectively remedy the racial bias that continues in our nation--on both sides of the Mason Dixon.
A great book about how to face death and life in the south as it was

Derived From Web

, Apr 20, 2022

This is a deeply felt book about the life of a young boy on death row and the man who visited him till this happened. The book also tells you what life was like for the negro in the South in the 1950s. The product is done in a very indirect way, making you think of many things-death, and how do we want to deal with any of it. A lot of us think about it, too, he said.
Required reading

Derived From Web

, Apr 20, 2022

It was a book that was required reading for my English class, and I did not want to read it. The other books that had been chosen for us to read this year were not my favorites to say the least. However, after reading the book, I find myself having really enjoyed it. A Lesson Before Dying was full of emotion and a story that will not soon forget, Graham said. The book contains descriptive and colorful writing that is both historically accurate and also vividly colored. The reader will feel as if the entire thing is real. Although the story was a work of fiction other trials chose to place blame on those of African-American decent, the author was able to capture the different feelings, prejudices, and thoughts of his characters.
great book

Derived From Web

, Apr 20, 2022

Brought this for my 13yr daughter. usually she has a hard time getting through a book she is assigned to read but she flew thru and couldnt wait to tell me about it. It's just that I left her in her room and she was watching the movie. She really enjoyed the book, said Blair.
... for his reading lesson at school and he absolutely loved it cause he finished reading this in a few ...

Derived From Web

, Apr 20, 2022

My son absolutely loved it, he finished reading it in a few hours without getting up, said his mom. He was engrossed in the book, said Mrs Clinton.
You HAVE to read to the end! ! !

Derived From Web

, Apr 20, 2022

It was the book club choice of February. At first, I thought it was a bit cumbersome and slow moving. It was a short book, but it took me a while to read. His widow, Elizabeth, said the letter was "so moving." It was hard to read because of the tears in your eyes, Raymond said. W.O.W. is a reference to Walt Disney's "W."O.W. The book really made me think of what is truly important in life, Raymond said.
Best Book I've Ever Read!

Derived From Web

, Apr 20, 2022

I first found this book in audiobook format on a library shelf about 15 years ago. No other work of fiction has ever challenged me to look at myself and how I view other people like this one, Raymond said. Since that day I have read it several times and shared it with whoever showed interest. Take a few minutes out of your life to read this story.
A Lesson for the Living

Derived From Web

, Apr 20, 2022

Sad, sad, but hopeful beyond reason. That the racial implications of this story are still so prevalent is tragic, but any story—fact or fiction—that helps those oppressed to open their eyes, find their voices, and to stand tall is important. I feel very blessed to have found this book at this time and look forward to more from this gifted author and teacher, said Darl McBride.
Wonderful story

Derived From Web

, Apr 20, 2022

My Auntie let me hold this book right before I joined the military, but I never read it. Well, I've read it, and I still can't believe it. I'm glad I waited. Mr Hughes said: "I don't think that 19 year old me would have really grasped what was going on in the story. But it was a great story about life, with walking God and how someone's life can change for the better no matter where you are at in life. A great read, said Dr. Chester Floyd, director of the federal Centers for Disease Control and Prevention.
This is an abridged version

Derived From Web

, Nov 13, 2019

The book is divided into 37 chapters. The book is divided into four sections: History, Archaeology, and Medicine. The book is also missing several crucial paragraphs. I use audible to help some of my struggling readers along with books and the missing portions throw them off again and again. The team has a difficult time finding the narrator because it is not chaptered as the book is. The book is now being sold in some bookstores as an audible book.