Buy 3 Get 1 Free
Our Best Sale Yet! Add 4 Books Priced Under $5 To Your Cart Learn more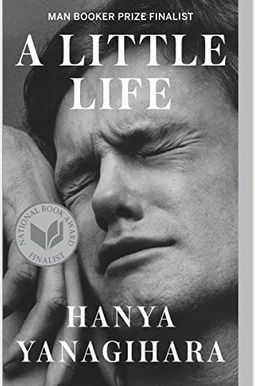  
Book Overview
This Description may be from another edition of this product.
NATIONAL BOK AWARD FINALIST
SHORT-LISTED FOR THE MAN BOKER PRIZE
Brace yourself for the most astonishing, challenging, upsetting, and profoundly moving book in many a season. An epic about love and friendship in the twenty-first century that goes into some of the darkest places fiction has ever traveled and yet somehow improbably breaks through into the light. Truly an amazement--and a great gift for its readers.
When four classmates from a small Massachusetts college move to New York to make their way, they're broke, adrift, and buoyed only by their friendship and ambition. There is kind, handsome Willem, an aspiring actor; JB, a quick-witted, sometimes cruel Brooklyn-born painter seeking entry to the art world; Malcolm, a frustrated architect at a prominent firm; and withdrawn, brilliant, enigmatic Jude, who serves as their center of gravity. Over the decades, their relationships deepen and darken, tinged by addiction, success, and pride. Yet their greatest challenge, each comes to realize, is Jude himself, by midlife a terrifyingly talented litigator yet an increasingly broken man, his mind and body scarred by an unspeakable childhood, and haunted by what he fears is a degree of trauma that he'll not only be unable to overcome--but that will define his life forever. In rich and resplendent prose, Yanagihara has fashioned a tragic and transcendent hymn to brotherly love, a masterful depiction of heartbreak, and a dark examination of the tyranny of memory and the limits of human endurance.
Frequently bought together
Frequently Asked Questions About A Little Life
Book Reviews
(12)
Did you read A Little Life? Please provide your feedback and rating to help other readers.
Insight At the Cost of Pain - For the Reader

Derived From Web

, Apr 20, 2022

The story of a man who was chronically abused as a child is very long. He is surrounded by three high school friends, but still struggles with his childhood memories. The story plays out as a question, will he survive this emotional torture, and how, because of the memories that restrict his ability to use his talents. The author's writing is not as good as the topic makes it difficult to read. I was sad before the end. It raises a question for all of us, one I used to frame as a metaphor for my pychotherapy clients, who are trapped in a cage, but I believe you can leave if it isn't too frightening. The book's main character has a tougher cage than most since he has to constantly question if he deserves to leave. One can be convinced they don't deserve to be happy because of chronic abuse. It was very bad.
Beautifully written

Derived From Web

, Apr 20, 2022

I am shell-shocked, and still wiping tears from my eyes, but I feel as though I need to write this now. I've never read anything in my life that made me feel horrified, uncomfortable, and hopeful. I am grateful that I read Hanya's masterpiece, even though it was so conflicting for me to read. I was on edge throughout the book because of the characters and their lives. Because of the discussion of violence and abuse. I wanted Jude to be happy. It's interesting how we want people to be happy, but not everyone can be, but we all want a happy ending. There is something to think about. Hanya's next book is going to be great, I think this book is well written.
a beautiful but damaged man

Derived From Web

, Apr 20, 2022

The life and suffering of one human being being a little life was the subject of this book. The writer moves into the minds and emotions of a group of friends, but the main focus is on Jude, a damaged man. The horrible abuse and betrayal of his childhood has left him feeling worthless, guilty, and never able to trust other people. His childhood was marked by abuse. He has many friends who are kind and good to him, but he always feels undeserving of any of the good things that he gets, because he doesn't feel appreciated. The story was well written, difficult to put down, and makes the reader think about the impact childhood abuse has on a person's life for years to come.
Heart wrenching

Abby Rogers

, Oct 19, 2021

A profound book about grief and navigating life. This is a long novel, but gives the reader time to understand each characters past and how it affects them presently
Care about the characters

Derived From Web

, Oct 2, 2020

I don't know how to rate this book. When the author switched the narrative from one person to another, I had some confusion about who it was. I had to go back and read it again when I realized who it was. Since finishing the book, I have thought about it a lot. I will probably read the book again to clear up any confusion. I would have given it a 5.
Heartbreaking and Tragic!

Derived From Web

, Sep 27, 2020

The writing in this book was brilliant. The characters were with me when I set the book down. I was worried about them. I was hoping Jude would find happiness. I'm glad I kept reading until the end, even though I wanted to set it down for good. Through constant pain and tragedy, it is about love, friendship and perseverance. This book is very good.
Painful to Read. Sick.

Derived From Web

, Mar 14, 2019

I am confused by the good reviews for this novel. It is hard to read. It's an ensemble piece about a group of college friends navigating life in New York their various fields but then becomes just hundreds of pages of torture and child abuse and graphic horrible details about one character. It feels like a very long version of a sick little kid torturing her barbie dolls. I do not understand the appeal. I finished it. Wishing for a happy ending. There isn't a single one. I don't like this book.
Bloated, boring, and repetitive

Derived From Web

, Dec 12, 2018

It's really hard. I just finished A Little Life and thought it was not good. I don't understand the praise given to this work. The narrative is not realistic, the characters are one-dimensional, and torture porn is repeated over and over again. It is repetitive, cliche, and unoriginal and the same awful story could have been told in 500 pages instead of 800. The tone is pretentious and the author is so terrified of making a mistake that she writes things like "listening to the radio with which you would both sing along loudly" in order to avoid ending a sentence with a preposition. This stiff and un-relatable.010 was made by the amount of "in which" "with whom" language.
Speechless.

Derived From Web

, Nov 23, 2018

The book will probably go down as one of the best pieces of literature I have ever read. I just finished the book and it took me about a month to read all the 700 pages. Everything about this novel made sense to me. I can't remember how I found it. I am sure glad I did. It is a difficult read. At times the subject matter is hard to digest. It is frustrating, but life is just as enjoyable. That is how I found this book. The characters become a part of you because they are fully realized. I'll miss them. There are some shocking and wonderful moments in this book, and I am so glad I didn't put it down. Tonight is Thanksgiving. Many Thanksgivings are celebrated in the book. It felt like it was synchronized. I can't say I'm beat right now.
Horrific subject matter - executed badly.

Derived From Web

, Aug 13, 2018

I read the reviews. It was heavy-handed, unbelievable, and reeks of being salacious for the sake of it, for me at the end of the day. I wondered if she had done any research on childhood sexual abuse. I don't mind difficult subject matter or long stories. When it is wrapped in a child abuse narrative, I am wary of flat, inconsistent characters.