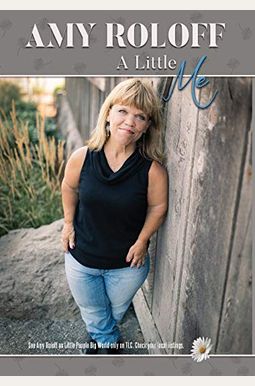 
 
Frequently Asked Questions About A Little Me
Book Reviews
(8)
Did you read A Little Me? Please provide your feedback and rating to help other readers.
Devoid of substantial reflection

Derived From Web

, Feb 22, 2020

I have no idea. I have watched the show. Why is the book devoid of self reflection when it comes to the negative portrayal of the show? No one knows the inner world of a family or a relationship, but there seemed to be an awful lot that was revealed to the viewers. The children's relationship with their father is undermined. It's troubling to use issues with one's children to mitigate problems between the parents. No one is perfect, and I think there is plenty of room for understanding when one is honest with regard to their responsibilities to a problem, but very little when this is edited out and hidden. People will read this book. It's best not to say so.
I bought this book because I like Amy and want to support her, but.............

Derived From Web

, Jun 29, 2019

It's like reading a diary. I' ve lost count of how many times she says I'm different. I bought the book because I didn't want to know Amy well. She seems lost in herself and unable to focus on being different. The last half of the book was more interesting when she didn't focus on being different but just got on with her life. I decided to add a star because it was worth it.
Encouragement from Amy

Derived From Web

, Jun 29, 2019

There are anecdotes about her life. I wanted more of a biography from Amy. She writes a note of encouragement at the end of each chapter. Faith based self rearings. It was worth it to read.
Repetitive

Derived From Web

, Jun 24, 2019

I was very disappointed in the book, even though I enjoy the show and Amy. Roughly 50% of it could have been edited out. About the time you think it's going to go deep, she comes back to you. When I was a child, I let it hold me back. I overcame. Repeatedly. The words are the same. This book should have been half the size because of the deep and meaningful stories Amy tells. I'm a fan of Amy. Really. I want Amy to find love and be happy again. She is inspiring. I'm not denying that. I'm writing a review of a book. It's not personal and it's not business. The book was very repetitive. Amy can't be expected to write a perfect book because she's not a trained writer. The editor did a poor job. Simple.
Amy is more than the woman you see on T.V.

Derived From Web

, Jun 11, 2019

It felt like I knew Amy Roloff when I watched every season of the show. I fell for the oldest trick in the book after reading her book, A Little Me. Everyone has a story to tell As a young person who was different due to her dwarfism, Amy went through a lot in her story. As I read through her experiences, I thought, Hey, I might not be a dwarf but I went through similar struggles and feelings of incompetence. Thank you Amy, you are more real in your truth than we see. I felt like I related to you for the first time.
"Enjoyable Read"

Derived From Web

, Jun 10, 2019

I enjoyed reading Amy's book. I knew the reality show was not all reality. I am certain that things can be taken out of context. It was great to learn about Amy's strengths and struggles. The first several chapters were repetitive. I have always thought a lot of Amy, and the last chapters of the book were great for me.
A great read

Derived From Web

, Jun 10, 2019

A nice read. It is better to read it in one sitting. Amy worked on her confidence. I wish I could have told her they weren't necessary. She is an amazing woman.
Wonderful book!

Derived From Web

, Jun 9, 2019

A woman wrote a book. It takes strength to tell an honest life story. It's a lot of fun to drop the baggage that keeps you isolated and stuck. That's great!