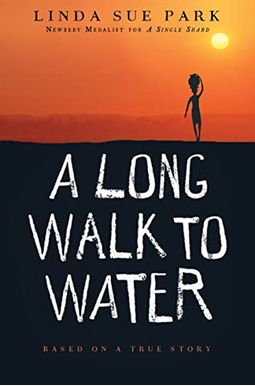 
 
Frequently bought together
Frequently Asked Questions About A Long Walk To Water
Books like A Long Walk To Water
Book Reviews
(8)
Did you read A Long Walk To Water? Please provide your feedback and rating to help other readers.
Must Be An Excellent Book

Derived From Web

, Feb 8, 2022

My 7 th graders was assigned to read in school. This was the first book my son had ever read, he talked about it and even read a note. My son has a learning disability which makes reading a book difficult. I bought the feature that reads it to him because he loved it and they had music and the reader used different voices for each character. As it read, it highlighted the words and gave a definition. It opens a whole new world for struggling readers.
Powerful story, great for Book Club or Classroom!

Derived From Web

, Feb 8, 2022

I teach a 5 th and 6 th grade language arts class through this book. The material was enjoyable for us all. The topics are presented in a way that's easy to understand. The vocabulary is easy to comprehend. It is short enough that challenged readers are not afraid.
A great reminder of how easy we have it here in the USA!

Derived From Web

, Apr 11, 2020

I liked the book. The 120 page book is based on a true story of a boy who was born in Sudan. The book starts out at 11 years old for him. He has a hard beginning because of politics in his country. A girl has an even worse situation than a lesser hero. Her story starts in 2008 when he starts in 1985. Well, not so long ago? There are very interesting and frightening things that happen to children. It takes 8 hours a day for her to walk to the muddy pond to get water for her family. She balances her container on her head as she gets home. It's a must read for those who have it easy in life and those who complain about everything. The ending is inspiring.
Not a full length novel

Derived From Web

, Jan 1, 2020

A very thin book. My daughter is 12 years old. I have not read the story, but it is worth noting that it is more of a long story than a book. There are 13 pages and 34 in a standard book.
Touching and Beautiful

Derived From Web

, Jan 19, 2018

I was hesitant to read this story because it seems that most stories written about Africa are in a negative light. After scrolling through my collection I decided to read this story. I would have liked to read it sooner. I wondered if I would have given up at that point. I wondered if I could do the same things as Salva. I would like to believe I could. I was sad for the loss of his brothers, his uncle, and his childhood, but I was happy with his perseverance, his dedication, and his friends.
Great Exposure for 10 Year Olds

Derived From Web

, Dec 14, 2017

My grandson told his mom and I about the book. They asked us to read it. This touched him so much that he spoke up about it. A basic human need - water - was presented in the story. A child would be exposed to the impact of war and other dangers by lightly describing them. Questions are raised that allow parent- child interaction and help to teach our children to be socially aware and that you can make a difference in the lives of others. When there is access to a good, clean, abundant supply of water, there will be social, educational and economical changes. Excellent, that's right.
Great read aloud family book

Derived From Web

, Jul 16, 2017

When I read this aloud to my Chinese born American raised kids, there was a brief moment of silence, and then Mom, please read. And then the conversations started. This is a story that our privileged American children need to hear. Each child's place in their tribe is fascinating and the parallel story lines are fascinating. We' ll pay it forward by donating to his organization. It was an amazing achievement. Thank you.
Review By a Nine Year Old Who Loves Books:

Derived From Web

, Jul 15, 2017

In 2008 she had to walk a long distance to get water for her family. A refugee during the 1985 war has to make a long journey to find safety. In Sudan, life is hard for them. The stories are 25 years apart, but the book talks about how they intersect. It is good for kids in grades 1-8 and also for people who like historical fiction. It is also good to learn about water. It saves lives, helps people and brings us together by giving water. The book has good examples of leadership. I have read many other books, but this one is different. The kind of book that sucks you in is what this is.