Buy 3 Get 1 Free
Our Best Sale Yet! Add 4 Books Priced Under $5 To Your Cart     Learn more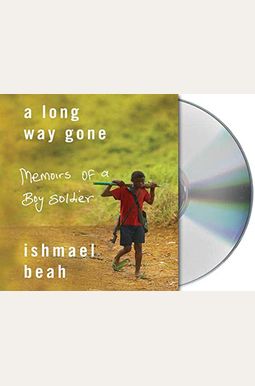  
A Long Way Gone: Memoirs Of A Boy Soldier
Product is currently Out of Stock.
You can add it to your wishlist and you will be notified once we receive a copy.
Book Overview
This Description may be from another edition of this product.
My new friends have begun to suspect I haven't told them the full story of my life.
Why did you leave Sierra Leone?
Because there is a war.
You mean, you saw people running around with guns and shooting each other?
Yes, all the time.
Cool.
I smile a little.
You should tell us about it sometime.
Yes, sometime.


This is how wars are fought now: by children, hopped-up on drugs and wielding AK-47s. Children have become soldiers of choice. In the more than fifty conflicts going on worldwide, it is estimated that there are some 300,000 child soldiers. Ishmael Beah used to be one of them.
What is war like through the eyes of a child soldier? How does one become a killer? How does one stop? Child soldiers have been profiled by journalists, and novelists have struggled to imagine their lives. But until now, there has not been a first-person account from someone who came through this hell and survived.
In the #1 New York Times bestseller, A Long Way Gone, Beah, now twenty-five years old, tells a riveting story: how at the age of twelve, he fled attacking rebels and wandered a land rendered unrecognizable by violence. By thirteen, he'd been picked up by the government army, and Beah, at heart a gentle boy, found that he was capable of truly terrible acts.
This is a rare and mesmerizing account, told with real literary force and heartbreaking honesty.
Frequently Asked Questions About A Long Way Gone: Memoirs Of A Boy Soldier
Books like A Long Way Gone: Memoirs Of A Boy Soldier
Book Reviews
(12)
Did you read A Long Way Gone: Memoirs Of A Boy Soldier? Please provide your feedback and rating to help other readers.
Holy cow.

Derived From Web

, Apr 20, 2022

This book has changed me a lot. Ishmael Beah articulates his journey from childhood naivete to cold-blooded killer to soul-bursting emptiness so well that his journey made me question who I am and where my priorities are. If you have never been familiar with the civil war in Earth, you absolutely need a book like this to bring you back to Sierra Leone. It is an easy read that tugs the heartstrings. Masha'Allah is a Hindu masha. May Beah find the peace he has searched so desperately for.
A moving book on the realities of children soldiers

Derived From Web

, Apr 20, 2022

Everyone should read this book. The realities of what these children have been through, to kill them all and to lose everything just to survive. They saw their families slaughtered brutally by their families. Hard to stomach, but necessary for us all to know and care about their horrific journey. The book is written simply and with honesty. A good ending as this poor child is able to escape and find a beautiful and peaceful life for himself. Ishmael, thank you for sharing your heartache with us. You are a remarkable human being.
Hope in Heartbreak

Derived From Web

, Nov 5, 2021

Ishmael Beah's forthright memoir recounts unimaginable horrors and deprivation, but pulses with an undertone of hope. In the Acknowledgments, he uses that unexpected second lifetime to speak for the thousands of child soldiers who either survived the Sierra Leone civil war or were left traumatized, misunderstood and rejected. I can not recommend this book highly enough .
Rule of Law

Derived From Web

, Apr 10, 2021

It seems to be in vogue for political insurrection. throw the bums out, throw the government '', etc. Those who promote the rule of law and against civil society need to read this book.
A little hard to follow but a great book

Derived From Web

, Oct 24, 2020

Book by Superb. Not crazy about how it was organized with time frames and stories of people, but overall a splendid book.
Never Finished

Derived From Web

, Jul 27, 2020

I enjoyed reading what I read from this book, but I never got around to finishing it. It was not really my cup of tea. It was otherwise well written.
Great story, took awhile to get into

Derived From Web

, Jul 30, 2019

This novel is one that took me by surprise. I knew about the horrors of the civil war and child soldiers'first hand accounts, but I had never read a first hand account. It is indeed stuff of nightmares and Beah gets this point across. Beah's story is a must read for anyone able to sympathize with people from nations in civil war. To be able to even sympathize with people from nations in a civil war, Beah's story is a must read. It took me awhile to get into this novel, however, because the writing is very simplistic and the descriptions are repetitive. Stick with it and you 'll be surprised at how invested you are in the story, even without the most eloquent writing.
Really just an amazing book. It taught me so much about perspective

Derived From Web

, Feb 8, 2018

An absolutely amazing book, really. It taught me so much about perspective and made me realize just how many wonderful things I took for granted. The author Beah does a fantastic job of presenting the realities of social and political turmoil and the life of a child soldier. The story is heart-breaking at times and inspiring others. Would definitely recommend to anyone.
A good book to read about how and where the boy ...

Derived From Web

, Dec 30, 2017

A lot has been written about this book ; reading it was a reminder of the post-colonial history of many countries in Africa and Asia. In the, many countries struggled to form democratic governments. Disputes arose because countries were created by European colonial powers, who paid little attention to realities on the ground, but rather what was convenient for them. While reading this book, it was clear that the kind of violence that took place in Sierra Leon was clear, but what was not clear what the competing groups were fighting for. It was mind-boggling to read about villages being destroyed and people being burned for no apparent reason. A good book to read about how and where the boy soldiers came from, especially how adults around them transformed from being innocent children into deadly killers.
Read it and pray for the better world and if you can make it better, then do it.

Derived From Web

, Dec 8, 2017

It was very difficult to read this book knowing how much these children suffered and knowing that it still happens. Being informed about what is going on in the world may help you understand where the roots of the problems are. I, however, can not figure out the solution myself. I don 't see these problems dissapear for a very long time, and that is sad. Just like that you are dragged into war, just like you become part of the problem. The poor Kid : The Rich Kid It is a false statement that we are all born equal and given equal opportunities. We are not Well, we are not. I am sorry to tell you that I am sorry to tell you. This kid was born in a shack on a muddy floor, without a bathroom, with a roof leaking under his mother's head. The country was underdeveloped, with bullets flying and bombs falling over their heads. How is this equal? ! !