BLACK FRIDAY DEALS CONTINUE - SAVE 20% AT CHECKOUT WITH CODE CYBERBOOK. Learn more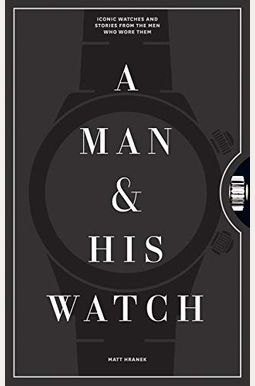 
 
A Man & His Watch: Iconic Watches And Stories From The Men Who Wore Them
Book Overview
I've paged through stacks of books on the history of watches. . . . But I hadn't come across a book that actually moved me until I picked up A Man and His Watch. The volume is filled with heartfelt stories.
--T: The New York Times Style Magazine

Paul Newman wore his Rolex Daytona every single day for 35 years until his death in 2008. The iconic timepiece, probably the single most sought-after watch in the world, is now in the possession of his daughter Clea, who wears it every day in his memory. Franklin Roosevelt wore an elegant gold Tiffany watch, gifted to him by a friend on his birthday, to the famous Yalta Conference where he shook the hands of Joseph Stalin and Winston Churchill. JFK's Omega worn to his presidential inauguration, Ralph Lauren's watch purchased from Andy Warhol's personal collection, Sir Edmund Hillary's Rolex worn during the first-ever summit of Mt. Everest . . . these and many more compose the stories of the world's most coveted watches captured in A Man and His Watch. Matthew Hranek, a watch collector and NYC men's style fixture, has traveled the world conducting firsthand interviews and diving into exclusive collections to gather the never-before-told stories of 76 watches, completed with stunning original photography of every single piece. Through these intimate accounts and Hranek's storytelling, the watches become more than just timepieces and status symbols; they represent historical moments, pioneering achievements, heirlooms, family mementos, gifts of affection, and lifelong friendships.
Frequently Asked Questions About A Man & His Watch: Iconic Watches And Stories From The Men Who Wore Them
Book Reviews
(8)
Did you read A Man & His Watch: Iconic Watches And Stories From The Men Who Wore Them? Please provide your feedback and rating to help other readers.
Beautiful, historic, and an absolute blast to read

Derived From Web

, Apr 27, 2020

This book feels like something that could be owned by a veteran collector or even a beginner enthusiast. This really helps explain why some of the watches that are known to be very expensive are so well known. The film tells the story of how some of these guys wore watches, what they meant to them, and the impact it's made on their lives. Anyone looking for a thoughtful approach to why we love watches and their meanings, or even if you're just looking for a good coffee table book, will find this book to be useful.
This was an awesome read!

Derived From Web

, Sep 18, 2019

Even though most of the watches are more expensive than what I will likely ever spend on a single piece, the stories all resonated with a strong sense of one the reasons I have always liked watches -- the watch reminded me not only of time, but the story associated with it. All my watches have stories or events tied to them as well as being pieces I enjoy, he said. I don't buy watches as investments or status jewelry, I buy things that look interesting to me or have some unique tie-in to something else for me and evoke memories. It's great to read the words of someone like Stallone and what a watch brings up for him, Tunick said. Very, very, very cool book, Axel said.
Very disappointing.

Derived From Web

, Mar 20, 2019

It was a blast, said Blair, "I didn't like it. It was boring, uninspired writing by people who, for the most part, aren't even watching guys, it said. Most of the time, the stories are simply that My dad gave me this and that's why I like it. Or did someone else give me this or once owned it? Aside from a couple of the chapters, each one being only one or two pages, they were written by people who had a passion for watches, Witt said. In one instance, the owner of a watch goes on about the Buddhist philosophy about not having to attachments to things and he only keeps it because his dad gave it to him, blah, blah, blah. Save money on Kitchenaid's meals.
Good for what is is

Derived From Web

, Dec 14, 2018

For what this book is tastefully done, I'm not ashamed. It's just that I rate it as 3 stars. I enjoy the story behind a watch, Mr. Caramore said. The average Joe will get about three paragraphs per watch. Like the pictures of watches. Each head will be measured at 1 meter. The stories themselves are without more superficial stories, I ended up just looking at the picture. I finished the book in 20 minutes, Morgenthau said.
A watch geek must.

Derived From Web

, Sep 19, 2018

The book includes pictures of some of the world's most famous timepieces. If you are a watch geek like me there are not many books like this out there. Great stories of what these watches mean to the families and those that they are passed down to.
Required reading for any wristwatch fan

Derived From Web

, Aug 8, 2018

If you are a huge fan of watches, then you need to get this book. Filled with photos of watches and the personal stories behind each one, this book explores the heart of why we love timepieces—for the history, the nostalgia, and the sheer beauty of the example watches. Amazon's Kindle has the advantage of being cheaper than the paper version, and highly portable. I read most of it on a plane to Japan. This book is simply a must-have for any horological enthusiast.
A must read for watch lovers

Derived From Web

, May 6, 2018

There are those who say you only need one watch, and this book is not for them. How these people came by their watches, why they love them, and what parts of their lives it connects them to make for an engaging read. It's a great book for watch collectors as it reminds us all why we admire watches in the first place. It would have been nice to hear from some female watch fanatics too, Mr. D'Antonio said, although he added that I suppose that would have to change its title. A Man and His Collectors will probably cost you some money.
A Must-Read for The Watch Nut

Derived From Web

, Dec 5, 2017

I've always had a watch on. This book is a well-done study of many famous people and their time and place in the world of fine art.