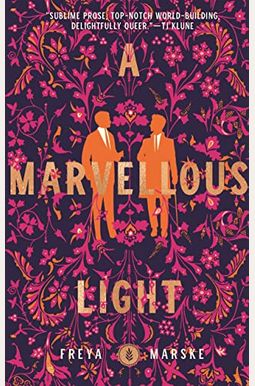  
Book Overview
Red White & Royal Blue meets Jonathan Strange and Mr. Norrell in debut author Freya Marske's A Marvellous Light, featuring an Edwardian England full of magic, contracts, and conspiracies.
Robin Blyth has more than enough bother in his life. He's struggling to be a good older brother, a responsible employer, and the harried baronet of a seat gutted by his late parents' excesses. When an administrative mistake sees him named the civil service liaison to a hidden magical society, he discovers what's been operating beneath the unextraordinary reality he's always known. Now Robin must contend with the beauty and danger of magic, an excruciating deadly curse, and the alarming visions of the future that come with it--not to mention Edwin Courcey, his cold and prickly counterpart in the magical bureaucracy, who clearly wishes Robin were anyone and anywhere else. Robin's predecessor has disappeared, and the mystery of what happened to him reveals unsettling truths about the very oldest stories they've been told about the land they live on and what binds it. Thrown together and facing unexpected dangers, Robin and Edwin discover a plot that threatens every magician in the British Isles--and a secret that more than one person has already died to keep.
Frequently Asked Questions About A Marvellous Light
#1
Book Reviews
(8)
Did you read A Marvellous Light? Please provide your feedback and rating to help other readers.
A beautiful queer romance.

Derived From Web

, Feb 14, 2022

Check out the main, compelling strong characters. An interesting cast to keep the background interesting. A mystery that was actually enigmatic... big check! There were lots of twists and turns in this story and I couldn t put it down. I read it in 24 hours and had to tell my friends to go out and read it too so that I could discuss it with someone. Honestly, one of the best stories I have ever read, and the fact that it also had a queer romance at the heart of it, just the icing on the cake.
A Great Book!

Derived From Web

, Feb 14, 2022

Marske sets up a very interesting and original magical system and a well realized world. The beginning is a little slow and dark, but I was very happy that I continued. The pace picked up and I got to the point where I couldn t put it down. I can 't wait for the next one!
Reminiscent of Wilde, but way more fun

Derived From Web

, Feb 8, 2022

I love this book ''. There were times when it began to drag for me, mostly when we were living through the details of rich British people in the countryside. That is what reminded me of Oscar Wilde's kind of. The romance scenes are interesting, the Lore is pretty nice and in general, I just like Edwin. The momentum and the payoff were not good for me, but perfect enough. Maybe I'm wrong on this. The audiobook makes a beautiful accompaniment, very nice voice work. I'm kind of curious to know what the next will be like.
Heart-warmingly British perfection

Derived From Web

, Jan 23, 2022

This book is endearing, droll and full of just enough wonder and magic to feel like an indrawn breath. I really enjoyed the very British voice of this and the restrained nature of both men rather accidentally falling in love with one another, while they pursued mysteries and fiends throughout the countryside. Most books that combine mystery and romance get the quantities wrong for my taste-usually too much mystery. But this one has JUST the right balance of mystery and romance to keep the stakes high, but is also very emotionally motivated. Edwin... what even to say about the quiet, sexy librarian Edwin, except I would literally beat anyone on his behalf without even half being asked. I also loved the prose and the really unique metaphors used throughout. This is a new favorite and I am so grateful to the people who have so highly praised this book for me! Preordered the sequel within seconds of the end, and I never preorder for anything but my top 5 favorite authors.
Absolutely Stunning

Derived From Web

, Jan 2, 2022

It took me a while to drop into it, but at 35% was finally sucked into and loved! It is 337 Am and I have just completed!! LAUGH! If you like to find magic, the delicate, quirky people and beautiful love, give this an your time ''.
Magical and delightful

Derived From Web

, Dec 31, 2021

I loved everything about it : the mystery, the world-building, character development, writing. Can 't wait for Book 2!
A Little Less Clever English, Please.

Derived From Web

, Dec 28, 2021

I bought this, read the first three chapters and had to return it. The problem was that all the nimber language made it impossible for me to forget I was reading and have lost in the story. Instead of access to a room of his own, he had given Robin a copy of himself, and Robin was wearing the consequences. First, he has to remember the outer layer and go back and parse it after parsing the inner layer. And second is, is having your own personal typist better or worse than having access to a room full of them? We can 't really know, so decoding the outer layer distracts the reader from the inner layer, if it was just one instance of this, everything would be fine. But it goes on like this, forcing the burden of decoding the author's thoughts onto the reader.
Can't wait for the next book!

Derived From Web

, Dec 10, 2021

Not only was the magical mysteryquest exciting, but the romance was also exquisite, passionate, tender - it was a pleasure to read about a possibly neurodivergent main character being SEEN. I loved it and, as I mentioned, I am so glad that this is the first of a trilogy and that I will be able to read more.