Buy 3 Get 1 Free
Our Best Sale Yet! Add 4 Books Priced Under $5 To Your Cart Learn more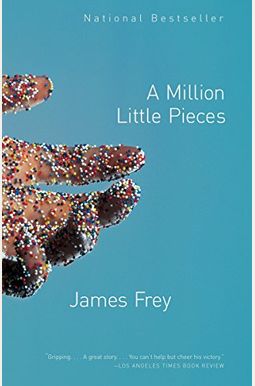  
Book Overview
A story of drug and alcohol abuse and rehabilitation as it has never been told before. Recounted in visceral, kinetic prose, and crafted with a forthrightness that rejects piety, cynicism, and self-pity, it brings us face-to-face with a provocative new understanding of the nature of addiction and the meaning of recovery.
By the time he entered a drug and alcohol treatment facility, James Frey had taken his addictions to near-deadly extremes. He had so thoroughly ravaged his body that the facilityis doctors were shocked he was still alive. The ensuing torments of detoxification and withdrawal, and the never-ending urge to use chemicals, are captured with a vitality and directness that recalls the seminal eye-opening power of William Burroughsis Junky. But
A Million Little Pieces
refuses to fit any mold of drug literature. Inside the clinic, James is surrounded by patients as troubled as he is -- including a judge, a mobster, a one-time world-champion boxer, and a fragile former prostitute to whom he is not allowed to speak o but their friendship and advice strikes James as stronger and truer than the clinicis droning dogma of How to Recover. James refuses to consider himself a victim of anything but his own bad decisions, and insists on accepting sole accountability for the person he has been and the person he may become--which runs directly counter to his
Read More chevron_right
Frequently bought together
Frequently Asked Questions About A Million Little Pieces
Books like A Million Little Pieces
Book Reviews
(14)
Did you read A Million Little Pieces? Please provide your feedback and rating to help other readers.
Too bad 5 is the highest number of stars

Derived From Web

, May 11, 2022

It makes NO DIFFERENCE WHATSOEVER to me that parts of Frey's story were made up, whatever. I read this as a story and what a powerful story it was! It was like a shot in the gut. I loved his writing style, his determination, grit and his ability to conquer his demons by sheer force of will. If only, like Frey, more people would quit blaming others and figure out how to be the person they want to be and, as Nike says, just do it! For me it was completely inspiring and spectacular. I can 't imagine people being wrapped so much around the axel about the Oprah thing. Isn 't ripping each other a better option than supporting each other to shreds? Please, get over yourself!
Loved it

Derived From Web

, May 11, 2022

It is not like something I have ever read before. The formatting of it is a little great, but if you can get past that there are no paragraphs and the controversy surrounding the book that everything may not be true and take it for just a weird bok, you will love it.
An Insightful Look

Derived From Web

, Jun 24, 2021

The author has been there truly '', which makes the writing all the more compelling and true to those who suffer from addictions or battling their own demons. While I personally did not follow the AA method, similar to the author, it should be said that for many of us, the author's route of escaping AA makes recovery a very difficult, if not impossible, road to travel.
Tough to get through subject matter and writing style

Derived From Web

, Mar 1, 2021

I simply did not care for the author, his writing style seemed to match his personality, droning at times about himself.
I was about 84% through this book when...

Derived From Web

, Feb 6, 2021

I found an article about it regarding the controversy and the information about it has kind of turned me off reading the rest of the book. The story is inexplicable. I don 't know what is real or what may be fabricated, but I read it for some reason as a memoir and not as a fiction. I purchased the book to learn more about addicts and their rehabilitation. After I learned the controversy, I lost interest in finishing the book. This is a gritty look at the possible life of an addict. Much of the story does ring true, but much of it seems exaggerated and inflated. I quite like the style of writing of the author.
I manage to compleate 50 % and then continued to read each 4th page untill the end.

Derived From Web

, Oct 15, 2019

Boaring, bad writing. Wouldn 't recommend this book to no one. If you want to read an inspiring book, go and look for another.
What a great story about addiction and the struggles

Derived From Web

, Dec 13, 2018

I never looked at addiction in the way Frey describes it in this story. So many helpers from all walks of life are affected by this disease.
Captivating whether true or not!

Derived From Web

, Oct 25, 2018

I read it back in 2006. I remember all the hype about Opra and how some of it was supposedly made by the author.
Good book with some exceptions

Derived From Web

, Jul 9, 2018

I remembered buying it so that I could live it again. Now that I'm older, it is not as great as I remember, but it is still a beautiful book... and yes, the fact that I know that he lied did play a small factor in it. The first half of the book is kind of hard to get through. I know he is a mess, but he just whines too much. I found myself complaining through sections because I was tired of hearing him skimming. He starts assembling his things together and his relationships with Lilly and Leonard are gripping. I would recommend, but I do not believe that this book will not be for everyone.
Raw and Real story of recovery from drug addiction.

Derived From Web

, Jun 4, 2018

It is a brutal real-life story of a young man who is addicted to multiple drugs and alcohol. The suffering he experiences before he cleans himself is hard to take. Here is a lot of profanity ; it is a slice of real life with NO sugar-coating. My wife could not put it down. The ending pages actually list what happened to several patients after they left the rehab. The story does have a happy ending about the author, but it is a miracle that he survived the many years of abuse.