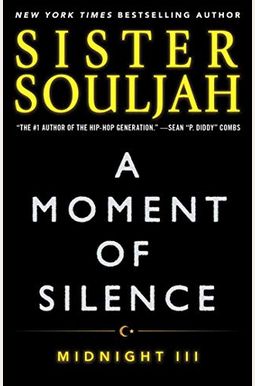 
 
A Moment Of Silence: Midnight Iii (The Midnig
Book Overview
In this electrifying novel, New York Times bestselling author and an important voice in American literature (Jada Pinkett Smith) Sister Souljah returns to the story of her beloved character, Midnight.
Handsome, young, Muslim, and married to two women living in one house along with his mother, Umma, and sister, Naja: can Midnight manage all that he has on his plate? He is surrounded by Americans who don't share or understand his faith or culture, and adults who are offended by his maturity, intelligence, and his natural ability to make his hard work turn into real money. He is calm, confident, and cool, Ninja-trained and powerful, but one moment of rage throws this Brooklyn youth into a dark world of dirty police, gangs, guns, drugs, prisons, and dangerous inmates. Everything he ever believed, every dollar he ever earned, and all of the women he ever loved--including his mother--are at risk. Will his manhood be taken, broken, or altered? Can he maintain his faith? Outnumbered, overruled, and deeply envied--how can he possibly survive? Will the streets convert him? What can he keep? What must he lose?
Frequently bought together
Frequently Asked Questions About A Moment Of Silence: Midnight Iii (The Midnig

Books like A Moment Of Silence: Midnight Iii (The Midnig
Book Reviews
(15)
Did you read A Moment Of Silence: Midnight Iii (The Midnig? Please provide your feedback and rating to help other readers.
Inconsistent with what he is supposed to be...

Derived From Web

, May 9, 2022

I have a lot of problems with Sister Souljah's potrayal of Midnight as a Muslim, Raymond said. His disdain for African-American Muslims which is a predjudice that is completely outside of what Islam is supposed to be. It's great to be back home, said Blair. His isolation of himself from other Muslims, and from guidance by an Imam, again is inconceivable to a real Muslim. It's great to be back home, said Blair. No real mention of his Muslim practices other than his prayer. There is mention of him going to the masjid for the mandatory Friday prayers or of fasting for Ramadan, things that cannot be overlooked except for very good reason. It also bothered me a lot about how much he neglects his first wife in favor of the second.
Did not add up!!!!!!

Derived From Web

, May 9, 2022

I love Souljah, but the left book was much needed. I was excited to hear she was going to go deep into Midnight's story and fill in the gaps of how a proud Muslim man ended up becoming the right hand man for notorious drug lord Ricky Santiago. I also felt that his time in prison was not what was to be hinted at in Winter's Novel. What happened to his Mother? In the first book, she was said to have been blackmailed into becoming a mule in exchange for his safety. Just keeping it real, sis.
I did like the book

Derived From Web

, May 9, 2022

I did like the book, but I felt there where to many lose ends in some of the stories, Raymond said. There should be another Midnight book to cover the lose ends of the story, Hachette said.
Great Turn of Events

Derived From Web

, May 9, 2022

Her story is far deeper than that of Winter and demonstrates how far she has come as a fiction writer. Forward to the next chapter. You should read the first two parts of Midnight's story to appreciate the full significance of that terrible night. The lower reviews are clearly the result of not knowing the development of the character. Thanks for the tip.
Addicted

Derived From Web

, May 9, 2022

I have read all three books in the "Midnight Series" by Stephenie Meyer. Addicted! The story is incredible, said Dr. Brian Stokes Mitchell, director of NASA's Ames Research Center in California. Her attention to detail is amazing. She make you want to read more. You think these are real? The other books in the series are also must reads. I am looking forward to the next one.
I loved all of the midnight books

Derived From Web

, May 9, 2022

I've read all the midnight books. I was so excited when I heard about this book, said Blair. For a 3 book series that has 2 of the 3 books have sooo many pages i feel like we still havent gotten the full midnight experience. But he is still a teenager. Im just hoping sistah will continue to write his story and that this is not the last we will hear from midnight akeme Umma his little sister and of course my girl Chasia.
Proof in the pudding!

Derived From Web

, May 28, 2021

Ive been waiting for this book so long! The intro didnt seem to flow with the last ending but I'm committed!
Awesome!!!!

Derived From Web

, Feb 20, 2020

I'm not happy about the ending, partly because I feel like I have to many unanswered questions. What happened to Nikia? What about the twins? What decision did midnight make? Did he ever return home? Ameer, did he become Muslim? naja? It's just that she doesn't get along with Chiasa. Dida still have a thing for him? There is also a book out there that deals with the Beatles. Now we know that Chiasa was pregnant after all, but did Akemi leave? It seems to be more about Midnight and Chiasa, and less about Akemi. Shes a very important part of this situation, Bruno told the judge. What happened is that Umma was living with the 2 Akemi, Chiasa and 3 babies at the time. She said her father was present when Akemis came after her. The questions keep coming.
Awesome Book! I JUST FELL IN LOVE WITH MIDNIGHT ALL OVER AGAIN!

Derived From Web

, Jan 23, 2019

I LOVE how Soulja captured my mind and heart with his meekness as well as his Boss side, His Sister Love, his compassion for his mother and wife. I really admire every single aspect of the film. He's an every woman's kind of man. I was really feeling these books by Sister Soulja. I had to read them all! It's great to see her coming back, said Busta Rhymes. A beautiful composition. Reflecting on his time in the classroom, he said: "I feel like I'm gaining a lot of writing skills." Jesus Christ Loves U All & So Do I. Be Blessed and encouraged!
Midnight..another AMAZING read!!

Derived From Web

, Oct 19, 2018

WOW! I absolutely loved Midnight, A Moment of Silence, as much as I did Books 1 and 2 and oh so wait for Book 4, because I know, she can't leave us hanging like this! It's just that we're having a blast. The storyline has always been captivating, full of knowledge, wisdom and culture. I also took my time reading it because I didn't want to end. Amazing read! It's great to be back home, said Blair.