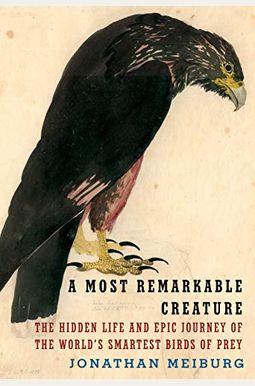  
A Most Remarkable Creature: The Hidden Life Of The World's Smartest Birds Of Prey
Book Overview
A fascinating, entertaining, and totally engrossing story.--David Sibley, author of What It's Like to Be a Bird
Utterly captivating and beautifully written, this book is a hugely entertaining and enlightening exploration of a bird so wickedly smart, curious, and social, it boggles the mind.--Jennifer Ackerman, author of The Bird Way
As curious, wide-ranging, gregarious, and intelligent as its subject.--Charles C. Mann, author of 1491
An enthralling account of a modern voyage of discovery as we meet the clever, social birds of prey called caracaras, which puzzled Darwin, fascinate modern-day falconers, and carry secrets of our planet's deep past in their family history.
In 1833, Charles Darwin was astonished by an animal he met in the Falkland Islands: handsome, social, and oddly crow-like falcons that were tame and inquisitive . . . quarrelsome and passionate, and so insatiably curious that they stole hats, compasses, and other valuables from the crew of the
Beagle
. Darwin wondered why these birds were confined to remote islands at the tip of South America, sensing a larger story, but he set this mystery aside and never returned to it. Almost two hundred years later, Jonathan Meiburg takes up this chase. He takes us through South America, from the fog-bound coasts of Tierra del Fuego to the
Read More chevron_right
Frequently Asked Questions About A Most Remarkable Creature: The Hidden Life Of The World's Smartest Birds Of Prey
Book Reviews
(8)
Did you read A Most Remarkable Creature: The Hidden Life Of The World's Smartest Birds Of Prey? Please provide your feedback and rating to help other readers.
Fascinating Book

Derived From Web

, Jul 22, 2021

A very interesting story about birds and evolution. The author has obviously strong love and respect for natural wonder and beauty. And his river journey through the jungle is pretty enticing. He is a naturalized writer.
A fascinating journey of discovery through South America and through time

Derived From Web

, Jul 14, 2021

I've ordered this book based on a great review in the Natural History magazine. I love the birds here ; I hate the cats. But this book was particularly enjoyable because of the mixing of natural history and travel narrative. The different types of caracara are interesting and fun to think about. The mystery of how they came to being who they are is clarified by insights from all kinds of people who encounter them, from native people in the US to explorers in the Amazon and a collector of wildlife in the Falkland Islands. I've read this book over just a few days and look forward to the next adventure as they unfolded. I 'd love to know a caracara in person. When you finish reading this book, I imagine that you will feel the same way.
Simply A Fantastic Read!

Derived From Web

, Jul 13, 2021

Meiburg takes us on a fascinating journey in his search to find and study one of the most amazing birds of prey on the Earth, the Caracara. This enthralling adventure takes us from the far away Falkland to the interior jungles of South America. An epic story of a bird of prey, of which very little is known. If you love nature and birds of prey, this book should be very high on your reading list.
Where are the Caracaras?

Derived From Web

, May 7, 2021

To be fair, if you like travelogues and meeting many unique people who are involved with birds, this is your book. If you wanted 200 pages of Caracaras natural history, you are flat out of luck. The pictures are in color-yet, the unique people are many. This is a journal article that is fleshed by the travels of the author. I am a very nice guy, I am sure. But I wanted to know about Caracaras and will have to go elsewhere for that. Fair warning : this seems to be a fad in nature writing these days. Little about the ostensible theme, lots about human characters, an unfortunate homocentric view. We need better, al.
An extraordinary account, unlike any other book I have ever read!

Derived From Web

, May 5, 2021

This extraordinarily well-written book highlights an underappreciated family of raptors, but also sheds light on cultures ranging from the Falklands to Amazonia to the late 19th century England. Ranging over millennia, the stories of birds, the people, the flora and fauna and the geography are all compelling. If you are looking for adventures in naturalism over time and space, you will find great rewards here, presented in a superb and moving narrative.
Great read

Derived From Web

, May 4, 2021

One of the great ornithological studies of all time, told with the casual flair and ease of a Bruce Chatwin travelogue, this beautifully written book is engaging and fun.
So much to learn!

Derived From Web

, Apr 25, 2021

A truly natural book for those who are enchanted by the fabulous sciences. In what other book can one find the origins of continents and why giant sloths ended in the La Brea Tarpits of Los Angeles? And the dreamlike states of the writings of J. W. Hudson explain so much about our current state in the pandemic. Enjoy!
The fascinating adventure of the caracaras!

Derived From Web

, Mar 31, 2021

A Most Remarkable Creature is a beautifully written, engaging story centered around a group of smart and enterprising birds called Caracaras. It is so much more than a bird book, a journey through the evolutionary history of these animals from the ancient past to the present, and a thoughtful and engaging account of the people who have been fascinated by them. Meiburg invites you on this adventure by painting beautiful and vivid images of these birds, people and places in his skillful writing. This is a natural work and will be a favorite for anyone interested in fine history.